Optical positioning system knows the way
October 2018
Sensors & Transducers

printer friendly version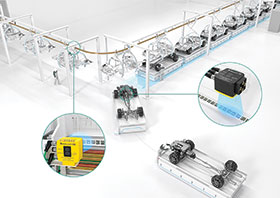 The PGV (position guided view) positioning system from Pepperl+Fuchs consists of a 2D vision sensor with integrated LED lighting, a coloured tape as an optical route indicator, data matrix codes as a tape or tag for the identification of positions, and control codes for vehicle navigation at intersections, branches, or endpoints.
Safe and precise navigation at all times
The tracking of route indicators and codes is contrast-independent and resistant to extraneous light due to the specially focused optics. With powerful integrated signal processing, the PGV sensor can identify the X, Y and Z position (where Z is the distance from the AGV to the floor)
of the AGV with precision at any time. The optical positioning system detects its angle from the route-tracking tape so that the direction in which the AGV is travelling can be corrected automatically. The sensor tolerates interrupted or dirty tape over a distance of 60 mm.
Integration-friendly sensor concept
The housing of the PGV sensor is compact, shock resistant, and impact resistant with the IP67 degree of protection. It is mounted on the bottom of the AGV, without the need for time-consuming alignment. When it comes to control technology, the positioning system can be linked to RS-485 and all common fieldbuses.
The camera-based PGV system enables AGVs and other autonomous vehicle concepts to navigate freely with no extensive ground work, such as that required for inductive or magnetic route tracking technologies, necessary. Distances, intersections, branches, buffer sections, or transfer points can all be set up quickly by the simple application of route-tracking tape and visually detectable marks on the ground. PGV offers flexible integration options in relation to the common AGV vehicle controls and fieldbuses.
Credit(s)
Further reading:
Large German fertiliser manufacturer reduces costs thanks to SICK Automation
February 2019, SICK Automation Southern Africa , Sensors & Transducers
Available agricultural land in Europe is limited. As a result, large quantities of fertiliser are used in order to increase yields. Producing fertiliser, however, is an energy-intensive process which 
...
Read more...
---
Traceability for tobacco manufacturer
February 2019, SICK Automation Southern Africa , Sensors & Transducers
SICK Automation South Africa recently installed 120 image-based 2D barcode readers across multiple scanning stations in a South African tobacco manufacturing plant. The cigarette manufacturer was looking 
...
Read more...
---
Hygienic limit switches for processes
February 2019, Morton Controls , Sensors & Transducers
Process and storage vessels incorporate limit switches to prevent overfilling of a tank or vessel (full indicator) or dry running of a pump (empty indicator). Anderson-Negele's NCS series are ideally 
...
Read more...
---
A new standard for digital ­inclination measurement
February 2019 , Sensors & Transducers
A new standard for digital inclination measurement has been set with the latest digital protractors from Stabila. Both the Tech 500 DP and Tech 1000 DP are manufactured exclusively in Germany, the main 
...
Read more...
---
Bromide sensor for water disinfection
February 2019, ASSTech Process Electronics + Instrumentation , Sensors & Transducers
With the expansion of its product range of membrane-covered amperometric digital sensors for liquid analysis, ASSTech now has available the Jumo tec-Line Br bromide sensor for general water disinfection 
...
Read more...
---
Wenglor expands optical sensor range
February 2019, ASSTech Process Electronics + Instrumentation , Sensors & Transducers
Wenglor's PNG/smart generation of photoelectronic sensors is distinguished by a combination of performance and communication. An aligned optical axis and a balanced switching point, as well as large switching 
...
Read more...
---
Enclosure series for explosion protection in process automation
February 2019, Pepperl+Fuchs , Enclosures, Cabling & Connectors
For many years, users have been waiting for a new, universal enclosure system in the field of electrical explosion protection. Having invested in this area, Pepperl+Fuchs has developed the GRP enclosure 
...
Read more...
---
Four questions to ask when ­choosing a vision solution
February 2019, Turck Banner , Sensors & Transducers
Many users find vision systems challenging and it can be difficult to know where to start, but there are some simple steps that can help to match the right vision solution to an application. This article 
...
Read more...
---
Intelligent valve sensor
February 2019, ifm Electronic RSA , Sensors & Transducers
The intelligent valve sensor for pneumatic quarter-turn actuators from ifm electronic features 360° position monitoring to allow precise and continuous scrutiny of the valve condition. Problems such as 
...
Read more...
---
Fast optical data transmission
February 2019, Countapulse Controls , Sensors & Transducers
The Leuze DDLS 500 optical data transceiver has a high optical transmission rate of 100 Mbit/s. This photoelectric sensor allows data transmission without cabling and without interference. Gerry Bryant, 
...
Read more...
---