printer friendly version
Raytek pyrometer sensor now in 4-20 mA
October 2018
Temperature Measurement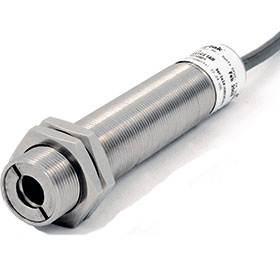 About a decade ago, Raytek introduced the CM, a compact, integrated IR non-contact thermometer intended for quick and seamless replacement of J and K-type thermocouples. The CM, still an industry favourite, is used for temperature monitoring in a wide range of industrial manufacturing processes and OEM applications. This rugged, IP65 sealed, single-piece integrated sensor offers powerful features to handle nearly any temperature measurement requirement.
Designed for easy integration, the sensor can easily replace traditional J or K-type contact probes. For applications susceptible to noise, a user-scalable 0-5 V version is also available. In addition, a 4-20 mA converter for the 0-5 V version was recently developed by R&C Instrumentation. The converters are locally assembled at the company workshop in Modderfontein, allowing customers, who order the 0-5 V version with the converter, to get pyrometer range scaling if required.
The sensor includes high-resolution silicon optics, which provide excellent optical resolution an attractive price. An RS-232 digital interface allows the user to configure all programmable sensor variables via the powerful Raytek DataTemp Multidrop software. These include a 24 V DC alarm output, triggered by target temperature or head ambient temperature; peak hold, valley hold or variable averaging signal processing; adjustable target emissivity settings, and adjustable window transmissivity setting. A built-in sensor health LED provides a convenient on-line indicator of the sensor's operating status and aids in troubleshooting initial sensor setup.
The instrument's remote configuration capability allows it to be configured for virtually any application, reducing installation and troubleshooting time, and streamlining data acquisition. This feature also eases troubleshooting when the sensor is located in hostile or remote locations.
The Raytek CM sensor is designed to measure target temperatures ranging from -20 to 500°C. The on-board electronics are protected by a rugged IP65 stainless steel housing, allowing the sensor to function in ambient temperatures to 70°C without cooling.
For more information contact R&C Instrumentation, 086 111 4217, info@randci.co.za, www.randci.co.za
Credit(s)
Further reading:
Bimetal thermometer with switch contacts
December 2019, WIKA Instruments , Temperature Measurement
WIKA's model TGS55 is a stainless steel bimetal thermometer which offers high reliability and long service life. Wherever the process temperature has to be indicated on-site and, at the same time, circuits 
...
Read more...
---
Infrared monitoring of kiln shells extends refractory life
December 2019 , Temperature Measurement
Extending the life of a kiln refractory as well as preventing disastrous failures requires a good understanding of the condition of the refractory material.
Read more...
---
Thermocouples in gasification reactors
November 2019, WIKA Instruments , Temperature Measurement
Gasification reactors, due to their harsh process conditions, place high demands on the instruments used there. Many manufacturers have reacted to this and adapted their products accordingly, but what 
...
Read more...
---
Hotspot detection in pressboard manufacturing applications
October 2019, R&C Instrumentation , Temperature Measurement
In the building industry, there is a product used that is commonly referred to as pressboard, also known as chipboard. Sheets of pressboard are typically 1,2 m x 2,4 m in size and are used in the construction 
...
Read more...
---
Pair temperature probes with different cable lengths
October 2019, ASSTech Process Electronics + Instrumentation , Temperature Measurement
In heat meters for heating systems, two paired temperature probes are usually used for symmetrical installation. These must have identical cable lengths to comply with the legal regulations. Now, Jumo 
...
Read more...
---
Vibration measurement in machine maintenance
October 2019, R&C Instrumentation , Maintenance, Test & Measurement, Calibration
Vibration and temperature are the most common parameters measured on process plants for machine maintenance. Temperature measurement has been around for longer, probably because it was available first 
...
Read more...
---
IR thermometers in the steel industry
September 2019, R&C Instrumentation , Temperature Measurement
In many foundry applications, temperature readings show whether processes are operating within their proper ranges, whether a reheater is too cold or too hot, whether a stand needs adjusting, or how much 
...
Read more...
---
Ten facts about infrared windows
September 2019, R&C Instrumentation , Maintenance, Test & Measurement, Calibration
Infrared (IR) inspection is widely used and quickly becoming indispensable in electrical maintenance programmes. With the advent of IR windows, this procedure is now both safe and cost-effective. However, 
...
Read more...
---
Compact IR camera with industrial accessories
September 2019, Comtest , Temperature Measurement
Comtest has announced an addition to the Optris Compact line of IR cameras – Xi 80 and Xi 400 – with new industrial accessories for use in harsh conditions. The range has a modular design and as a result, 
...
Read more...
---
IR measurement optimises plastic stationary and rotary thermoforming
August 2019, R&C Instrumentation , Temperature Measurement
Background
Thermoforming is the process by which a thermoplastic sheet is made soft and pliable by heating, and bi-axially deformed by being forced into a three-dimensional shape. This process may take 
...
Read more...
---