printer friendly version
Automatic fire protection
August 2018
IS & Ex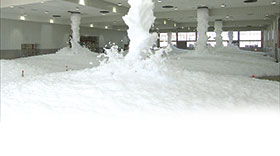 When an insurance company evaluates a business facility, key infrastructure areas are given special attention to reduce the risk in the event of a fire. These include IT equipment, warehousing, substations, archive areas and the like. The next step is to call out a fire specialist to provide advice. This is when terms like 'fire suppression' and 'fire extinguishing' get bandied about.
So what are the most common terms used and what do they mean, without all the scientific and technical jargon?
Fire protection
This is a broad term that refers to anything relating to the mitigation of unwanted fires. It includes properly designed buildings and the use of appropriate materials, smoke control systems, automatic smoke detectors, passive fire protection (e.g. fireproof coatings etc.), automatic extinguishing systems and so forth.
Fire suppression
The term refers to systems that suppress a fire. The primary aim is to mitigate the spread of fire giving enough time for the fire brigade to arrive. It is a control mechanism to minimise the consequences of a fire. Typically, water-based sprinkler systems fall into this category. Usually these systems are activated when the fire has escalated into a flame. It is typical at this point that sufficient energy is released to raise the temperature of sprinkler bulbs.
Fire detection
These are the systems designed to sense fire. The simplest are the human senses such as smell, touch and sight, which causes someone to raise an alarm. Automatic fire detection includes sensors that are placed around a building waiting for the earliest signs of smoke. Typically, these are those plastic circular devices located on ceilings which are referred to as point type detectors. The most common is an optical point type detector that senses smoke. Others include heat detectors, which either look at how fast the temperature is increasing (rate of rise), or they will trigger at a prescribed temperature set point.
Most manufacturers have sophisticated point type detectors that can sense multiple different phenomena such as a combination of heat and smoke. Some have gone so far as to include audible tones and visual alarms in the detector. Other means of detection, which would require other devices entirely, are air sampling devices, beam detection, linear heat sensing cable, infrared sensing devices, UV sensing devices and so forth. In a nutshell, the term fire detection refers to all of them. The aim of the detection system is to raise an alarm so that persons can evacuate the situation and also to notify the fire brigade if necessary.
Fire extinguishing
This refers to systems that are designed to put out a fire. There are two groups. The first, and most familiar, is handheld equipment such as dry chemical powder extinguishers or CO2 extinguishers. Their proper use requires training.
The second, and perhaps least known, are the automatic extinguishing systems. These include the gaseous fire extinguishing systems that are typically used in data centres, telecoms facilities, archive stores, substations, cable tunnels, museums, ships and so forth. What is important to note is that they are not all the same. There are two families of gases within this group, the inert gas blends and the hydrofluorocarbons. The inert gas types usually consist of argon and nitrogen, two components that already exist in air. They are non-toxic, produce no hazardous by-products, and have no global warming footprint or ozone depleting potential. They are safe to humans, produce no obscuring cloud, and extinguish a fire by starving it of oxygen.
The other class of gases are the hydrofluorocarbons, which are governed by legislation since they are greenhouse gases. The EU has put onerous cradle-to-grave costs on such systems because of their high carbon footprint. HFC227ea has a carbon footprint of 3,5 tonnes, which means 1 kg of it equates to releasing 3,5 tonnes of CO2 into the atmosphere. When putting this into a real application context, a 100 cubic metre server room for example equates to a carbon footprint of 210 tonnes for a non-producing activity. Not very environmentally friendly and could clash with environmental policy. In addition, this family of gases do produce an obscuring cloud on discharge, which could impede someone finding their way to an exit. They can also break down into hazardous by-products such as hydrogen fluoride, which is both toxic to humans and corrosive to equipment. Others break down into Perfluoropropionic acid, which can attack a person's mucous membranes. Such gases do put out fires, but there are trade-offs that need to be considered.
There is another class of fire extinguishing systems for in-cabinet fire protection using aerosol type extinguishers. These will be covered in another article to be published soon www.facebook.com/astafrica/?ref=settings
Credit(s)
Further reading:
The importance of up-to-date alarm annunciators
January 2020, Omniflex Remote Monitoring Specialists , IS & Ex
At 1.23 pm on Sunday, 24 July 1994, twenty-six people were injured when an explosion erupted through an oil refinery in an otherwise quiet corner of South Wales in the United Kingdom. The site was occupied 
...
Read more...
---
Gas detector for multiple applications
January 2020, Comtest , IS & Ex
Comtest, the local representative of Industrial Scientific, global leader in gas detection, has announced a new version of the Ventis Slide-on Pump. The new pump is compatible with both Ventis MX4 and 
...
Read more...
---
Light grid with integrated muting unit
November 2019, ifm - South Africa , IS & Ex
The new generation of light grids from ifm electronic allow for the muting mode without an external junction box or a muting relay being required, as they are already integrated into the receiving element. 
...
Read more...
---
Light grid with integrated muting
October 2019, ifm - South Africa , IS & Ex
The new generation of light grids from ifm electronic incorporates muting mode without an external junction box or a muting relay being required, as they are already integrated into the receiving element. 
...
Read more...
---
How integrated visual management and remote monitoring demystify machine safety
September 2019, Turck Banner , IS & Ex
This article shares common challenges for machine safety, and shows how combining easy-to-use safety devices with visual indication and remote monitoring capabilities can help make safety simpler and more effective.
Read more...
---
Security concerns for safety systems
September 2019, Phoenix Contact , IS & Ex
A common strategy required for the future.
Read more...
---
Taking safety to the next level
September 2019, SICK Automation Southern Africa , IS & Ex
SICK Automation is a world leading manufacturer of sensors, safety systems and automatic identification products. The next step for safety – this core idea therefore underpins the entire design of the 
...
Read more...
---
Alarm system upgrade from Omniflex
September 2019, Omniflex Remote Monitoring Specialists , IS & Ex
Fiddler's Ferry Power Station was constructed by the CEGB (Central Electricity Generating Board) in the UK and came into full operation in 1973. It has four 500 MW sets, giving a total generating capacity 
...
Read more...
---
Intrinsic safety barcode scanning from Extech Safety Systems
September 2019, Extech Safety Systems , IS & Ex
Extech Safety Systems has worked with UK-based Mobexx to develop the MobXscan mobile application for barcode scanning with mobile devices. The app has been released for Windows 10 and Android, offering 
...
Read more...
---
Smart devices for Ex areas
September 2019, Pepperl+Fuchs , IS & Ex
The Pepperl+Fuchs brand ecom has launched its next generation ATEX Zone 1/21 and Div. 1 certified, intrinsically safe 4G/LTE-Android smartphone – Smart-Ex. The Smart-Ex 02 is a complete new development 
...
Read more...
---