printer friendly version
Smart pyrometers for factory ­automation
August 2018
Temperature Measurement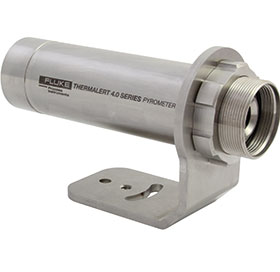 Fluke Process Instruments has launched the Thermalert 4.0 spot pyrometer series for automatic non-contact temperature monitoring between -40 and 2250°C. The series currently comprises 13 models with varied spectral responses, including dedicated sensors for metals, glass, and plastics products. A large choice of optics is available for long and short focal distances.
Due to the wide ambient temperature range of -20 to 85°C, more measuring points can be set up without cooling accessories, meaning there is no danger of leakage and contamination of critical processes.
The rugged IP65 infrared thermometers come standard in a stainless steel housing and exhibit high repeatability, response time and accuracy. This performance can significantly lower service costs and time spent on setup and troubleshooting. The sensors feature galvanically isolated analog and RS-485 interfaces. Up to 32 devices can be connected within an RS-485 network.
Since manufacturers often add fieldbus and other options in the future, retrofit of existing measuring points has been made as easy as possible. The new sensors can be fitted in fixtures for Endurance, Raytek Thermalert TX, and Raytek XR pyrometers. Adaptors are available for use with Ircon Modline 4 and Raytek MM fixtures.
DataTemp Multidrop software provides the tools needed to configure the sensors and monitor temperatures on a real-time graphical display. The bar graph feature shows temperature profiles across a web, or at various spots along a process. High and low alarms are shown, making it easy to identify out of range conditions and the system supports remote configuration, monitoring, field calibration and firmware updates.
A wide variety of options and accessories are available to customise the installation of Thermalert 4.0 sensors. Lens protectors and air purge collars offer protection in harsh environments and the water/air-cooled housings can be specified for operation in ambient temperatures up to 175°C.
For more information contact R&C Instrumentation, 086 111 4217, info@randci.co.za, www.randci.co.za
Credit(s)
Further reading:
Bimetal thermometer with switch contacts
December 2019, WIKA Instruments , Temperature Measurement
WIKA's model TGS55 is a stainless steel bimetal thermometer which offers high reliability and long service life. Wherever the process temperature has to be indicated on-site and, at the same time, circuits 
...
Read more...
---
Infrared monitoring of kiln shells extends refractory life
December 2019 , Temperature Measurement
Extending the life of a kiln refractory as well as preventing disastrous failures requires a good understanding of the condition of the refractory material.
Read more...
---
Thermocouples in gasification reactors
November 2019, WIKA Instruments , Temperature Measurement
Gasification reactors, due to their harsh process conditions, place high demands on the instruments used there. Many manufacturers have reacted to this and adapted their products accordingly, but what 
...
Read more...
---
Hotspot detection in pressboard manufacturing applications
October 2019, R&C Instrumentation , Temperature Measurement
In the building industry, there is a product used that is commonly referred to as pressboard, also known as chipboard. Sheets of pressboard are typically 1,2 m x 2,4 m in size and are used in the construction 
...
Read more...
---
Pair temperature probes with different cable lengths
October 2019, ASSTech Process Electronics + Instrumentation , Temperature Measurement
In heat meters for heating systems, two paired temperature probes are usually used for symmetrical installation. These must have identical cable lengths to comply with the legal regulations. Now, Jumo 
...
Read more...
---
Vibration measurement in machine maintenance
October 2019, R&C Instrumentation , Maintenance, Test & Measurement, Calibration
Vibration and temperature are the most common parameters measured on process plants for machine maintenance. Temperature measurement has been around for longer, probably because it was available first 
...
Read more...
---
IR thermometers in the steel industry
September 2019, R&C Instrumentation , Temperature Measurement
In many foundry applications, temperature readings show whether processes are operating within their proper ranges, whether a reheater is too cold or too hot, whether a stand needs adjusting, or how much 
...
Read more...
---
Ten facts about infrared windows
September 2019, R&C Instrumentation , Maintenance, Test & Measurement, Calibration
Infrared (IR) inspection is widely used and quickly becoming indispensable in electrical maintenance programmes. With the advent of IR windows, this procedure is now both safe and cost-effective. However, 
...
Read more...
---
Compact IR camera with industrial accessories
September 2019, Comtest , Temperature Measurement
Comtest has announced an addition to the Optris Compact line of IR cameras – Xi 80 and Xi 400 – with new industrial accessories for use in harsh conditions. The range has a modular design and as a result, 
...
Read more...
---
IR measurement optimises plastic stationary and rotary thermoforming
August 2019, R&C Instrumentation , Temperature Measurement
Background
Thermoforming is the process by which a thermoplastic sheet is made soft and pliable by heating, and bi-axially deformed by being forced into a three-dimensional shape. This process may take 
...
Read more...
---