printer friendly version
Saryx Engineering Group wins FNB Business Innovation Awards 2018
August 2018
News
FNB Business supported by Endeavor South Africa has announced Saryx Engineering Group (SEG) as the overall winner of the 2018 FNB Business Innovation Awards (FNB BIA).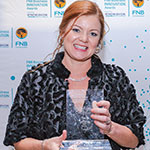 Founded by two female entrepreneurs, Ingrid Osborne and Julie Mathieson, Saryx offers innovative solutions to help companies of all sizes track document compliance and share documents securely.
"Being chosen as a winner among these great companies fundamentally affirms our business model," says Osborne. "We have done some amazing work and continue to evolve while moving the needle in the industry using new innovations and technology tools."
"Winning this award is a step in the right direction to access global markets," adds Mathieson. "We are very excited about the future and the opportunities that this accolade affords our business."
FNB Business will sponsor Osborne and Mathieson to participate at the coveted two-day Endeavor International Selection Panel (ISP) in Argentina in September. ISP brings together high-impact entrepreneurs to present their companies to world-leading business personalities for a chance to be part of an exclusive global network.
Mike Vacy-Lyle, CEO of FNB Business, says the FNB Business Innovation Awards is an incredible platform that showcases business excellence and the potential of South Africa's entrepreneurs: "Since the launch of the awards in 2015, we have seen winners and finalists go on to become thought leaders and employment creators in their respective industries. This attests to the ability of the initiative to enable businesses with the highest potential to scale to access global markets. Congratulations to (SEG) for winning this prestigious award and to all the businesses that took part in this year's competition."
"The FNB Business Innovation Awards is a celebration of the remarkable journeys of some of our country's entrepreneurial role models," adds Catherine Townshend, managing director of Endeavor South Africa. "These founders are committed to building successful local businesses that drive much needed economic growth and job creation. Congratulations to Ingrid Osborne and Julie Mathieson on a remarkable journey in founding and building the business to this point. Through Endeavor and the exposure at the ISP, we are confident that they will be even more motivated to think bigger and engage with a network of like-minded ambitious entrepreneurs that are driven to build a local business with a global footprint."
Selection criteria this year included: leadership potential, commitment, ecosystem impact, turnover, ownership, scale and acceleration, uniqueness of the business and growth trajectory.
Factors such as brand and reputation, stakeholder relations and goodwill, environmental sustainability, social responsibility and quality of governance were also taken into consideration during the process of selecting the winner. Over 600 companies entered the competition. For a comprehensive list of the finalists, judges, and background, visit www.fnbbusinessinnovationawards.co.za.
For more information contact Ingrid Osborne, Saryx Engineering Group, 086 099 5105, ingrid@saryx.co.za, www.saryx.co.za
Further reading:
Breathers and spin-on elements form part of BMG's filtrations solutions
November 2020, Bearing Man Group t/a BMG , News
BMG's fluid technology filtration solutions comprise a wide range of fluid power components and systems, which are supported by the team's broad technical capabilities to ensure fluids operate within the required cleanliness standards.
Read more...
---
Emerson appoints Akberet Boykin Farr as vice president of Diversity and Social Responsibility
November 2020, Emerson Automation Solutions , News
Emerson has announced the appointment of Akberet Boykin Farr as vice president of Diversity and Social Responsibility, effective December 1, 2020.
Read more...
---
Endress+Hauser invites you to its virtual trade fair booth
January 2021, Endress+Hauser South Africa , News
Endress+Hauser is breaking new ground by bringing customers closer to its products, solutions and services in a flexible and informative way through a virtual exhibition booth.
Read more...
---
ABB and BI extend partnership to include high-efficiency IE3 motors
January 2021 , News
As an extension of the partnership between the two companies, low-voltage IE3 motors from ABB Africa will now be distributed by Bearings International.
Read more...
---
From the editor's desk: Hardwired to survive, can we beat coronavirus in 2021?
January 2021, Technews Publishing (SA Instrumentation & Control) , News
According to the Smithsonian, it was around four million years ago that our earliest ancestors broke the evolutionary mould and walked upright for the very first time. Over the course of the next few 
...
Read more...
---
AM Systems Integrations
January 2021 , News
AMSI is a specialist systems integrations company whose core offering is in plant optimisation and automation.
Read more...
---
From the editor's desk: Isolation economy could quicken the pace of 4IR adoption
November 2020, Technews Publishing (SA Instrumentation & Control) , News
The coronavirus pandemic has highlighted a problem that the manufacturing industry was already uncomfortably aware of – its traditional ecosystems are too cumbersome to cope with the variety of choice 
...
Read more...
---
Pepperl+Fuchs continues Its Digital Event Series and invites you to its second Online Summit
October 2020, Pepperl+Fuchs , News
Pepperl+Fuchs invites you to its second Online Summit: register now, free of charge, to gain access to this fully digital event, which will be held from 17-19 November.
Read more...
---
Cummins ships 800 QSK60 engines to China for use in data centres
November 2020 , News
Cummins has shipped 800 QSK60 series engines to China, where they will be installed in data centres to help communities stay connected through the reopening of the economy.
Read more...
---
Rockwell Automation and Microsoft expand partnership
November 2020, Rockwell Automation , News
Partnership aims to empower manufacturers with agility, intelligence, and scale to deliver digital transformation initiatives, from the cloud to the edge.
Read more...
---