Saryx Engineering Group wins FNB Business Innovation Awards 2018
August 2018
News

printer friendly version
FNB Business supported by Endeavor South Africa has announced Saryx Engineering Group (SEG) as the overall winner of the 2018 FNB Business Innovation Awards (FNB BIA).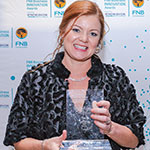 Founded by two female entrepreneurs, Ingrid Osborne and Julie Mathieson, Saryx offers innovative solutions to help companies of all sizes track document compliance and share documents securely.
"Being chosen as a winner among these great companies fundamentally affirms our business model," says Osborne. "We have done some amazing work and continue to evolve while moving the needle in the industry using new innovations and technology tools."
"Winning this award is a step in the right direction to access global markets," adds Mathieson. "We are very excited about the future and the opportunities that this accolade affords our business."
FNB Business will sponsor Osborne and Mathieson to participate at the coveted two-day Endeavor International Selection Panel (ISP) in Argentina in September. ISP brings together high-impact entrepreneurs to present their companies to world-leading business personalities for a chance to be part of an exclusive global network.
Mike Vacy-Lyle, CEO of FNB Business, says the FNB Business Innovation Awards is an incredible platform that showcases business excellence and the potential of South Africa's entrepreneurs: "Since the launch of the awards in 2015, we have seen winners and finalists go on to become thought leaders and employment creators in their respective industries. This attests to the ability of the initiative to enable businesses with the highest potential to scale to access global markets. Congratulations to (SEG) for winning this prestigious award and to all the businesses that took part in this year's competition."
"The FNB Business Innovation Awards is a celebration of the remarkable journeys of some of our country's entrepreneurial role models," adds Catherine Townshend, managing director of Endeavor South Africa. "These founders are committed to building successful local businesses that drive much needed economic growth and job creation. Congratulations to Ingrid Osborne and Julie Mathieson on a remarkable journey in founding and building the business to this point. Through Endeavor and the exposure at the ISP, we are confident that they will be even more motivated to think bigger and engage with a network of like-minded ambitious entrepreneurs that are driven to build a local business with a global footprint."
Selection criteria this year included: leadership potential, commitment, ecosystem impact, turnover, ownership, scale and acceleration, uniqueness of the business and growth trajectory.
Factors such as brand and reputation, stakeholder relations and goodwill, environmental sustainability, social responsibility and quality of governance were also taken into consideration during the process of selecting the winner. Over 600 companies entered the competition. For a comprehensive list of the finalists, judges, and background, visit www.fnbbusinessinnovationawards.co.za.
For more information contact Ingrid Osborne, Saryx Engineering Group, 086 099 5105, ingrid@saryx.co.za, www.saryx.co.za
Credit(s)
Further reading:
From the editor's desk: Yokogawa adds sushi to the IIoT platter
March 2019, Technews Publishing (SA Instrumentation & Control) , News
At its 2016 User Group Conference in Johannesburg, Yokogawa whet the local market's appetite for all things IIoT when it announced the development of a compact, low-cost wireless sensor. Aptly named the 
...
Read more...
---
Be part of the ultimate journey at X-Change 2019
March 2019, IS³ - Industry Software, Solutions & Support , News
The 4th Industrial Revolution and the New Way of Work through Edge-to-Enterprise solutions.
Read more...
---
Emerson completes acquisition of GE's Intelligent Platform's business
March 2019, Emerson Automation Solutions , News
Emerson has announced that it has completed the purchase of Intelligent Platforms from General Electric (GE). The addition of Intelligent Platforms PLC technology will enable Emerson to expand its capabilities 
...
Read more...
---
Rockwell Automation acquires Emulate3D
March 2019, Rockwell Automation , News
Rockwell Automation has acquired Emulate3D, an innovative software development company whose products digitally simulate and emulate industrial automation systems. By using accurate simulation models 
...
Read more...
---
ISA Adopts FDT 2.0 as American National Standard
March 2019 , News
The FDT Group and the International Society of Automation (ISA) have announced that FDT 2.0 technology has been fully adopted as an ISA/ANSI American standard. This will meet demands in the region for 
...
Read more...
---
Siemens launches Digital Mining Incubator with Wits University
March 2019, Siemens Digital Factory & Process Indust. & Drives , News
Mining remains a critical player in the macro-economic landscape of South Africa. But government, business, labour and civil society need to ask how they can align a 'here-and-now' emphasis on job creation, 
...
Read more...
---
IS³ extends portfolio to include AVEVA's Engineer, Construct and Procure software
March 2019, IS³ - Industry Software, Solutions & Support , News
IS³ - Industry Software, Solutions and Support recently signed an extension to the contract with AVEVA, which now extends its portfolio to include the Engineer, Construct and Procure software solutions. 
...
Read more...
---
Check out our website
March 2019, Technews Publishing (SA Instrumentation & Control) , News
The Technews web development team has been grafting behind the scenes to remodel the way we connect you to the latest industry news, product innovations, opinion pieces and application stories that characterise 
...
Read more...
---
BMG and Eaton Hydraulics enhance partnership agreement
March 2019, Bearing Man Group t/a BMG , News
The well-established partnership between BMG and Eaton Hydraulics has been enhanced with the recent accreditation of BMG's Johannesburg head office facility – BMG World – as the exclusive Eaton Hydraulics 
...
Read more...
---
SKF Test Centre wins design prize at the International Architecture Awards
March 2019, SKF South Africa , News
At The International Architecture Awards in Athens, SKF won a design award for its Sven Wingquist Test Centre. With over 1000 entries from across 31 countries, the awards are globally recognised as a 
...
Read more...
---