printer friendly version
Saryx Engineering Group wins FNB Business Innovation Awards 2018
August 2018
News
FNB Business supported by Endeavor South Africa has announced Saryx Engineering Group (SEG) as the overall winner of the 2018 FNB Business Innovation Awards (FNB BIA).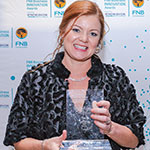 Founded by two female entrepreneurs, Ingrid Osborne and Julie Mathieson, Saryx offers innovative solutions to help companies of all sizes track document compliance and share documents securely.
"Being chosen as a winner among these great companies fundamentally affirms our business model," says Osborne. "We have done some amazing work and continue to evolve while moving the needle in the industry using new innovations and technology tools."
"Winning this award is a step in the right direction to access global markets," adds Mathieson. "We are very excited about the future and the opportunities that this accolade affords our business."
FNB Business will sponsor Osborne and Mathieson to participate at the coveted two-day Endeavor International Selection Panel (ISP) in Argentina in September. ISP brings together high-impact entrepreneurs to present their companies to world-leading business personalities for a chance to be part of an exclusive global network.
Mike Vacy-Lyle, CEO of FNB Business, says the FNB Business Innovation Awards is an incredible platform that showcases business excellence and the potential of South Africa's entrepreneurs: "Since the launch of the awards in 2015, we have seen winners and finalists go on to become thought leaders and employment creators in their respective industries. This attests to the ability of the initiative to enable businesses with the highest potential to scale to access global markets. Congratulations to (SEG) for winning this prestigious award and to all the businesses that took part in this year's competition."
"The FNB Business Innovation Awards is a celebration of the remarkable journeys of some of our country's entrepreneurial role models," adds Catherine Townshend, managing director of Endeavor South Africa. "These founders are committed to building successful local businesses that drive much needed economic growth and job creation. Congratulations to Ingrid Osborne and Julie Mathieson on a remarkable journey in founding and building the business to this point. Through Endeavor and the exposure at the ISP, we are confident that they will be even more motivated to think bigger and engage with a network of like-minded ambitious entrepreneurs that are driven to build a local business with a global footprint."
Selection criteria this year included: leadership potential, commitment, ecosystem impact, turnover, ownership, scale and acceleration, uniqueness of the business and growth trajectory.
Factors such as brand and reputation, stakeholder relations and goodwill, environmental sustainability, social responsibility and quality of governance were also taken into consideration during the process of selecting the winner. Over 600 companies entered the competition. For a comprehensive list of the finalists, judges, and background, visit www.fnbbusinessinnovationawards.co.za.
For more information contact Ingrid Osborne, Saryx Engineering Group, 086 099 5105, ingrid@saryx.co.za, www.saryx.co.za
Further reading:
Cable, components and critical space exploration
February 2021, ABB South Africa , News
ABB provides Ty-Rap cable ties for NASA Mars 2020 Perseverance Rover mission.
Read more...
---
Success for NASA's Jet Propulsion Laboratory (JPL)
February 2021 , News
maxon congratulates on the successful Mars landing of the Perseverance rover.
Read more...
---
ABB sensor onboard SpaceX rocket to detect greenhouse gas emissions
February 2021, ABB South Africa , News
An optical sensor manufactured by ABB was deployed with the successful launch of satellite Hugo from GHGSat, the emerging leader in greenhouse gas sensing services in space.
Read more...
---
Eye-openers for the process industry
January 2021, Endress+Hauser South Africa , News
For a long time, Industry 4.0 was little more than a vision. Now, the benefits of digital services are becoming apparent in real environments.
Read more...
---
40 years of innovation
January 2021, Beckhoff Automation , News
Founded 40 years ago, Beckhoff Automation's anaging director and founder, Hans Beckhoff, talks about the company's many achievements.
Read more...
---
CSIR and Siemens partner to boost the South Africa's 4IR competitiveness
February 2021, Siemens Digital Industries , News
South Africa's pursuit of being a key player in the Fourth Industrial Revolution received a massive boost as the CSIR and Siemens South Africa entered into a partnership to empower the country's economy.
Read more...
---
Parker presents first 'Expert Insights' tech talk on routes to carbon zero
February 2021, Parker Hannifin - Sales Company South Africa , News
Parker Hannifin will present the first in a new series of "Expert Insights" tech talks on Thursday 4 February.
Read more...
---
Obituary: Chris du Plessis: 14 June 1959 – 12 January 2021
February 2021, SA Gauge , News
Chris started a company called Techniman in 1986 selling other companies' products, but in 1992, Chris and his wife Judith founded SA Gauge.
Read more...
---
Erratum
February 2021, Valve & Automation, Technews Publishing (SA Instrumentation & Control) , News
Read more...
---
Danfoss ushers in the digital sensor age
February 2021, Danfoss , News
With the adoption of an ever-growing digital world, Danfoss Industrial Automation has repositioned itself as Danfoss Sensing Solutions, representing the union of application-driven sensor technologies and unparalleled commitment to helping customers navigate their journey into the digital frontier.
Read more...
---