printer friendly version
Saryx Engineering Group wins FNB Business Innovation Awards 2018
August 2018
News
FNB Business supported by Endeavor South Africa has announced Saryx Engineering Group (SEG) as the overall winner of the 2018 FNB Business Innovation Awards (FNB BIA).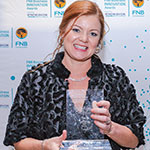 Founded by two female entrepreneurs, Ingrid Osborne and Julie Mathieson, Saryx offers innovative solutions to help companies of all sizes track document compliance and share documents securely.
"Being chosen as a winner among these great companies fundamentally affirms our business model," says Osborne. "We have done some amazing work and continue to evolve while moving the needle in the industry using new innovations and technology tools."
"Winning this award is a step in the right direction to access global markets," adds Mathieson. "We are very excited about the future and the opportunities that this accolade affords our business."
FNB Business will sponsor Osborne and Mathieson to participate at the coveted two-day Endeavor International Selection Panel (ISP) in Argentina in September. ISP brings together high-impact entrepreneurs to present their companies to world-leading business personalities for a chance to be part of an exclusive global network.
Mike Vacy-Lyle, CEO of FNB Business, says the FNB Business Innovation Awards is an incredible platform that showcases business excellence and the potential of South Africa's entrepreneurs: "Since the launch of the awards in 2015, we have seen winners and finalists go on to become thought leaders and employment creators in their respective industries. This attests to the ability of the initiative to enable businesses with the highest potential to scale to access global markets. Congratulations to (SEG) for winning this prestigious award and to all the businesses that took part in this year's competition."
"The FNB Business Innovation Awards is a celebration of the remarkable journeys of some of our country's entrepreneurial role models," adds Catherine Townshend, managing director of Endeavor South Africa. "These founders are committed to building successful local businesses that drive much needed economic growth and job creation. Congratulations to Ingrid Osborne and Julie Mathieson on a remarkable journey in founding and building the business to this point. Through Endeavor and the exposure at the ISP, we are confident that they will be even more motivated to think bigger and engage with a network of like-minded ambitious entrepreneurs that are driven to build a local business with a global footprint."
Selection criteria this year included: leadership potential, commitment, ecosystem impact, turnover, ownership, scale and acceleration, uniqueness of the business and growth trajectory.
Factors such as brand and reputation, stakeholder relations and goodwill, environmental sustainability, social responsibility and quality of governance were also taken into consideration during the process of selecting the winner. Over 600 companies entered the competition. For a comprehensive list of the finalists, judges, and background, visit www.fnbbusinessinnovationawards.co.za.
For more information contact Ingrid Osborne, Saryx Engineering Group, 086 099 5105, ingrid@saryx.co.za, www.saryx.co.za
Further reading:
From the editor's desk: Is additive manufacturing poised to go mainstream?
March 2021, Technews Publishing (SA Instrumentation & Control) , News
As digital manufacturing technology pushes its way further towards the production floor, additive manufacturing (3D printing) is emerging as a viable option to complement the more traditional methods 
...
Read more...
---
SKF bearings help Mars Rover collect samples on the planet's surface
April 2021, SKF South Africa , News
Enabling the Mars Rover's core operations in the harsh environment on Mars are Kaydon RealiSlim thin-section ball bearings, designed and manufactured by SKF.
Read more...
---
Water 4.0 for Botswana
April 2021, Siemens Digital Industries , News
Thanks to automation and electrical engineering from Siemens Solution Partner Moreflow, a new water treatment plant delivers 11 million litres of this precious resource every day.
Read more...
---
Comtest to represent Netscout
April 2021, Comtest , News
Comtest has announced that it now represents Netscout Systems, assuring digital business services against disruptions in availability, performance and security. Netscout's market and technology leadership 
...
Read more...
---
EtherCAT Technology Group (ETG) celebrates successful defence of America's Cup with Emirates Team New Zealand
March 2021 , News
The races featured a spectacular new class of boat that can reach over 100 km/h on or above the water thanks to canting hydrofoils with highly dynamic controllable flaps.
Read more...
---
Danfoss continues to invest in sustainable transformation
March 2021, Danfoss , News
Danfoss Drives office in South Africa is rolling out a series of thought leadership webinars on the topic of Energy Efficiency in 2020.
Read more...
---
Endress+Hauser and partners drive digitalisation towards customer value
April 2021, Endress+Hauser South Africa , News
The Endress+Hauser Open Integration partner programme unites thirteen manufacturers that want to ensure the streamlined interaction of their complementing products.
Read more...
---
New online control loop optimisation and tuning service
April 2021, Michael Brown Control Engineering , News
Michael Brown has introduced an online control loop optimisation and tuning consultation service designed to help plant engineers all over the world understand why their loops are not behaving the way 
...
Read more...
---
From the editor's desk: Sustainability – the holy grail of digital transformation
April 2021, Technews Publishing (SA Instrumentation & Control) , News
As we head into our post-pandemic future, one of the morals we are left with is the importance of sustainability in business. So, while industry leaders ponder how best to incorporate sustainability into 
...
Read more...
---
Iritron and the I3 Group build on synergies
April 2021, Iritron , News
Although 2020 was a tough year for everyone, Alwyn Rautenbach, CEO of the I3 Group, not only ensured its survival, but strategised to strengthen the business for future growth.
Read more...
---