printer friendly version
Saryx Engineering Group wins FNB Business Innovation Awards 2018
August 2018
News
FNB Business supported by Endeavor South Africa has announced Saryx Engineering Group (SEG) as the overall winner of the 2018 FNB Business Innovation Awards (FNB BIA).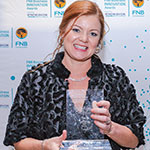 Founded by two female entrepreneurs, Ingrid Osborne and Julie Mathieson, Saryx offers innovative solutions to help companies of all sizes track document compliance and share documents securely.
"Being chosen as a winner among these great companies fundamentally affirms our business model," says Osborne. "We have done some amazing work and continue to evolve while moving the needle in the industry using new innovations and technology tools."
"Winning this award is a step in the right direction to access global markets," adds Mathieson. "We are very excited about the future and the opportunities that this accolade affords our business."
FNB Business will sponsor Osborne and Mathieson to participate at the coveted two-day Endeavor International Selection Panel (ISP) in Argentina in September. ISP brings together high-impact entrepreneurs to present their companies to world-leading business personalities for a chance to be part of an exclusive global network.
Mike Vacy-Lyle, CEO of FNB Business, says the FNB Business Innovation Awards is an incredible platform that showcases business excellence and the potential of South Africa's entrepreneurs: "Since the launch of the awards in 2015, we have seen winners and finalists go on to become thought leaders and employment creators in their respective industries. This attests to the ability of the initiative to enable businesses with the highest potential to scale to access global markets. Congratulations to (SEG) for winning this prestigious award and to all the businesses that took part in this year's competition."
"The FNB Business Innovation Awards is a celebration of the remarkable journeys of some of our country's entrepreneurial role models," adds Catherine Townshend, managing director of Endeavor South Africa. "These founders are committed to building successful local businesses that drive much needed economic growth and job creation. Congratulations to Ingrid Osborne and Julie Mathieson on a remarkable journey in founding and building the business to this point. Through Endeavor and the exposure at the ISP, we are confident that they will be even more motivated to think bigger and engage with a network of like-minded ambitious entrepreneurs that are driven to build a local business with a global footprint."
Selection criteria this year included: leadership potential, commitment, ecosystem impact, turnover, ownership, scale and acceleration, uniqueness of the business and growth trajectory.
Factors such as brand and reputation, stakeholder relations and goodwill, environmental sustainability, social responsibility and quality of governance were also taken into consideration during the process of selecting the winner. Over 600 companies entered the competition. For a comprehensive list of the finalists, judges, and background, visit www.fnbbusinessinnovationawards.co.za.
For more information contact Ingrid Osborne, Saryx Engineering Group, 086 099 5105, ingrid@saryx.co.za, www.saryx.co.za
Credit(s)
Further reading:
merSETA and Festo to establish 4IR centre
Festo South Africa News
merSETA partnered with Festo, a leading supplier of industrial automation solutions and a global leader in technical education, to establish a 4IR skills centre at Maluti TVET College.
Read more...
---
Young KwaZulu-Natal innovator shines at Eskom Expo
News
A young innovator from KwaZulu-Natal has won awards at the 43rd Eskom Expo International Science Fair for his research project, which uses renewable energy resources like solar and wind power as a backup power source for cell phone towers during loadshedding.
Read more...
---
Electricity wheeled via Cape Town's grid
News
The first clean, green energy has officially been wheeled via the City of Cape Town's energy grid. Growthpoint Properties became the first party to wheel renewable electricity in the City in collaboration with licensed electricity trader Etana Energy.
Read more...
---
Innovate announces Space Challenge for SA innovators
News
Innovate UK invites South African youth interested in space technology to participate in the NextGen Space Challenge – an international knowledge exchange and mentorship opportunity for youth-led and space-related solutions, using Earth observation data to help tackle climate change and disaster management in South Africa.
Read more...
---
Iritron achieves impressive safety record
Iritron News
Iritron is an engineering, integration and manufacturing company, and also a provider of engineered solutions in the fields of electrical, instrumentation, control systems, decision support, and solar 
...
Read more...
---
EtherCAT Technology Group celebrates 20 years
News
The 20-year milestones of EtherCAT and EtherCAT Technology Group are a reason to celebrate. To mark the occasion, Beckhoff invited guests to a gala dinner.
Read more...
---
Trends in the test and measurement industry
News
The third annual TANDM Community Connect (TCC) event, TCC23, will take place on 16 November 2023 in Pretoria, and 23 November 2023 in Stellenbosch. First launched in 2019, TCC has become a cornerstone of the local test and measurement industry's calendar.
Read more...
---
Marathon Gold selects ABB for vital gold project
ABB South Africa News
Marathon Gold has agreed to a contract with ABB to design and commission the process and power control system for its Valentine Gold Project in Canada.
Read more...
---
Emerson accelerates factory automation capabilities
Emerson Automation Solutions News
Emerson has announced a definitive agreement to acquire Afag, an innovative leader in electric linear motion.
Read more...
---
New engineering software accelerates plant modernisation
Emerson Automation Solutions News
Emerson is helping customers to transition legacy technology to modern DeltaV automation architecture, that modernises and digitises operations.
Read more...
---