printer friendly version
Saryx Engineering Group wins FNB Business Innovation Awards 2018
August 2018
News
FNB Business supported by Endeavor South Africa has announced Saryx Engineering Group (SEG) as the overall winner of the 2018 FNB Business Innovation Awards (FNB BIA).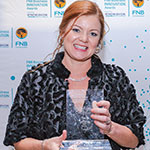 Founded by two female entrepreneurs, Ingrid Osborne and Julie Mathieson, Saryx offers innovative solutions to help companies of all sizes track document compliance and share documents securely.
"Being chosen as a winner among these great companies fundamentally affirms our business model," says Osborne. "We have done some amazing work and continue to evolve while moving the needle in the industry using new innovations and technology tools."
"Winning this award is a step in the right direction to access global markets," adds Mathieson. "We are very excited about the future and the opportunities that this accolade affords our business."
FNB Business will sponsor Osborne and Mathieson to participate at the coveted two-day Endeavor International Selection Panel (ISP) in Argentina in September. ISP brings together high-impact entrepreneurs to present their companies to world-leading business personalities for a chance to be part of an exclusive global network.
Mike Vacy-Lyle, CEO of FNB Business, says the FNB Business Innovation Awards is an incredible platform that showcases business excellence and the potential of South Africa's entrepreneurs: "Since the launch of the awards in 2015, we have seen winners and finalists go on to become thought leaders and employment creators in their respective industries. This attests to the ability of the initiative to enable businesses with the highest potential to scale to access global markets. Congratulations to (SEG) for winning this prestigious award and to all the businesses that took part in this year's competition."
"The FNB Business Innovation Awards is a celebration of the remarkable journeys of some of our country's entrepreneurial role models," adds Catherine Townshend, managing director of Endeavor South Africa. "These founders are committed to building successful local businesses that drive much needed economic growth and job creation. Congratulations to Ingrid Osborne and Julie Mathieson on a remarkable journey in founding and building the business to this point. Through Endeavor and the exposure at the ISP, we are confident that they will be even more motivated to think bigger and engage with a network of like-minded ambitious entrepreneurs that are driven to build a local business with a global footprint."
Selection criteria this year included: leadership potential, commitment, ecosystem impact, turnover, ownership, scale and acceleration, uniqueness of the business and growth trajectory.
Factors such as brand and reputation, stakeholder relations and goodwill, environmental sustainability, social responsibility and quality of governance were also taken into consideration during the process of selecting the winner. Over 600 companies entered the competition. For a comprehensive list of the finalists, judges, and background, visit www.fnbbusinessinnovationawards.co.za.
For more information contact Ingrid Osborne, Saryx Engineering Group, 086 099 5105, ingrid@saryx.co.za, www.saryx.co.za
Credit(s)
Further reading:
The IIoT edge is evolving
January 2020, Technews Publishing (SA Instrumentation & Control) , News
In its IIoT context, the edge is traditionally understood to be a kind of half-way point between the plant and the cloud. Physically hard to define, the edge acts as a repository for data collected from 
...
Read more...
---
University of London opens electronics laboratory based on Tektronix solutions
January 2020 , News
Royal Holloway, University of London, has officially opened its new Beatrice Shilling Building which includes state-of-the-art teaching laboratories in partnership with Tektronix, a leading worldwide 
...
Read more...
---
Rockwell Automation named a leader in Manufacturing Execution Systems
January 2020 , News
Rockwell Automation has announced its recognition as a leader in the Gartner Magic Quadrant for Manufacturing Execution Systems for the second consecutive year. Since the 2018 report, Rockwell Automation 
...
Read more...
---
SKF acquires industrial AI company
January 2020 , News
SKF has signed an agreement to acquire Presenso, a company that develops and deploys artificial intelligence (AI)-based predictive maintenance software. Presenso's capability enables production plants 
...
Read more...
---
Bosch Ulwazi hosts 2019 Engineer in Training function
January 2020 , News
Bosch Ulwazi's 2019 Engineer-in-Training (EIT) Conference was recently held in Mt Edgecombe. At this annual event, graduates are given an interactive platform to showcase the knowledge and skills they 
...
Read more...
---
Smart cities embrace 4IR
January 2020, Schneider Electric South Africa , News
Smart cities rely on smart grid technology that includes traditional and renewable energy sources in its mix of power supply. Driven by the advanced technology of the fourth industrial revolution (4IR), 
...
Read more...
---
North American EtherCAT Plug Fest offers opportunities
January 2020 , News
The 2019 North American EtherCAT Plug Fest recently took place in Denver, USA. Numerous well-known manufacturers of EtherCAT devices came together over two days to test the interoperability of their products 
...
Read more...
---
EM Bloemfontein offers accredited training courses
January 2020, ElectroMechanica , News
The Bloemfontein branch of supplier ElectroMechanica (EM) plans to make significant inroads in the Free State region thanks to its fully-equipped training facility, focusing mainly on automation products 
...
Read more...
---
Cummins boosts production at two glass manufacturers
January 2020 , News
Standby power systems from Cummins are providing extra protection at two glass-manufacturing facilities in Lahore, Pakistan, allowing production lines to always be on, and operations to continue seamlessly 
...
Read more...
---
Schneider Electric announces local manufacturing and reduced lead times
January 2020, Schneider Electric South Africa , News
Schneider Electric South Africa has announced that its PIX Easy Air Insulated Switchgear, previously 100% internationally manufactured, will now have a 68% local finishing process, reducing the customer 
...
Read more...
---