printer friendly version
Saryx Engineering Group wins FNB Business Innovation Awards 2018
August 2018
News
FNB Business supported by Endeavor South Africa has announced Saryx Engineering Group (SEG) as the overall winner of the 2018 FNB Business Innovation Awards (FNB BIA).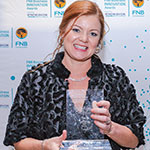 Founded by two female entrepreneurs, Ingrid Osborne and Julie Mathieson, Saryx offers innovative solutions to help companies of all sizes track document compliance and share documents securely.
"Being chosen as a winner among these great companies fundamentally affirms our business model," says Osborne. "We have done some amazing work and continue to evolve while moving the needle in the industry using new innovations and technology tools."
"Winning this award is a step in the right direction to access global markets," adds Mathieson. "We are very excited about the future and the opportunities that this accolade affords our business."
FNB Business will sponsor Osborne and Mathieson to participate at the coveted two-day Endeavor International Selection Panel (ISP) in Argentina in September. ISP brings together high-impact entrepreneurs to present their companies to world-leading business personalities for a chance to be part of an exclusive global network.
Mike Vacy-Lyle, CEO of FNB Business, says the FNB Business Innovation Awards is an incredible platform that showcases business excellence and the potential of South Africa's entrepreneurs: "Since the launch of the awards in 2015, we have seen winners and finalists go on to become thought leaders and employment creators in their respective industries. This attests to the ability of the initiative to enable businesses with the highest potential to scale to access global markets. Congratulations to (SEG) for winning this prestigious award and to all the businesses that took part in this year's competition."
"The FNB Business Innovation Awards is a celebration of the remarkable journeys of some of our country's entrepreneurial role models," adds Catherine Townshend, managing director of Endeavor South Africa. "These founders are committed to building successful local businesses that drive much needed economic growth and job creation. Congratulations to Ingrid Osborne and Julie Mathieson on a remarkable journey in founding and building the business to this point. Through Endeavor and the exposure at the ISP, we are confident that they will be even more motivated to think bigger and engage with a network of like-minded ambitious entrepreneurs that are driven to build a local business with a global footprint."
Selection criteria this year included: leadership potential, commitment, ecosystem impact, turnover, ownership, scale and acceleration, uniqueness of the business and growth trajectory.
Factors such as brand and reputation, stakeholder relations and goodwill, environmental sustainability, social responsibility and quality of governance were also taken into consideration during the process of selecting the winner. Over 600 companies entered the competition. For a comprehensive list of the finalists, judges, and background, visit www.fnbbusinessinnovationawards.co.za.
For more information contact Ingrid Osborne, Saryx Engineering Group, 086 099 5105, ingrid@saryx.co.za, www.saryx.co.za
Credit(s)
Further reading:
From the editor's desk: IT-OT integration becoming a must, but there are challenges
October 2019, Technews Publishing (SA Instrumentation & Control) , News
We're seeing the insecurity around digital transformation start to fade as the history of case studies builds to show how enlightened manufacturing companies have applied the ideas to rationalise their 
...
Read more...
---
Rockwell Automation announced as Founding Member of ISA Global Cybersecurity Alliance
October 2019, Rockwell Automation , News
Production facilities can contain thousands of technologies from different vendors. Cybersecurity threats only need to exploit one of them to steal trade secrets, stop production or even harm workers. 
...
Read more...
---
Emerson helps complete first Caspian subsea project
October 2019, Emerson Automation Solutions , News
Emerson has completed its $48 million contract for automation systems and cloud engineering software-as-a-service for the Shah Deniz 2 project in Azerbaijan and is fulfilling an ongoing five-year services 
...
Read more...
---
Ham-Let smart valve nominated for IoT award
October 2019, Fluid Systems Africa , News
In another remarkable achievement for the Ham-Let Group, its state-of-the art IoTH800 was nominated for best product award at the First Industry Of Things World Award 2019. The Ham-Let Internet-of-Things 
...
Read more...
---
BMG emphasises Hallite hydraulic and pneumatic seals
October 2019, Bearing Man Group t/a BMG , News
BMG supplies an extensive range of hydraulic and pneumatic seals and sealing solutions for demanding environments, and is also the distributor for Hallite Seals International within central and southern 
...
Read more...
---
KZN Expo brings industrial technology solutions under one roof for diverse exhibitor base
October 2019 , News
Once again proving that it's the definitive platform for its 145+ exhibitors to showcase their industrial technology solutions, the KwaZulu-Natal Industrial Technology Exhibition (KITE) attracted a captive 
...
Read more...
---
Cummins stirs interest in pump-engine product line
October 2019 , News
Cummins recently hosted a highly successful seminar in both Dubai and at its Power Hub in Waterfall City, Johannesburg, to introduce end users and OEMs to its range of high-quality engines for the pumps 
...
Read more...
---
KZN a key growth area for Bearings International
October 2019 , News
The Bearings International (BI) Durban branch stocks a wide range of bearings, electric motors, gearboxes, lubricants, seals, tools, and power transmission products for a range of industries. These include 
...
Read more...
---
Trafo supplies transformers for data centre application
October 2019 , News
Trafo Power Solutions recently supplied two 2000 kVA 11,6 kV/415 V dry-type transformers to a large data centre in Cape Town. Manufactured under stringent quality control conditions at Italian transformer 
...
Read more...
---
BMG and AAC partner in Jeppestown clean up
October 2019, Bearing Man Group t/a BMG , News
The joy of teamwork is clearly evident in the partnership between engineering specialists, BMG and entrepreneurs, Agri Arts & Construction (AAC). "Through this match made in Jeppestown, home to both companies, 
...
Read more...
---