printer friendly version
Saryx Engineering Group wins FNB Business Innovation Awards 2018
August 2018
News
FNB Business supported by Endeavor South Africa has announced Saryx Engineering Group (SEG) as the overall winner of the 2018 FNB Business Innovation Awards (FNB BIA).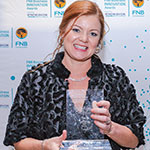 Founded by two female entrepreneurs, Ingrid Osborne and Julie Mathieson, Saryx offers innovative solutions to help companies of all sizes track document compliance and share documents securely.
"Being chosen as a winner among these great companies fundamentally affirms our business model," says Osborne. "We have done some amazing work and continue to evolve while moving the needle in the industry using new innovations and technology tools."
"Winning this award is a step in the right direction to access global markets," adds Mathieson. "We are very excited about the future and the opportunities that this accolade affords our business."
FNB Business will sponsor Osborne and Mathieson to participate at the coveted two-day Endeavor International Selection Panel (ISP) in Argentina in September. ISP brings together high-impact entrepreneurs to present their companies to world-leading business personalities for a chance to be part of an exclusive global network.
Mike Vacy-Lyle, CEO of FNB Business, says the FNB Business Innovation Awards is an incredible platform that showcases business excellence and the potential of South Africa's entrepreneurs: "Since the launch of the awards in 2015, we have seen winners and finalists go on to become thought leaders and employment creators in their respective industries. This attests to the ability of the initiative to enable businesses with the highest potential to scale to access global markets. Congratulations to (SEG) for winning this prestigious award and to all the businesses that took part in this year's competition."
"The FNB Business Innovation Awards is a celebration of the remarkable journeys of some of our country's entrepreneurial role models," adds Catherine Townshend, managing director of Endeavor South Africa. "These founders are committed to building successful local businesses that drive much needed economic growth and job creation. Congratulations to Ingrid Osborne and Julie Mathieson on a remarkable journey in founding and building the business to this point. Through Endeavor and the exposure at the ISP, we are confident that they will be even more motivated to think bigger and engage with a network of like-minded ambitious entrepreneurs that are driven to build a local business with a global footprint."
Selection criteria this year included: leadership potential, commitment, ecosystem impact, turnover, ownership, scale and acceleration, uniqueness of the business and growth trajectory.
Factors such as brand and reputation, stakeholder relations and goodwill, environmental sustainability, social responsibility and quality of governance were also taken into consideration during the process of selecting the winner. Over 600 companies entered the competition. For a comprehensive list of the finalists, judges, and background, visit www.fnbbusinessinnovationawards.co.za.
For more information contact Ingrid Osborne, Saryx Engineering Group, 086 099 5105, ingrid@saryx.co.za, www.saryx.co.za
Credit(s)
Further reading:
From the Editor's desk: Digital transformation is more than just technology
May 2019, Technews Publishing (SA Instrumentation & Control) , News
While digitalisation offers new ways to increase operational efficiency, we see many companies battling to overcome the challenges. Particularly, they struggle to get past the 'pilot' stage, and are therefore 
...
Read more...
---
A technology evolution unfolds at X-Change 2019
May 2019, IS³ - Industry Software, Solutions & Support , News
IS
3
and AVEVA reimagine asset optimisation and new ways of work in tomorrow's digitally enhanced manufacturing plants.
Read more...
---
Emerson appoints new president for Middle East and Africa
May 2019, Emerson Automation Solutions , News
Emerson has appointed Vidya Ramnath as the new president for its Automation Solutions business in Middle East and Africa.    A 24-year veteran of Emerson, she was most recently vice president for Emerson's 
...
Read more...
---
Emerson and Repsol form strategic alliance
May 2019 , News
Emerson and Repsol have announced a strategic alliance to deliver advanced subsurface geophysical technologies to significantly reduce the time to prospect and produce first oil. To achieve this critical 
...
Read more...
---
Yokogawa establishes Yokogawa Norge
May 2019 , News
Yokogawa Electric Corporation has announced that it has established a subsidiary in Norway to engage in the sale of control products and provision of related services. The subsidiary, Yokogawa Norge, 
...
Read more...
---
Local manufacturing key to economic growth
May 2019 , News
The manufacturing sector in southern Africa is primed to take a more active role in supplying goods to the continent and internationally. Characterised by a pioneering diehard attitude, this sector has 
...
Read more...
---
Iritron welcomes Oculus into the I3Group
May 2019, Iritron , News
Pretoria-based Iritron, a black economic empowered technology company and subsidiary of the I
³
Group, providing quality solutions in the fields of electrical, instrumentation and control systems engineering, 
...
Read more...
---
SKF expands engineering services to address changing customer needs
May 2019, SKF South Africa , News
The last few months have seen SKF South Africa substantially expand its engineering team and services to keep in step with the company's new technology and service developments, as well as to address 
...
Read more...
---
HAW to showcase niche product lines at Nampo 2019
May 2019, Hydraulic & Automation Warehouse , News
Hydraulic and Automation Warehouse (HAW), a Bosch Rexroth South Africa Group Company, will showcase eight of its niche product lines at Nampo 2019. Formally known as Grain SA's Nampo Harvest Day, the 
...
Read more...
---
Hytec appointed service partner to Zollern
May 2019, Hytec South Africa , News
Hytec South Africa has been appointed the southern African service partner to the Drive Technology Unit of Zollern. The partnership allows Hytec South Africa to sell, execute inspections, and conduct 
...
Read more...
---