printer friendly version
AST's Pyroshield fire protection
July 2018
IS & Ex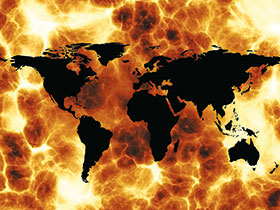 Next year will be the twentieth year since Alien Systems & Technologies (AST) was incorporated in South Africa. During that time the company has developed an array of products that have successfully saved its customers from the ravages of fire, whilst expanding its business into Europe, Australia, Far East, Africa and the Americas.
A case in point has been two recent incidents at large corporates where fire broke out. In April, a large multinational insurance company in Sandton's CBD experienced a fire in its server room. A UPS flashed and quickly escalated into a full fire. The smoke detection system operated and then AST's Pyroshield gaseous fire extinguishing system kicked in. The fire was quickly extinguished and the event was reduced to a minor incident.
Without Pyroshield protection for the server room, the IT backbone of the business could have been wiped out.
A few weeks later, another fire broke out in a computer room in Isando at an international logistics and shipping company. Once again AST's Pyroshield system was activated and extinguished the fire, reducing the consequences of the outbreak to minimal.
These are just two recent incidents where AST's award winning Pyroshield system has saved customers many millions of rands in recapitalising infrastructure and minimising operational losses.
AST's Pyrogen Aerosol fire extinguishing system has operated countless times on mines over the last 17 years. Most recently, a substation would have burnt down at a Portland Cement facility. The cost in production losses would have amounted to many millions. Such is the efficacy of the Pyrogen solution in extinguishing fires that there is virtually no mine in South Africa that does not have Pyrogen installed somewhere to protect its electrical reticulation systems.
AST also designs and supplies the Cirrus Hybrid aspirating fire and smoke detector. Such devices are installed where normal point type smoke detectors are impractical, such as in high bay warehouses or in areas where high airflows from cooling systems are present. This device actively samples the air for the earliest signs of an impending fire threat and is able to discount false alarms that plague optical only detectors, for example from dust.
During the construction of a large blue chip data centre in Johannesburg, a fire broke out during the night when a heater bank was left on after load testing the air cooling system. The Cirrus Hybrid detection system, although not properly commissioned, still detected the fire and sounded the fire alarms. A security guard was able to extinguish the fire. This system ultimately saved the project and ensured that the client could deliver the data centre for cloud hosting purposes on time.
There was a fire on a very large, several hundred million rand printing press in Jet Park. The client's insurance company recommended AST for an effective solution since the existing system did not work adequately. The fire was extinguished, but only after severe damage. AST responded with an automatic fire detection and CO2 extinguishing solution in an extremely volatile environment with ink bath stations that have flammable solvents with low flash points. There were two further fires on the machine since the AST system was installed three years ago and each time the system was activated and extinguished the fire without any significant damage to the machine. Downtime was limited to a day or two in each case. This is in comparison to the six months loss in production after the first fire due to the poorly designed and ineffective competitor solution. The client is required to deliver on multimillion rand contracts by using this particular press and cannot afford not to have this machine running.
With a vast range of products and solutions, ECSA registered engineers on its design team, and a history built on success, AST is able to deliver virtually a wide range of turnkey and integrated systems for all kinds of client needs. Applications include conveyor belt systems, data centres, building fire detection and alarm systems, hospital fire detection and alarm systems, mining machines such as stacker/reclaimers, printing press machines, hydraulic lubricating oil packs, intrinsically safe systems, sensitive document stores, prestigious buildings, museums and warehouses.
Built on knowledge, research, development and engineering principles, AST is looking forward to celebrating its forthcoming twentieth year with its ongoing commitment to deliver high quality products and integrated turnkey systems and to save its clients from the destructive effects and life-threatening power of fire.
For more information contact Grant Wilkinson, Alien Systems & Technologies, +27 (0)11 949 1157, sales@astafrica.com, www.astafrica.com
Credit(s)
Further reading:
Tube connector for Ex areas
May 2020, Parker Hannifin Sales Company South , IS & Ex
Parker Hannifin has extended its Phastite permanent instrumentation connection range, which is now available in a number of corrosion-resistant alloys (CRAs), including Alloy 825, 625 and Super Duplex, 
...
Read more...
---
Surge protection for electro-mobility
July 2020, Phoenix Contact , IS & Ex
The market for electric cars is growing exponentially and automobile manufacturers are increasingly focusing on electro-mobility. However, surge protection also has a part to play in this technology. 
...
Read more...
---
Ethernet for Ex areas
July 2020, Turck Banner , IS & Ex
Turck is opening the world of the process industry to digitalisation and Industry 4.0 with its first Zone 2 Ethernet gateway for the excom I/O system. All process data can thus now reach IT systems for 
...
Read more...
---
Safety light grid with muting
July 2020, ifm - South Africa , IS & Ex
The new generation of safety light grids from ifm electronic allows for the muting mode without an external junction box or a muting relay being required, as they are already integrated into the receiving 
...
Read more...
---
Instrumentation connection for Ex areas
April 2020, Parker Hannifin Sales Company South , IS & Ex
Parker Hannifin has extended its Phastite permanent instrumentation connection range, which is now available in a number of corrosion-resistant alloys (CRAs), including Alloy 825, 625 and Super Duplex, 
...
Read more...
---
Remote alarm monitoring made simple
May 2020, Omniflex Remote Monitoring Specialists , IS & Ex
Alarms are normally managed on site by personnel charged with supervising the plant/facility and ensuring the continuity of the operation. Alarms are implemented to help manage operations and mobilise 
...
Read more...
---
Extech announces new i.safe Mobile devices
May 2020, Extech Safety Systems , IS & Ex
Extech Safety Systems has announced the introduction of two new mobile devices – IS530.1 and IS930.1 – both IA certified for South Africa including Ex ia Ma zone 0 for underground coal mining.      
IS530.1
...
Read more...
---
Electrical explosion protection for the chemical process industry
May 2020, Pepperl+Fuchs , IS & Ex
The safety of a plant is a top priority for operators and manufacturers of chemical plants. For companies, it is important to have an expert on hand for support and advice regarding projects in the field 
...
Read more...
---
Transmitter for Ex applications
May 2020, ASSTech Process Electronics + Instrumentation , IS & Ex
The new multifunction four-wire transmitter Jumo dTrans T06 Ex in DIN rail housing is ideal for demanding SIL and Ex applications. The measurement input has a 22-bit resolution with switchable noise suppression 
...
Read more...
---
Next level light curtains
May 2020, SICK Automation Southern Africa , IS & Ex
SICK Automation is a world leading manufacturer of sensors, safety systems and automatic identification products. The next step for safety – this core idea therefore underpins the entire design of the 
...
Read more...
---