High reliability in temperature measurement
July 2018
Temperature Measurement

printer friendly version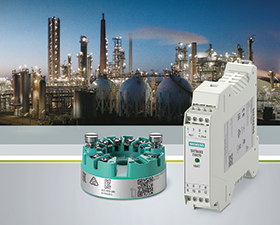 With Sitrans TH320/420 and TR320/420, Siemens introduces a new generation of reliable HART temperature transmitters for a wide range of sensor types, suitable for mounting in sensor head and rail mounting. They feature high availability of the measurement signal and ease-of-use. Due to the safety integrity level (SIL) 2/3 certification according to IEC 61508, the temperature transmitters are particularly suited for safety-critical applications. The devices also have a large number of country specific explosion protection certificates for all zones. They provide reliable results, even under extreme conditions down to -50°C. Main application areas include industries such as chemical, oil and gas, marine and power generation.
With fast and accurate sensor and transmitter tuning, the use of the Callendar-van Dusen method or 60-point-curve ensures highest measuring accuracy. Deviations can be detected and monitored through the drift detection with dual-channel transmitters, e.g. for preventive maintenance. Electronic device descriptions (EDD, DTM and FDI) allow the new transmitters to be used in all current distributed control systems. A quick start wizard is just one example of their user friendly features. Measurement values, device functions and visual alarm signals can be displayed and operation planning and implementation is very convenient using special visualisation components for Simatic PCS 7 (Sitrans Library).
When a sensor fails in operation, for example due to disconnection or short circuit, measurement failures may result in loss of control or production stops. To avoid this and to ensure high measurement availability through reliability and long term stability, maintenance planning is essential. The Sitrans TH420 and TR420 sensor backup function, drift detection and alarming make this possible. Using the four-wire connection for both sensors increases data accuracy and reliability as it allows a seamless transition to the second sensor in case the first sensor fails. The continuous balancing of the two independent sensors measuring in parallel, while detecting and monitoring measuring value deviations, allows the scope of maintenance to be planned as required, following the description above, and production stops to be avoided. Balancing the sensors using the Callendar-van Dusen method also meets the challenge of sensor inaccuracy caused by individual deviation from standardised Pt100 curves or by ageing. Outstanding transmitter accuracy and sensor balancing enable simpler calibration of the sensors directly in the transmitter and provide for highly precise individual values.
For more information contact Jennifer Naidoo, Siemens Digital Factory and Process Industries and Drives, +27 (0)11 652 2795, jennifer.naidoo@siemens.com, www.siemens.co.za
Credit(s)
Further reading:
Digital Enterprise offering with ­future technologies for Industry 4.0
February 2019, Siemens Digital Factory & Process Indust. & Drives , IT in Manufacturing
By expanding its Digital Enterprise portfolio and integrating future technologies, Siemens is driving forward the digital transformation of the discrete and process industries.
Read more...
---
AST's line-type heat sensing
February 2019, Alien Systems & Technologies , Temperature Measurement
Alien Systems & Technologies (AST) offers a wide range of automatic fire detection systems from advanced ultra-smart addressable point type detection systems to regular conventional systems.
Read more...
---
Siemens and MineSense to develop real-time ore grade measurement solution
February 2019, Siemens Digital Factory & Process Indust. & Drives , News
With ore grades declining, plus added pressures such as rising energy costs and water restrictions, it is increasingly difficult for mining companies to fulfil customer demand by delivering material on 
...
Read more...
---
Infrared technology in the food and beverage industry
February 2019, Comtest , Temperature Measurement
Keeping production strictly on schedule in any facet of the food and beverage industry, whether it be pumps, conveyors or electrical connections, means downtime is not an option. Comtest advocates including 
...
Read more...
---
Simple connection of converters supports cloud-based applications
February 2019, Siemens Digital Factory & Process Indust. & Drives , IT in Manufacturing
The new Sinamics Connect 300 from Siemens provides a simple plug-and-play solution for integrating converters of the Sinamics family into the IT world. The new solution is suitable for low-voltage converters 
...
Read more...
---
Power supply protects against hour-long power failures
February 2019, Siemens Digital Factory & Process Indust. & Drives , Electrical Power & Protection
Siemens has upgraded its Sitop PSU8600 power supply system with the addition of new supplementary modules to transform it into an uninterruptible DC power supply. To achieve this, the new DC UPS module 
...
Read more...
---
Battery powered digital temperature gauges
February 2019, Instrotech , Temperature Measurement
Kobold's DTE series of digital temperature gauges offers a wide range of industrial and analytical possibilities in applications where high accuracy and clear indication is required, and where alarm control 
...
Read more...
---
Oven temperature profiling in the automotive industry
January 2019, R&C Instrumentation , Temperature Measurement
For successful paint cure, irrespective of the paint chemistry being used, it is critical to measure and control the temperature of the car body as it travels through the oven. Today, paint ovens are 
...
Read more...
---
Control in paint shop applications
January 2019, Temperature Controls , Temperature Measurement
A logical combination of heating method and control is radiant heat with an Exergen IRt/c for control. The combination works well together since both the heating and measuring occur right at the surface 
...
Read more...
---
IR thermocouple offers noise immunity
January 2019, Temperature Controls , Temperature Measurement
With twisted shielded pair thermocouple extension wire, an Exergen IRt/c can be mounted as far as 300 metres from the readout device, even in harsh electrically noisy environments. The extraordinary noise 
...
Read more...
---