Do not let untrained personnel maintain fire suppression systems
Technews Industry Guide: Maintenance, Reliability & Asset Optimisation 2018
Maintenance, Test & Measurement, Calibration

printer friendly version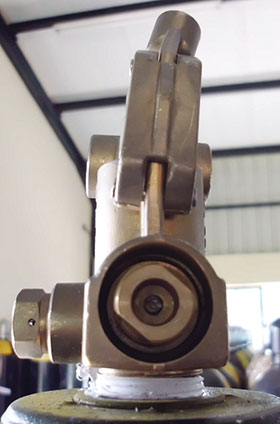 In a world where safety systems are of paramount importance, the integrity of these systems becomes a focal point. Fire protection systems are a case in point.
Alien Systems & Technologies (AST) takes great care to ensure that its fire protection systems are designed and manufactured to the highest quality standards. In addition, its personnel are highly trained and equipped with the latest maintenance technology for the peace of mind of customers. AST goes a step further by certifying its system integrators, which must undergo installation, commissioning and maintenance training. This is to ensure that all customer equipment is installed and maintained to the highest standards using only approved suppliers and genuine parts.
In South Africa, for example, all Pyroshield systems requiring hydrostatic pressure testing and/or refilling must be returned to AST for this service. No other facility has been approved to provide this service. This is to ensure that customers know that their cylinders are filled with the proper mixture of fire extinguishing gas, that the parts used are genuine, and that the personnel performing this work are competent and using the right tools. This is vital to ensure that Pyroshield fire extinguishing systems will perform reliably when called upon to do so.
Beware of uncertified imitators
AST has evidence of companies that, while attempting to refill Pyroshield cylinders, have damaged valves. In addition, it is uncertain whether the gas mixture used was correct. Furthermore, the persons doing the work had not undergone training from AST and were therefore not certified as competent. All of this poses a serious risk to customers who may think that their Pyroshield system is in perfect working order, when in fact it probably is not.
"So what can you do?" Anyone who has doubts about the integrity of their Pyroshield cylinders can contact AST and ask to speak to the sales department who will be able to verify whether the cylinders were returned for servicing. Should the cylinders not have been filled by AST, this poses a risk to customers and insurance companies alike, as the system is no longer a Pyroshield and falls outside of the control of AST, the manufacturer.
A major benefit when using AST to refill is a free hydrostatic pressure test is included. AST also offers a free refill on all Pyroshield cylinders that have discharged after a fire. Furthermore, the company offers a collection and delivery service and has a full scale 400 bar production capacity filling plant, meaning that cylinders can be refilled timeously and with precision.
Second-hand cylinders
"What if you have second-hand Pyroshield cylinders and want to use them?" Sure, but first contact AST so that these cylinders can be checked and verified for reuse. This will ensure that they carry the product manufacturer's guarantee when using them on another system.
AST encourages anyone to notify them should they think that your Pyroshield cylinders are being refilled by someone not certified. In addition, customers can also verify whether their fire system installer/maintainer carries authentic training certification.
For some, taking shortcuts is a way of life. However, it has been shown time and again that this exploitative practice can put lives at risk. Nobody wants this kind of practice giving a false sense of security to customers when it comes to their fire protection systems. To this end, AST is standing by to assist anyone who wishes to verify that their Pyroshield systems are only being maintained by people who are competent to do so.
For more information contact Grant Wilkinson, Alien Systems & Technologies, +27 (0)11 949 1157, sales@astafrica.com, www.astafrica.com
Credit(s)
Further reading:
Is your building safe from fire?
March 2019, Alien Systems & Technologies , IS & Ex
Correct selection of detectors is vital.
Read more...
---
Chain wear indicators
March 2019, Bearing Man Group t/a BMG , Maintenance, Test & Measurement, Calibration
BMG has extended its range of Tsubaki chain wear indicators with the addition of the recently launched large-size gauges. "These indicators enable plant and machinery engineers to measure roller chain 
...
Read more...
---
SKF offers new metering device for lubrication systems
March 2019, SKF South Africa , Maintenance, Test & Measurement, Calibration
SKF has announced the introduction of its Lincoln SLC metering device for grease. Developed for use in single-line lubrication systems, this compact metering system boasts a modular design for less jointing 
...
Read more...
---
Calibration vs verification
March 2019, Endress+Hauser , Maintenance, Test & Measurement, Calibration
Maintenance personnel often come across the metrological terms calibration and verification. For some, these two concepts are known and easy to differentiate, for others, they can cause confusion.
...
Read more...
---
Eliminating the maintenance backlog in record time
February 2019, Phoenix Contact , Maintenance, Test & Measurement, Calibration
Adaptation concept facilitates the introduction of modern control systems and control technology.
Read more...
---
AST's line-type heat sensing
February 2019, Alien Systems & Technologies , Temperature Measurement
Alien Systems & Technologies (AST) offers a wide range of automatic fire detection systems from advanced ultra-smart addressable point type detection systems to regular conventional systems.
Read more...
---
Emerson drives faster response times
February 2019, Emerson Automation Solutions , Maintenance, Test & Measurement, Calibration
Emerson has released AMS Inspection Rounds, a new application for the AMS Trex Device Communicator that will make it easier for operations teams to capture, report and respond to abnormal plant conditions 
...
Read more...
---
Steam system inspection technology
February 2019, Comtest , Maintenance, Test & Measurement, Calibration
Steam is used to heat raw materials and treat semi-finished products. It is also a power source for equipment, as well as for heat and electricity generation. But steam is not free. Annually, it costs 
...
Read more...
---
New app scans TeSys GV4 circuit breakers
February 2019, Schneider Electric South Africa , Maintenance, Test & Measurement, Calibration
Schneider Electric has released a TeSys GV4 multifunction mobile app that connects to its new TeSys GV4 motor circuit breaker to provide basic and advanced protection settings configuration, using a near 
...
Read more...
---
Safe infrared inspections under load
February 2019, R&C Instrumentation , Maintenance, Test & Measurement, Calibration
Iriss and Eaton joined forces to manufacture the Pow-R-Way III Busway System, which enables safe and accurate energised infrared inspections under full load. The UL listed joint cover design, with the 
...
Read more...
---