printer friendly version
Do not let untrained personnel maintain fire suppression systems
Technews Industry Guide: Maintenance, Reliability & Asset Optimisation 2018
Maintenance, Test & Measurement, Calibration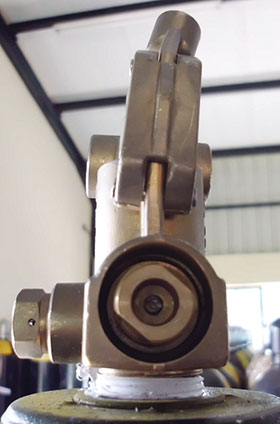 In a world where safety systems are of paramount importance, the integrity of these systems becomes a focal point. Fire protection systems are a case in point.
Alien Systems & Technologies (AST) takes great care to ensure that its fire protection systems are designed and manufactured to the highest quality standards. In addition, its personnel are highly trained and equipped with the latest maintenance technology for the peace of mind of customers. AST goes a step further by certifying its system integrators, which must undergo installation, commissioning and maintenance training. This is to ensure that all customer equipment is installed and maintained to the highest standards using only approved suppliers and genuine parts.
In South Africa, for example, all Pyroshield systems requiring hydrostatic pressure testing and/or refilling must be returned to AST for this service. No other facility has been approved to provide this service. This is to ensure that customers know that their cylinders are filled with the proper mixture of fire extinguishing gas, that the parts used are genuine, and that the personnel performing this work are competent and using the right tools. This is vital to ensure that Pyroshield fire extinguishing systems will perform reliably when called upon to do so.
Beware of uncertified imitators
AST has evidence of companies that, while attempting to refill Pyroshield cylinders, have damaged valves. In addition, it is uncertain whether the gas mixture used was correct. Furthermore, the persons doing the work had not undergone training from AST and were therefore not certified as competent. All of this poses a serious risk to customers who may think that their Pyroshield system is in perfect working order, when in fact it probably is not.
"So what can you do?" Anyone who has doubts about the integrity of their Pyroshield cylinders can contact AST and ask to speak to the sales department who will be able to verify whether the cylinders were returned for servicing. Should the cylinders not have been filled by AST, this poses a risk to customers and insurance companies alike, as the system is no longer a Pyroshield and falls outside of the control of AST, the manufacturer.
A major benefit when using AST to refill is a free hydrostatic pressure test is included. AST also offers a free refill on all Pyroshield cylinders that have discharged after a fire. Furthermore, the company offers a collection and delivery service and has a full scale 400 bar production capacity filling plant, meaning that cylinders can be refilled timeously and with precision.
Second-hand cylinders
"What if you have second-hand Pyroshield cylinders and want to use them?" Sure, but first contact AST so that these cylinders can be checked and verified for reuse. This will ensure that they carry the product manufacturer's guarantee when using them on another system.
AST encourages anyone to notify them should they think that your Pyroshield cylinders are being refilled by someone not certified. In addition, customers can also verify whether their fire system installer/maintainer carries authentic training certification.
For some, taking shortcuts is a way of life. However, it has been shown time and again that this exploitative practice can put lives at risk. Nobody wants this kind of practice giving a false sense of security to customers when it comes to their fire protection systems. To this end, AST is standing by to assist anyone who wishes to verify that their Pyroshield systems are only being maintained by people who are competent to do so.
For more information contact Grant Wilkinson, Alien Systems & Technologies, +27 (0)11 949 1157, sales@astafrica.com, www.astafrica.com
Credit(s)
Further reading:
All-in-one documenting process calibrators
Comtest Maintenance, Test & Measurement, Calibration
The multifunction calibrators perform sourcing, simulation and measurement of pressure, temperature and electrical signals.
Read more...
---
Five reasons for force measurement
WIKA Instruments Editor's Choice Maintenance, Test & Measurement, Calibration
Wika takes a closer look at the measured variable of force and gives five reasons to show why force measurement is of particular importance.
Read more...
---
High-quality contact lubricants
Vepac Electronics Maintenance, Test & Measurement, Calibration
CG53A is part of the CG series of contact lubricants, designed as an extension of the extremely popular 2X range. The main advantages of these products are reduced contact resistance, even on extremely 
...
Read more...
---
Field services – beyond break-fix to invaluable organisational insight
Schneider Electric South Africa Maintenance, Test & Measurement, Calibration
An outsourced field services team can assist organisations not only during emergencies but also by providing spares, technical support and 24/7 callout availability.
Read more...
---
Pyranometer for monitoring small-scale PV installation efficiency
GHM Messtechnik SA Electrical Power & Protection Maintenance, Test & Measurement, Calibration
The device's classification level under the ISO 9060:2018 standard guarantees accuracy, reliability, precision and compliance with reference standards.
Read more...
---
Condition monitoring on offshore oil platforms
Beckhoff Automation Maintenance, Test & Measurement, Calibration
The steel structures of an offshore platform are exposed to extreme environmental conditions throughout their entire service lives. Difficult sea conditions ranging up to freak waves and aggressive 
...
Read more...
---
The 'P' in predictive maintenance represents progress, not pain
SMC Corporation South Africa Maintenance, Test & Measurement, Calibration
There are three main types of maintenance: reactive, preventative and predictive. But how do you make sense of these terms? Human health can provide an analogy to machine health. Take diabetes, for 
...
Read more...
---
Precision current loop calibrators
Comtest Maintenance, Test & Measurement, Calibration
The Fluke 709 and 709H mA loop calibrators are built around a user-friendly interface with a quick-set rotary encoder knob.
Read more...
---
Why calibrating multipoint thermocouples is so challenging
WIKA Instruments Maintenance, Test & Measurement, Calibration
Multipoint thermocouples monitor temperature cycles extremely accurately, even at 1000°C or higher, necessitating traceable calibration in accordance with DIN EN ISO/IEC 17025 specifications.
Read more...
---
Hydraulic deadweight tester for pressure instrument calibration
Instrotech Pressure Measurement & Control Maintenance, Test & Measurement, Calibration
The high-quality piston/cylinder units are manufactured from tungsten carbide, which is known for its low thermal coefficient of expansion.
Read more...
---