printer friendly version
Do not let untrained personnel maintain fire suppression systems
Technews Industry Guide: Maintenance, Reliability & Asset Optimisation 2018
Maintenance, Test & Measurement, Calibration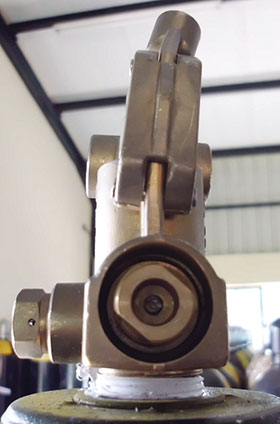 In a world where safety systems are of paramount importance, the integrity of these systems becomes a focal point. Fire protection systems are a case in point.
Alien Systems & Technologies (AST) takes great care to ensure that its fire protection systems are designed and manufactured to the highest quality standards. In addition, its personnel are highly trained and equipped with the latest maintenance technology for the peace of mind of customers. AST goes a step further by certifying its system integrators, which must undergo installation, commissioning and maintenance training. This is to ensure that all customer equipment is installed and maintained to the highest standards using only approved suppliers and genuine parts.
In South Africa, for example, all Pyroshield systems requiring hydrostatic pressure testing and/or refilling must be returned to AST for this service. No other facility has been approved to provide this service. This is to ensure that customers know that their cylinders are filled with the proper mixture of fire extinguishing gas, that the parts used are genuine, and that the personnel performing this work are competent and using the right tools. This is vital to ensure that Pyroshield fire extinguishing systems will perform reliably when called upon to do so.
Beware of uncertified imitators
AST has evidence of companies that, while attempting to refill Pyroshield cylinders, have damaged valves. In addition, it is uncertain whether the gas mixture used was correct. Furthermore, the persons doing the work had not undergone training from AST and were therefore not certified as competent. All of this poses a serious risk to customers who may think that their Pyroshield system is in perfect working order, when in fact it probably is not.
"So what can you do?" Anyone who has doubts about the integrity of their Pyroshield cylinders can contact AST and ask to speak to the sales department who will be able to verify whether the cylinders were returned for servicing. Should the cylinders not have been filled by AST, this poses a risk to customers and insurance companies alike, as the system is no longer a Pyroshield and falls outside of the control of AST, the manufacturer.
A major benefit when using AST to refill is a free hydrostatic pressure test is included. AST also offers a free refill on all Pyroshield cylinders that have discharged after a fire. Furthermore, the company offers a collection and delivery service and has a full scale 400 bar production capacity filling plant, meaning that cylinders can be refilled timeously and with precision.
Second-hand cylinders
"What if you have second-hand Pyroshield cylinders and want to use them?" Sure, but first contact AST so that these cylinders can be checked and verified for reuse. This will ensure that they carry the product manufacturer's guarantee when using them on another system.
AST encourages anyone to notify them should they think that your Pyroshield cylinders are being refilled by someone not certified. In addition, customers can also verify whether their fire system installer/maintainer carries authentic training certification.
For some, taking shortcuts is a way of life. However, it has been shown time and again that this exploitative practice can put lives at risk. Nobody wants this kind of practice giving a false sense of security to customers when it comes to their fire protection systems. To this end, AST is standing by to assist anyone who wishes to verify that their Pyroshield systems are only being maintained by people who are competent to do so.
For more information contact Grant Wilkinson, Alien Systems & Technologies, +27 (0)11 949 1157, sales@astafrica.com, www.astafrica.com
Credit(s)
Further reading:
Food grade electric chain hoists
February 2020, Becker Mining South Africa , Maintenance, Test & Measurement, Calibration
New to Becker's range of Kito hoists are food grade electric chain hoists, designed for safe lifting applications in contaminant controlled and corrosive processing environments, particularly the food 
...
Read more...
---
Hygienic limit switches for processes
February 2020, Morton Controls , Maintenance, Test & Measurement, Calibration
Process and storage vessels incorporate limit switches to prevent overfilling of a tank or vessel (full indicator) or dry running of a pump (empty indicator). Anderson-Negele's NCS series are ideally 
...
Read more...
---
Using Fluke's T6 electrical testers
February 2020, Comtest , Maintenance, Test & Measurement, Calibration
Those who use electrical testers to capture measurements such as voltage and current know that the process is traditionally time-consuming and carries potential risk. Fluke T6 electrical testers provide 
...
Read more...
---
Optimised maintenance for gas burners
February 2020, Instrotech , Maintenance, Test & Measurement, Calibration
Whenever the flow of gases needs to be adjusted or monitored, Kobold's model UTS variable area flowmeter for monitoring gas burners offers a solution. This compact measuring instrument can be placed at 
...
Read more...
---
Sonic industrial imager detects leaks
February 2020, Comtest , Maintenance, Test & Measurement, Calibration
Comtest now offers the Fluke's ii900, a handheld sonic industrial imager that enables maintenance teams to locate air, steam, gas and vacuum leaks in systems. The straightforward, intuitive interface 
...
Read more...
---
Shutdown planning and execution
January 2020, Instroworx , Maintenance, Test & Measurement, Calibration
It is inevitable in that in some shape or form, all plant workers will at some stage be involved in the shutdown of a facility. Planning is essential to ensure that this shutdown is executed within both 
...
Read more...
---
Accurate results with rugged Fluke thermal camera
January 2020, Comtest , Maintenance, Test & Measurement, Calibration
Leading an industrial maintenance team requires a unique combination of communication skills, industry knowledge and technical expertise. Implementing standard work and a preventive maintenance programme 
...
Read more...
---
Inline sensor status indicator
January 2020, Turck Banner , Maintenance, Test & Measurement, Calibration
Machine downtime can be costly for any company and identifying the problem can be time-consuming. The S15L series inline sensor status indicator can be mounted on a sensor for 360 degree-visibility of 
...
Read more...
---
Martec launches new asset health solutions
January 2020, Martec (a Pragma company) , Maintenance, Test & Measurement, Calibration
Condition monitoring specialist Martec has announced the inclusion of two new services to complement its range of condition monitoring (CM) solutions. The Asset Health Portal and Reliability Nerve Centre 
...
Read more...
---
Emerson monitoring accelerates asset digitalisation
December 2019, Emerson Automation Solutions , Maintenance, Test & Measurement, Calibration
Emerson has introduced the AMS Asset Monitor edge analytics device, which digitalises essential asset data and analytics for better operations performance and improved decision making. AMS Asset Monitor 
...
Read more...
---