printer friendly version
Emerson simplifies asset health monitoring and maintenance
Technews Industry Guide: Maintenance, Reliability & Asset Optimisation 2018
IT in Manufacturing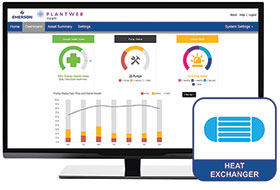 With the demand to implement the IIoT, the challenge is knowing where to start. Plants generate more data than ever before without meaningful analytics to guide expert decisions and actions. Plantweb enables customers a scalable, easy path into IIoT benefits that will transform data into truly actionable information – information that plant personnel can use to improve the safety, reliability and efficiency of assets, people and processes.
Deployable via traditional workstation, tablet or smartphone, Emerson's Plantweb Insight apps provide specific asset alerts that enable companies to see a quick return on investment in months by avoiding slowdowns and shutdowns. Instead of having to rely on an asset expert, these affordable apps can be quickly deployed and easily accessed anytime, anywhere by maintenance staff to improve asset operations. A user can begin with one or more assets, such as pumps or heat exchangers, and then expand as they achieve measurable benefits.
The built-in domain expertise of the analytics helps resolve asset issues that were formerly solved by periodic, time-consuming manual rounds or unexpected failures. Pre-built analytics require minimal configuration, and its flexible software is operating system-independent, easily installing and integrating with existing infrastructures.
Using Plantweb Insight, users can improve asset reliability and energy usage by identifying abnormal situations and inefficiencies, recognising optimum maintenance times, and tracking asset health to identify and prevent failures before they occur. They also can avoid potential safety incidents and ensure regulatory compliance, reducing fines and environmental impact though the real-time identification of leaks and other hazards. Plantweb Insight is currently available with applications for steam trap monitoring, pump monitoring and pressure gauge monitoring. The newest app in the suite:
• Heat Exchanger Insight – this Plantweb app provides an overview of heat exchanger status and diagnostics from all the instruments on the network. Based on an algorithm, it provides directions to maintenance on where to focus action for issues, and provides a detail of the issue to guide them in efficient resolution, thereby avoiding slowdowns and shutdowns.
Future Plantweb Insight applications launching in the next year include:
• Air-Cooled Heat Exchanger.
• Pressure Relief Device Insight.
• Network Management Insight.
• Corrosion Insight.
For more information contact Rob Smith, Emerson Automation Solutions, +27 (0)11 451 3700, rob.smith@emerson.com, www.emerson.com
Credit(s)
Further reading:
The most common cyber threats in the industrial environment
Rockwell Automation IT in Manufacturing
Rockwell Automation's cybersecurity portfolio strategic growth leader delves into this topic in a recent blog post.
Read more...
---
Deploying IT into the factory floor environment
Omniflex Remote Monitoring Specialists IT in Manufacturing
The ongoing debate on whether OT and IT should be integrated has never been more intense. Closing the gap between the two has many benefits, not least of which are efficiency and profitability managed in near real time.
Read more...
---
PACTware further refines user interface
VEGA Controls SA IT in Manufacturing
Optimising a user interface for multiple sensor equipment manufacturers is possible in such a way that industrial users can use it similarly to everyday smart devices.
Read more...
---
EPLAN Marketplace networks users and service providers
EPLAN Software & Services IT in Manufacturing
The free online platform is divided into engineering services, module manufacturing services and general consulting sectors.
Read more...
---
Condition monitoring software gets asset health boost
Emerson Automation Solutions IT in Manufacturing
The newest version of Emerson's AMS Machine Works adds support for embedded, automatic analytics at the edge using patented PeakVue technology.
Read more...
---
A robust cybersecurity strategy is critical
ABB South Africa IT in Manufacturing
Understanding and managing the risks associated with a cyberattack can seem a daunting prospect in the face of keeping a plant up and running.
Read more...
---
Is your manufacturing plant ready for IoT?
Editor's Choice Fieldbus & Industrial Networking IT in Manufacturing
Pockets of IoT exist in manufacturing plants today; the challenge is to fully digitalise the entire plant.
Read more...
---
Revolutionising space exploration
Siemens South Africa IT in Manufacturing
Sierra Space, a commercial space company at the forefront of creating and building the future of space transportation for low earth orbit commercialisation, has implemented the Siemens Xcelerator portfolio of software and services as the foundation of its next-generation digital engineering program.
Read more...
---
Impact of innovative technologies on the mining industry
Parker Hannifin - Sales Company South Africa Editor's Choice IT in Manufacturing
Mining operations must identify creative ways to handle the increased demand for minerals and resources as global economies become even more reliant on mineral sales. As a result, mine operators must 
...
Read more...
---
SIM management essential in changing IoT market
IT in Manufacturing
Trinity IoT provides a myriad of tools to manage SIMs, whether as part of a mobile device strategy or a rapidly evolving IoT ecosystem.
Read more...
---