printer friendly version
Electronic instruments in hazardous areas
March 2018
IS & Ex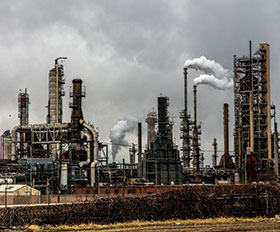 In many industries, there are certain areas that are classified as hazardous or Ex areas. This is an area that contains, or may contain, combustible substances such as gas, vapour or dust. Typical hazardous areas include coal mines, grain silos, chemical and petroleum plants, offshore and onshore oil and gas rigs, oil refineries, pharmaceutical plants and paint shops.
During the coal mining process, byproducts in the form of coal dust and methane are produced. The build-up of either of these can be extremely dangerous. Even a tiny spark can set off a disastrous explosion. Similarly, grain silo dust ignited by a spark, has led to tragic explosions.
Safety measures in hazardous areas
In order for ignition to occur, two things are needed: the combustible atmosphere as described above, and a trigger i.e. a spark or flame. Remove one or both of these conditions and an explosion cannot occur.
Removing combustible dust and vapour
Ventilation equipment can dilute or remove dangerous substances from an enclosed area and as a result reduce the risk of explosion. This method is extensively used in the mining and chemical industry.
No trigger
Apart from 'No Open Flame' signs, precaution must be taken to prevent electrical equipment from being a source of ignition. A simple electrical switch, for example, can generate an electrical spark every time it is thrown – depending on the type of load. This spark may be enough to act as a trigger for an explosion in a hazardous area. In a similar fashion, sparks can be created by portable electronic devices. In order for devices to be safe for use in hazardous areas, safety precautions have to be built into the design.
Intrinsically safe (IS) instruments
There are several aspects in the design of IS electronic devices, of which reducing or eliminating switch sparking is but one. Other considerations include, fast fuses, controlling component temperatures, eliminating tight component spacing that could lead to a short circuit, and reducing circuit current and energy storage.
R&C Instrumentation is geared to supply a considerable range of intrinsically safe instruments, for instance the Raytek MT4-IS handheld non-contact thermometer for the temperature range -18 to 400°C, the Raytek Mi3-IS 4-wire system fixed pyrometer and the Raytek TX-IS 2-wire loop powered system fixed pyrometer.
As part of the recently launched range of vibration sensors, there is also a wide range of ATEX IEC and Ex certified versions available. Additionally, due to a special request from a mining client, there is now also the UT390B+IS laser distance meter available from stock.
For more information contact R&C Instrumentation, +27 (0)86 111 4217, info@randci.co.za, www.randci.co.za
Credit(s)
Further reading:
Powder coating cure performance
June 2019, R&C Instrumentation , Temperature Measurement
In any industrial paint or powder coating operation, getting the paint cure correct is critical to both the physical and cosmetic performance of the product. To get the best out of the coating, it is 
...
Read more...
---
Infrared inspection windows on ships
June 2019, R&C Instrumentation , Maintenance, Test & Measurement, Calibration
Infrared thermography is a widely-accepted preventive maintenance technology, both for land-based and maritime applications. Electromechanical assets like motors, especially on ships where both vibration 
...
Read more...
---
Mobile application for barcode scanning
Africa Automation Fair 2019 Preview, Extech Safety Systems , IS & Ex
Extech is exhibiting the mobXscan app for use in hazardous areas, which adds the capability of barcode scanning to any Windows 10 tablet or Android device. It can be seen at Stand E03. It uses the built-in 
...
Read more...
---
Smart pyrometers
Africa Automation Fair 2019 Preview, R&C Instrumentation , Temperature Measurement
R&C Instrumentation is showcasing the Thermalert 4.0 pyrometer from Fluke Process Instruments at Stand F04. The series comprises 13 models with varied spectral responses, including dedicated sensors for 
...
Read more...
---
Safety on the pistes
May 2019, Siemens Digital Industries , IS & Ex
Inauen Schätti, a construction company whose areas of specialism include ropeways, is working to improve piste safety for skiers. As part of a pilot test project on the Parpaner Rothorn mountain, the 
...
Read more...
---
Safety technology to improve ­flexibility
May 2019, AC/DC Dynamics , IS & Ex
The new Datalogic concept for robot evolution expects to overtake the competition. Following demanding safety regulations, outdated isolated robotic cells are now replaced with robot-like parts of industrial 
...
Read more...
---
Drone-based gas leak detection
May 2019, ABB South Africa , IS & Ex
Leaks in gas distribution and transmission pipelines present serious safety risks and result in lost revenue and profits to producers. The ABB Ability mobile gas leak detection system is a digital solution, 
...
Read more...
---
Conveyor system fire prevention
May 2019, R&C Instrumentation , IS & Ex
The transport of materials is a key activity for most industries. For many of these tasks, conveyor belt systems offer a cost effective and efficient solution. However, with such a system comes a high 
...
Read more...
---
LSIS achieves Ex rating for HMI range
Africa Automation Fair 2019 Preview, Ana-Digi Systems , IS & Ex
LSIS is rolling out Ex certification for its entire range of HMIs. These products now carry a rating which allows for a maximum pollution degree 2 level. Mounting the HMIs into an IP54 enclosure ensures 
...
Read more...
---
Equipment for hazardous areas
Africa Automation Fair 2019 Preview, Extech Safety Systems , IS & Ex
Extech Safety Systems is showcasing Sensear digital communication and active listening headsets and earplugs at Stand E03. These are for use in high noise and hazardous environments. Sensear's patented 
...
Read more...
---