printer friendly version
Non-contacting radar level transmitter
February 2018
Level Measurement & Control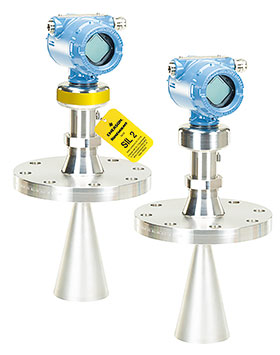 The Rosemount 5408 non-contacting radar level transmitter uses enhanced technology and human centred design to deliver accurate, reliable measurements on both liquid and solid materials. Using two-wire FMCW technology the instrument deploys a continuous echo to maximise radar signal strength and produce a more robust and reliable measurement. Delivering ease of use at every touch point, the 5408 uses an intuitive software interface to guide the operator through installation, commissioning, proof-testing and maintenance. Safety certified to IEC 61508 for SIL 2 applications, the Rosemount 5408:SIS reduces cost of risk, increases efficiency and protects people and the environment.
Application examples
The 5408 and 5408:SIS are ideal for level measurements over a broad range of liquid and solids applications. The transmitters are virtually unaffected by changing density, temperature, pressure, media dielectric, pH, and viscosity. Furthermore, non-contacting radar level is ideal when internal tank obstructions are a limiting factor.
Reactors: the 5408 is ideal for the most challenging applications, including reactors where there can be agitation, foaming, condensation as well as high temperatures and pressures.
Open atmospheric applications: measures reliably in open applications, from short range sumps or ponds to long range dams.
Bulk solids: the ideal solution for small to medium sized silos with rapid level changes. The narrow beam avoids internal obstructions while still keeping good level measurement.
Storage and buffer tanks: provides accurate and reliable level measurement for both metallic and non-metallic vessels containing almost any liquid (e.g. oil, gas condensate, water, chemicals).
Blenders and mixers: withstands the rigors of blenders and mixing tanks. Easy to install and commission, it is also unaffected by virtually any fluid property change.
Still pipe and chamber installations: an excellent choice for level measurement in tanks with still pipes. It may also be used in chambers, but guided wave radar is generally the best fit for these applications.
Safety applications: the R5408:SIS is the ideal choice for safety functions such as overfill prevention, level deviation monitoring or dry-run prevention.
For more information contact Automation & Control Solutions, +27 (0)11 249 6700, rfq@aveng-acs.com, www.aveng-acs.com
Credit(s)
Further reading:
Continuous non-contact level measurement with radar technology
KROHNE Level Measurement & Control
Online teaser: A narrow beam angle of 4° for tank internals and long nozzles is combined with accuracy down to ±2 mm, even in processes with fast-changing levels and low dielectrics.
Read more...
---
Plumb bob sensor for tanks and settling basins
Morton Controls Level Measurement & Control
Its precise sensitivity can be adjusted to slurries and solids in liquids, and can also be configured for use in corrosive media with increased resistance.
Read more...
---
Level measurement – now with Bluetooth
WIKA Instruments Level Measurement & Control
The instrument's description, TAG number, and 0% and 100% marks can be configured via an app on a smartphone or tablet.
Read more...
---
Radar sensor keeps its cool
VEGA Controls SA Level Measurement & Control
The VEGAPULS C 21 delivers exact measuring results without effect from the medium, or the process and ambient conditions
Read more...
---
Load sensor for force measurement
Instrotech Level Measurement & Control Mass Measurement
The instrument provides a solution for non-intrusive level measurements of materials that are subject to uneven build-up, bridging or sidewall collection.
Read more...
---
Diesel level sensing for rail engines
Instrotech Level Measurement & Control
Diesel fuel levels are measured, recorded and displayed, and kilowatt-hours are measured, using the Senix ToughSonic CHEM 10 ultrasonic sensor.
Read more...
---
Radar level sensor with IO-Link interface
ifm - South Africa Level Measurement & Control
Its non-contact radar measuring principle prevents malfunctions or failures of the sensor caused by the adhesion of viscous media or damage from agitators.
Read more...
---
Why are rate of change alarms used?
Omniflex Remote Monitoring Specialists Level Measurement & Control
Often the domain of control and safety software, rate of change alarms can be implemented in hardware to benefit from an additional layer of protection to systems or processes.
Read more...
---
Vibronics, Liquiphants, and human brainpower set free
Endress+Hauser South Africa Level Measurement & Control
Why are field device manufacturers continually developing new technologies? On the one hand, these technologies make work outside in the field easier. Fewer qualified personnel are needed and the technologies 
...
Read more...
---
"Oops! I forgot to check" – How a simple switch can prevent critical system failure
Hydrasales Level Measurement & Control
Daily checks of hydraulic systems, or checks at the time of employee shift changes, are good practices that should be part of a successful maintenance programme.
Read more...
---