printer friendly version
Voltage detector enhances safety of electrical installations
September 2017
Electrical Power & Protection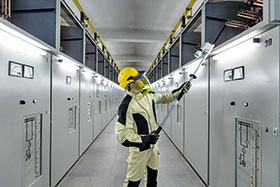 DEHN Africa has introduced the new PHE4 series of voltage detectors to improve safety during maintenance of electrical systems and installations. The detectors provide reliable information in all weather conditions – wet and dry – and can be used both indoors and outdoors.
The voltage detector series verifies the presence/absence of voltage on every electrical pole that has been installed from 1 kV to 420 kV.
A test function allows the required functional testing to be performed before and after using the voltage detector. All the live parts are tested – from the indicator right up to the test probe. In addition, the control panel is large enough to operate the device while using protective gloves.
After conducting the functional test, the voltage detector remains operational for four minutes. Both a visual indication and an acoustic signal indicate whether voltage is present or not. If a larger distance is required to ensure safety, or if the length is not sufficient to reach the point of contact, an extension handle can be attached through the coupling system by DEHN Africa.
Further reading:
Compact universal DC power supplies
January 2021, Beckhoff Automation , Electrical Power & Protection
The three new PS power supply series from Beckhoff comprises 18 single-and three-phase DIN-rail mountable power supply units that are compact and supply output currents from 2,5 to 40 A.
Read more...
---
Simple acquisition of energy consumption values
November 2020, Phoenix Contact , Electrical Power & Protection
By developing the new components of the EMpro product family, Phoenix Contact has found a solution that satisfies most energy data gathering applications.
Read more...
---
Using infrared thermometers in electrical maintenance
January 2021, R&C Instrumentation , Electrical Power & Protection
Non-contact, infrared thermometers enable checks to be carried out without the risk of electric shocks or the need to shut down the facility.
Read more...
---
When not just any battery will do
January 2021 , Electrical Power & Protection
One of the country's most sought after battery brands, GSS batteries, is changing its name to better reflect its outstanding features.
Read more...
---
Siemens Energy turbines generate low-emission power
November 2020 , Electrical Power & Protection
Siemens Energy helps Total achieve low-emission goals for largest LNG project in Africa.
Read more...
---
Maintaining battery backup systems
November 2020, Comtest , Electrical Power & Protection
Standby battery backup systems play a critical role in keeping essential operations functional in the event of a utility outage.
Read more...
---
Electrical loggers for energy savings
October 2020, Comtest , Electrical Power & Protection
Fluke energy loggers deliver a complete picture to reduce energy costs and improve the bottom line.
Read more...
---
Power supply components and services for marine applications
October 2020 , Electrical Power & Protection
Vert Energy works closely with the marine and offshore sector offering the supply of quality branded components and the support of a comprehensive repair and maintenance service.
Read more...
---
Mines reduce fire hazards
August 2020 , Electrical Power & Protection
Underground mines in southern, central, and west Africa have been seeing the safety benefits of dry-type transformers from Johannesburg-based Trafo Power Solutions. According to managing director 
...
Read more...
---
RS Components stocks Eaton contactors
August 2020, RS Components SA , Electrical Power & Protection
RS Components now stocks Eaton's complete Moeller series of compact DILMT contactors. Easy to integrate in a variety of industrial machines and systems, the contactors enable space savings of up to 40%, 
...
Read more...
---