printer friendly version
Optimum functionality in distance sensing applications
June 2017
Sensors & Transducers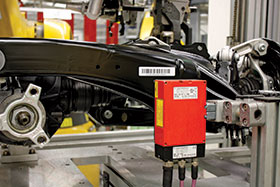 Optimum functionality during logistical operations, whether in manufacturing or storage facilities, demands the ability to sense a wide range of objects rapidly and with absolute accuracy.
The Leuze 10 series distance sensors offer reliable object detection and distance measurement over an operating range of up to eight metres, with an accuracy of 30 mm. These devices have a high tolerance to the angle of incidence as well as to colour, surface structure and even the brightness of reflective materials.
Engineered for optimum sensing reliability, even under changing conditions, the Leuze 10 series sensors are easy to install and commission, offering optimum functionality.
Designed with a modular structure, the sensors can be combined in a variety of configurations to suit individual applications. This allows optimum flexibility in terms of the required functions, electrical connection, number of I/Os as well as data output requirements.
With the display on the top, large control buttons and LED status indicators that are visible from a distance, handling and monitoring of the sensors is straightforward and intuitive. Its compact housing, with integrated recesses for the screws and flexible connections, makes the device easy to use even when space is tight.
Configuration options are via I/O-Link and Sensor Studio, while adjustment and diagnosis is done using the OLED display on the ODS 10 and via a Teach button on the HT 10.
Constant monitoring of the receiving level means that the user can be alerted of an impending failure – for example misalignment or excessive soiling – in good time. The pre-failure message is available as a signal on a switching output. In addition all relevant information is precisely depicted in the control panel.
For more information contact Gerry Bryant, Countapulse Controls, +27 (0)11 615 7556, bryant@countapulse.co.za, www.countapulse.co.za
Further reading:
Wire-actuated encoder for crane arms and lifting platforms
Instrotech Sensors & Transducers
Siko has solved the challenges presented by such applications with the SG 30 and its very compact, yet robust, design.
Read more...
---
Ultrasonic distance sensor
ASSTech Process Electronics + Instrumentation Sensors & Transducers
Wenglor's new ultrasonic distance sensors combine low installation depth and easy integration of the sensor with tried and tested ultrasonic technology, setting new standards in terms of range and integration options.
Read more...
---
Grist for the mill
Turck Banner Editor's Choice Sensors & Transducers
To meet the requirements of Swiss company Bühler with regard to its MHSA grain huller, Turck certified its contactless Li linear position sensor for use in the Ex area. Thanks to its contactless operating principle, the robust sensors are both maintenance-free and wear-free. They offer an impressive performance due to their optimum reproducibility, resolution and linearity over a large temperature range.
Read more...
---
Ex-rated strain gauge transducer
Turck Banner Sensors & Transducers
Turck Banner's IMX12-SG for force measurement applications in hazardous areas achieves response times below 10 ms and can be used as a repeater or signal converter.
Read more...
---
Concentration measurement with process sensors
Sensors & Transducers
To run chemical reactions in an optimal range and to control product quality, online concentration measurement is required. This ensures a fast intervention in case of concentration variation during 
...
Read more...
---
Sensors for pulp and paper applications
Gail Norton Instrumentation Sensors & Transducers
Some of the toughest challenges for sensors are found in the pulp and paper industry. Here, high temperatures and a contaminated environment make it difficult for optical sensors to operate accurately 
...
Read more...
---
Universal code reader for optimal reliability
Pepperl+Fuchs Sensors & Transducers
Camera-based code readers have already proven their worth in reading detailed data for automated processes, with the adaptability to suit many tasks.
Read more...
---
Working hand in hand to meet automotive OEMs' strict requirements
Turck Banner Sensors & Transducers System Integration & Control Systems Design
The LASE Group, producer of machines and assembly cells for the automotive industry, places trust in its close collaboration with Turck Multiprox.
Read more...
---
2D vision sensor
ifm - South Africa Sensors & Transducers
Thanks to its integrated daylight filter, ifm's new Dualis is highly resistant to extraneous light and boasts powerful algorithms to meet demanding requirements.
Read more...
---
3D machine vision camera gives robots human eyesight
SICK Automation Southern Africa Sensors & Transducers
The camera integrates easily into existing systems using system integration software, and features easily configurable input and output functionality.
Read more...
---