printer friendly version
Cement kiln burning zone temperature measurement
June 2017
Temperature Measurement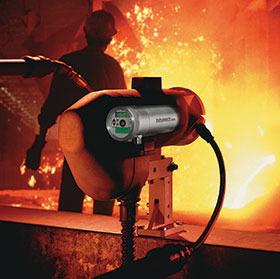 The formation of the most important cement mineral, C3S (alite) occurs in the burning zone, where the temperature is between 1300-1450°C. The stability of burning zone temperatures directly determines the quality of the clinker. To ensure stability of burning zone temperature and maintain clinker quality, accurate temperature monitoring is critical.
Ratio pyrometer with cooling options
Measuring temperature in this environment is complicated by dust and fumes in the field-of-view and often elevated ambient temperatures at the installation locale. To overcome this obstacle, a ratio (2-colour) pyrometer with cooling options can be used.
The Endurance 2-colour infrared (IR) pyrometer determines temperature from the ratio of the radiated energies in two separate wavelength bands (colours). 2-colour pyrometers measure closer to the highest temperature within the measured spot (spatial peak picking) and their measurement is not affected by dust and fumes in their field-of-view. These features make them ideal for burning zone temperature measurement. The pyrometer owes this flexibility to the two different wavelength filters placed one on top of the other. This 'sandwiched detector' includes a narrow band detector with spectral range from 0,95 to 1,1 μm and a wide band detector with spectral range from 0,75 to 1,1 μm. The temperature range of the Endurance 2-colour model used for burning zone temperature measurement is from 600-1800°C.
The pyrometer can be installed by mounting a sighting tube on the kiln door/hood, followed by the blast gate and thermo jacket assembly. The blast gate is equipped with a quartz window and metal shutter. The window protects the pyrometer from harsh environments, while the metal shutter is useful during maintenance. The blast gate can handle temperatures up to 870°C. The thermo jacket's rugged cast aluminium housing completely encloses the pyrometer head and provides water and/or air-cooling, along with air purging in one unit. An Endurance pyrometer fitted with a thermo jacket can withstand ambient temperatures as high as 315°C.
Endurance 2-colour infrared pyrometers can also be installed on the kiln platform looking through the observation window. For this installation a blast gate and thermo jacket are not required. The pyrometer can be ordered with a factory fitted air purge and integrated water cooled housing. The air/water cooled housing allows the pyrometer to be used in ambient temperatures up to 120°C with air cooling and 175°C with water cooling.
Endurance software facilitates real-time burning zone temperature data monitoring with live video feed of the burning zone through the built-in video camera included with the sensor. This feature is very useful in the event of failure of the CCTV camera. The pyrometer communicates with the software over Ethernet. RS-485 communication between the sensor and software is also possible for pyrometer configuration and temperature data monitoring. All pyrometer parameters can be configured via the software. The video feed and temperature data can also be monitored on a web browser via the built-in http server without using the endurance software.
For more information contact R&C Instrumentation, 086 111 4217, info@randci.co.za, www.randci.co.za
Credit(s)
Further reading:
Bimetal thermometer with switch contacts
December 2019, WIKA Instruments , Temperature Measurement
WIKA's model TGS55 is a stainless steel bimetal thermometer which offers high reliability and long service life. Wherever the process temperature has to be indicated on-site and, at the same time, circuits 
...
Read more...
---
Infrared monitoring of kiln shells extends refractory life
December 2019 , Temperature Measurement
Extending the life of a kiln refractory as well as preventing disastrous failures requires a good understanding of the condition of the refractory material.
Read more...
---
Thermocouples in gasification reactors
November 2019, WIKA Instruments , Temperature Measurement
Gasification reactors, due to their harsh process conditions, place high demands on the instruments used there. Many manufacturers have reacted to this and adapted their products accordingly, but what 
...
Read more...
---
Hotspot detection in pressboard manufacturing applications
October 2019, R&C Instrumentation , Temperature Measurement
In the building industry, there is a product used that is commonly referred to as pressboard, also known as chipboard. Sheets of pressboard are typically 1,2 m x 2,4 m in size and are used in the construction 
...
Read more...
---
Pair temperature probes with different cable lengths
October 2019, ASSTech Process Electronics + Instrumentation , Temperature Measurement
In heat meters for heating systems, two paired temperature probes are usually used for symmetrical installation. These must have identical cable lengths to comply with the legal regulations. Now, Jumo 
...
Read more...
---
Vibration measurement in machine maintenance
October 2019, R&C Instrumentation , Maintenance, Test & Measurement, Calibration
Vibration and temperature are the most common parameters measured on process plants for machine maintenance. Temperature measurement has been around for longer, probably because it was available first 
...
Read more...
---
IR thermometers in the steel industry
September 2019, R&C Instrumentation , Temperature Measurement
In many foundry applications, temperature readings show whether processes are operating within their proper ranges, whether a reheater is too cold or too hot, whether a stand needs adjusting, or how much 
...
Read more...
---
Ten facts about infrared windows
September 2019, R&C Instrumentation , Maintenance, Test & Measurement, Calibration
Infrared (IR) inspection is widely used and quickly becoming indispensable in electrical maintenance programmes. With the advent of IR windows, this procedure is now both safe and cost-effective. However, 
...
Read more...
---
Compact IR camera with industrial accessories
September 2019, Comtest , Temperature Measurement
Comtest has announced an addition to the Optris Compact line of IR cameras – Xi 80 and Xi 400 – with new industrial accessories for use in harsh conditions. The range has a modular design and as a result, 
...
Read more...
---
IR measurement optimises plastic stationary and rotary thermoforming
August 2019, R&C Instrumentation , Temperature Measurement
Background
Thermoforming is the process by which a thermoplastic sheet is made soft and pliable by heating, and bi-axially deformed by being forced into a three-dimensional shape. This process may take 
...
Read more...
---