printer friendly version
Endress+Hauser South Africa receives SANAS accreditation for local flow calibration centre
June 2017
News
Endress+Hauser South Africa has announced that it has received the distinction of being a South African Accreditation System (SANAS) accredited flowmeter calibration laboratory, in accordance with the recognised international standard ISO 17025. Calibration is a critical step in ensuring that a flowmeter performs within expected specifications. Endress+Hauser is now well positioned to support its local customer's flow calibration requirements, which includes third party meters.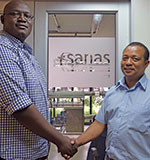 Wisani Hlungwane (left) with calibration specialist Mzwabantu Nyakama.
According to the company's workshop manager, Wisane Hlungwane, Endress+Hauser invested in its new calibration rig to support its customer's process safety and product quality requirements. "Our investment forms part of Endress+Hauser's on-going commitment to provide reliable instrumentation incorporating innovative and leading edge technology. With our SANAS accreditation we now offer customers traceability of the calibration results to national and international standards via an uninterrupted traceable chain of comparative measurements and standards," he states.
Endress+Hauser's Product Centre - Process Solutions (PCPS) in Switzerland designed the flow calibration centre specifically for South Africa, which can accommodate flowmeter sizes from DN08 to DN100. The facility has a maximum flow rate of 110 m³/h, and its design is based upon a closed loop water system. The water tank contains 200 litres of water and Hlungwane explains that to achieve the flow rates, variable speed drives and pumps are used.
There are four Promass Coriolis master meters used to compare the customer's flowmeter or unit under test response and accuracy across the applicable flow range. These master meters are calibrated annually at Endress+Hauser in Switzerland, and are traceable to ISO 17025 international standards.
Obtaining an ISO 17025 accreditation involves rigorous third-party assessments to ensure that all of the requirements identified in the standards are met to determine the standards that need to be maintained. Furthermore, the measurement uncertainty, i.e. the accuracy and repeatability of the calibration rig, is based on the uncertainty of each component in the measurement process. This is a means of comparing ISO 17025 accredited rigs with each other. In addition to the technical requirements, the standard defines obligatory administrative controls and procedures to be followed by the calibration facility. Topics such as organisation and management, document control, and complaint management are addressed to ensure the calibration facility functions in a manner promoting quality results.
Only trained calibration specialists, who have completed rigorous training in the product centres in Switzerland, are assigned to the local Endress+Hauser calibration rig.
"Knowing that flowmeters have been calibrated by an accredited facility such as ours should certainly give our customers the utmost of confidence," concludes Hlungwane. "Our accreditation is an assurance that our customers are only paying for the exact amount of product consumed."
For more information contact Wisani Hlungwane, Endress+Hauser, +27 (0) 11 262 8000, wisani.hlungwane@za.endress.com, www.za.endress.com
Credit(s)
Further reading:
New chief marketing and communications officer joins Zutari
News
Leading consulting engineering and infrastructure advisory firm, Zutari, has appointed Zipporah Maubane as chief marketing and communications officer for Africa and the Middle East (AME).    The company 
...
Read more...
---
Solid Wedge successfully completes Royal Swazi plant expansion project
News
The company's track record, and its reputation in previous projects for the same client, were key in the awarding of the R5,5 million project.
Read more...
---
YES to youth employment
News
Bosch Rexroth South Africa has participated in local government's 2021 Youth Employment Service (YES) Programme, which took place from 1 March 2021 to 28 February 2022. This experiential learning programme 
...
Read more...
---
Atlas Copco acquires Indian vacuum pump supplier
News
HHV Pumps supplies to the chemical and pharmaceutical, electrical power equipment and general industries.
Read more...
---
Comtest and Fluke commemorate World Metrology Day
Comtest News
Metrology is all around us and involves everything we do daily –we may be unaware of it, but it affects almost every part of our daily lives.
Read more...
---
Call for detailed action plan for SA's mining sector
News
Following the President's keynote address at the Mining Indaba, Webber Wentzel sees the lack of timelines and action plans as a deterrent to investors.
Read more...
---
Google announces Africa developer scholarship
News
Google has announced an additional 30 000 Android and Google Cloud training scholarships for aspiring and professional developers
Read more...
---
Record growth for EV market despite mounting challenges
News
The battery remains the largest cost component of the vehicle, and climbing costs of lithium and nickel are a factor behind the increases.
Read more...
---
AATF 2023 to collocate with Future Manufacturing Africa
News
In attendance across the two events will be over 5000 visitors, several feature areas and over 200 exhibitors over three days.
Read more...
---
Abrasive Flow Solutions celebrates 1st anniversary
News Valves, Actuators & Pump Control
The company specialises in the design and manufacture of slurry-related valves, and works closely with sister company, BMG.
Read more...
---