printer friendly version
Heavy-duty plugs and sockets
September 2016
Enclosures, Cabling & Connectors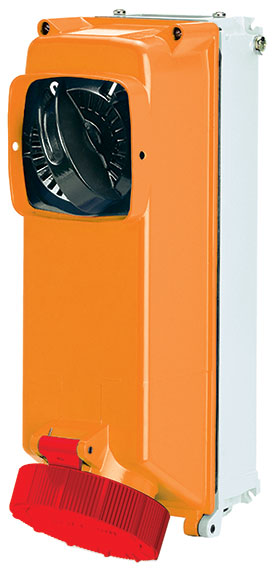 Although it may be tempting to dismiss certain electrical products as commodity items, one sector where this should not apply is industrial plugs, sockets and connectors.
Few people would argue that when it comes to specifying, installing or maintaining these products for industrial use, whether in a building, on a construction site, outdoors at an event or leisure location, an awareness of safety considerations is paramount, as well as a clear recognition of fitness for purpose.
"Here at AC/DC Dynamics we strive to give the customer the best engineered solution possible. When the requirement calls for a robust and durable plug and socket solution, it is difficult to beat our Palazzoli range," said Dirk Holm, switchgear specialist at AC/DC Dynamics.
On-site electrical equipment is at the receiving end of a lot of abuse, whether it be from the harsh environments it has to endure, or simply from misuse by hard-pressed site personnel.
Palazzoli's Alupres wall-mounted heavy-duty 3-phase 415 V interlock power outlets have been approved for use by London Underground Limited (LUL), and in factories and mines across southern Africa. Engineers and contractors can now specify and install the IP67 watertight aluminium enclosures with confidence throughout their networks above and below the surface.
The separate supply isolator is mechanically linked (interlocked) within a single unit to the socket, so that a plug can only be inserted or removed once the supply is safely shut off. The AC23/AC3 rated isolator is cable of switching inductive loads at full rated current (EN60947-3) and is available in 16, 32, 63 and 125 A ranges.
Alupres sockets have been designed and manufactured for heavy-duty application in tunnels, hazardous area environments and general outlets. Fully compliant with LUL standard 1-085 A3, they have a protection rating of IP66/67 and impact resistance in excess of IK10. They are available with or without additional localised circuit protection.
"This is an important third-party recognition for Alupres, and we are delighted to have our product approved by London Underground under its Approved Product Register (APR), as only the products that have passed through its rigorous approval process can be commissioned for their network," said Lewden's business development manager, Guy Birchall.
However, Palazzoli boasts with more than one impressive range. AC/DC Dynamics will be displaying the two new ranges will be introducing it to the South African market, during the Electra Mining show. These are the Atex range for protection against explosive and hazardous environments, as well as the Alumax range for applications up to 400 A at 1000 VAC, with or without earth leakage protection.
For more information contact AC/DC Dynamics, +27 (0)10 202 3300, switchgear@acdc.co.za, www.acdc.co.za
Credit(s)
Further reading:
Fire safety approval for halogen-free TPE cables
Enclosures, Cabling & Connectors
This is the first time Underwriters Laboratories has recognised that halogen-free TPE cables can also meet fire protection requirements in industry.
Read more...
---
Small terminal blocks for maximum benefits
Phoenix Contact Enclosures, Cabling & Connectors
The range of terminal blocks in miniature format from Phoenix Contact can be conveniently wired and mounted in various ways, in even the narrowest of spaces.
Read more...
---
Heavy-duty connectors in various colours
Phoenix Contact Enclosures, Cabling & Connectors
The housings can be ordered in batches as small as 1, and individual interfaces can be easily configured and conveniently ordered online.
Read more...
---
Supplements for splice boxes with patented pigtail tray
Phoenix Contact Enclosures, Cabling & Connectors
Phoenix Contact is supplementing the compact splice/distributor boxes in the FDX 20 series for DIN-rail mounting with additional types of fibres and couplings.
Read more...
---
How to achieve sustainable manufacturing
Omron Electronics Enclosures, Cabling & Connectors
The industry faces the mammoth task of developing sustainable alternatives, minimising waste while saving energy and using alternative energy sources.
Read more...
---
Compact installation connectors for up to 20 A
Phoenix Contact Enclosures, Cabling & Connectors
Depending on the conditions and standards applicable on site, users decide whether to release the connector by hand or by using a bladed screwdriver.
Read more...
---
Connectors for the evolving world of test and measurement
Spectrum Concepts Enclosures, Cabling & Connectors
Instrumentation employed to test new products needs to become more advanced to keep up with the rapidly increasing technology in these products.
Read more...
---
Pluggable system solution for control cabinet-free automation
Beckhoff Automation Enclosures, Cabling & Connectors
Beckhoff's MX-System provides maximum efficiency for machine builders, control cabinet manufacturers and end-users.
Read more...
---
Cost-effective electrical termination solutions for the construction industry
Pratley Enclosures, Cabling & Connectors
It is important not to compromise on quality in favour of cost, especially for safety-critical termination parts like cable glands and junction boxes.
Read more...
---
Compact emergency stop button
Anglo Allied Engineering Enclosures, Cabling & Connectors
Bernstein has brought out a smaller version of its safety rope limit switch, adding an extra layer of safety to the operation of machines and conveyor belts, with greater space saving and versatility.
Read more...
---