printer friendly version
Modular level sensor from Anderson Negele
July 2015
Level Measurement & Control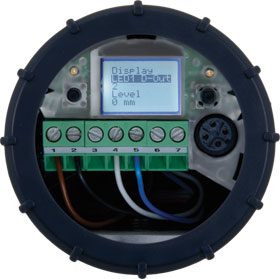 The NSL-F is a 4-wire sensor for continuous measurement of filling levels in metallic vessels of height of up to 3 metres. This innovative level switch is based on the new modular device platform, a system of building blocks that permits a high degree of flexibility for assembling individual sensor components.
In addition to the many advantages of the modular design, users also ­benefit from the reliability of the sensor, even when using it to detect highly adhesive and foaming media. Thus, the empty tank indication operates reliably even where considerable foaming is present.
Its short response times allow the NSL-F to be used dependably for highly precise dosing processes – even with changing and pasty media. It is a hygienic substitute for float level sensors made completely of stainless steel, is 3-A-compliant and has FDA approval for all materials that come into contact with the medium. Advantages include:
• Modular design for maximum flexibility.
• Standardised components for cost effective stock holding.
• Suitable for foamy, adhesive and pasty media.
• Short response times, ideal for rapid control tasks.
• Quick setup due to appropriate factory settings.
For more information contact John Basson, Morton Controls, +27 (0) 21 557 9011, sales@mortoncontrols.co.za, www.mortoncontrols.co.za
Credit(s)
Further reading:
Radiometric solutions in refineries
November 2019, Mecosa , Level Measurement & Control
Berthold Technologies' radiometric instruments for non-contacting level and density measurement are widely used in the oil refining industry, where customers include Exxon Mobil, Sinopec, Shell, BP, Conoco 
...
Read more...
---
Interface measurement in desalters
November 2019, Mecosa , Level Measurement & Control
Interface measurements in desalters are often regarded as non-critical, even though every drop of oil to be refined passes through the desalter. As refineries try to maximise their margins, so-called 
...
Read more...
---
Level monitoring of groundwater
October 2019, WIKA Instruments , Level Measurement & Control
Much of our drinking water is extracted from subterranean resources. Water that falls to the surface of the Earth drains not only into rivers and lakes, much of it will permeate into subterranean reservoirs. 
...
Read more...
---
Monitor and control sedimentation
October 2019, Morton Controls , Analytical Instrumentation & Environmental Monitoring
Quadbeam Technologies' storm and wastewater sensor, the SWW, is a unique suspended solids sensor/turbidity meter. The intended use of the S20-SWW and S40-SWW sensors is the continuous monitoring of suspended 
...
Read more...
---
Ultrasonic sensor for remote water level measurement
October 2019, Instrotech , Level Measurement & Control
Instrotech has available the Senix ToughSonic CHEM range of ultrasonic sensors, in service around the world in some of the most demanding and corrosive industrial environments. They measure a wide variety 
...
Read more...
---
Simple measurement of liquid levels
October 2019, VEGA Controls SA , Level Measurement & Control
In 2016, VEGA introduced the Vegapuls 64, its first radar level sensor for liquids that measures at a frequency of 80 GHz, which allows considerably better focusing of the radar beam. With Vegapuls 64, 
...
Read more...
---
Density compensated pressurised vessel level measurement
October 2019 , Level Measurement & Control
The traditional approach to level measurement in closed vessels such as boilers, evaporators, crystallisers or distillation columns, has been to use a conventional differential pressure (DP) transmitter 
...
Read more...
---
Kobold's new float level switches
August 2019, Instrotech , Level Measurement & Control
Kobold's M-series level switch comprises a float that slides up and down with the liquid along a guide tube. Thus, up to 4 reed contacts moulded in the guide tube are switched in a non-contacting fashion 
...
Read more...
---
Foxboro buoyancy level transmitter
August 2019, I-PAS (Industrial Process Automation Solutions) , Level Measurement & Control
Principle of operation
When an element a (displacer rod) is immersed into a liquid, according to Archimedes' Principle, the displacer will 'lose' some of its weight proportional to the level of the liquid 
...
Read more...
---
Level measurement for sanitary applications
August 2019, WIKA Instruments , Level Measurement & Control
WIKA's model FLM-H magnetostrictive sensor has been specifically designed to meet the requirements of the food and beverage, pharmaceutical and biotechnology industries. The sensor is particularly suitable 
...
Read more...
---