March 2015
News

printer friendly version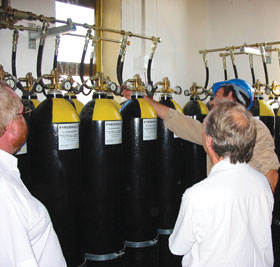 Did you know that you now need a certificate of conformity for gaseous fire extinguishing system installations? These certificates are, in fact, a legal requirement and an inspection report cannot be presented in place of one.
According to the Occupational Health and Safety Act of 1993 Section 44: Pressure Equipment Regulations (2009): it is mandatory that all gaseous fire extinguishing systems shall carry a Certificate of Conformity upon installation, modification, alteration or change of ownership. As per the PER Regulation 17, the Certificate of Conformity shall be issued by an authorised person or authorised inspection authority.
An authorised person would be one that is registered as a Gas Practitioner under the SAQCC-GAS Certification Scheme. Visit http://saqccgas.co.za to find out more.
It is important to note that before a certificate of conformity can be issued there must be a review of the gaseous fire extinguishing system design, a review on site of the installation and a report if non-compliance is found. Should all be in order, the authorised inspection authority will issue a certificate of conformity as per the necessary legal requirements.
Alien Systems & Technologies can assist to ensure that you have an SAQCC registered Gas Practitioner reviewing your gaseous fire extinguishing system, and issuing the certificate of conformity.
For more information contact Sam Wright, Alien Systems and Technologies, +27(0)11 949 1157, sam@astafrica.com, www.astafrica.com
Credit(s)
Further reading:
From the editor's desk: Yokogawa adds sushi to the IIoT platter
March 2019, Technews Publishing (SA Instrumentation & Control) , News
At its 2016 User Group Conference in Johannesburg, Yokogawa whet the local market's appetite for all things IIoT when it announced the development of a compact, low-cost wireless sensor. Aptly named the 
...
Read more...
---
Be part of the ultimate journey at X-Change 2019
March 2019, IS³ - Industry Software, Solutions & Support , News
The 4th Industrial Revolution and the New Way of Work through Edge-to-Enterprise solutions.
Read more...
---
Emerson completes acquisition of GE's Intelligent Platform's business
March 2019, Emerson Automation Solutions , News
Emerson has announced that it has completed the purchase of Intelligent Platforms from General Electric (GE). The addition of Intelligent Platforms PLC technology will enable Emerson to expand its capabilities 
...
Read more...
---
Rockwell Automation acquires Emulate3D
March 2019, Rockwell Automation , News
Rockwell Automation has acquired Emulate3D, an innovative software development company whose products digitally simulate and emulate industrial automation systems. By using accurate simulation models 
...
Read more...
---
ISA Adopts FDT 2.0 as American National Standard
March 2019 , News
The FDT Group and the International Society of Automation (ISA) have announced that FDT 2.0 technology has been fully adopted as an ISA/ANSI American standard. This will meet demands in the region for 
...
Read more...
---
Siemens launches Digital Mining Incubator with Wits University
March 2019, Siemens Digital Factory & Process Indust. & Drives , News
Mining remains a critical player in the macro-economic landscape of South Africa. But government, business, labour and civil society need to ask how they can align a 'here-and-now' emphasis on job creation, 
...
Read more...
---
IS³ extends portfolio to include AVEVA's Engineer, Construct and Procure software
March 2019, IS³ - Industry Software, Solutions & Support , News
IS³ - Industry Software, Solutions and Support recently signed an extension to the contract with AVEVA, which now extends its portfolio to include the Engineer, Construct and Procure software solutions. 
...
Read more...
---
Check out our website
March 2019, Technews Publishing (SA Instrumentation & Control) , News
The Technews web development team has been grafting behind the scenes to remodel the way we connect you to the latest industry news, product innovations, opinion pieces and application stories that characterise 
...
Read more...
---
BMG and Eaton Hydraulics enhance partnership agreement
March 2019, Bearing Man Group t/a BMG , News
The well-established partnership between BMG and Eaton Hydraulics has been enhanced with the recent accreditation of BMG's Johannesburg head office facility – BMG World – as the exclusive Eaton Hydraulics 
...
Read more...
---
SKF Test Centre wins design prize at the International Architecture Awards
March 2019, SKF South Africa , News
At The International Architecture Awards in Athens, SKF won a design award for its Sven Wingquist Test Centre. With over 1000 entries from across 31 countries, the awards are globally recognised as a 
...
Read more...
---