printer friendly version
Infrared testing of electrical switchgear
June 2014
Temperature Measurement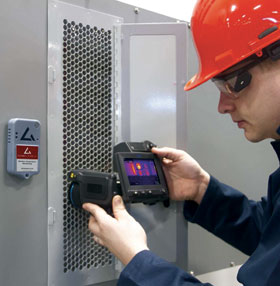 For the majority of electrical switchgear, an annual infrared testing programme is the sole measure of electrical reliability. Infrared testing detects signs of overheating caused loose connections or unbalanced loads.
Delta T Alert
Delta T Alert wireless systems constantly monitor every critical electrical enclosure in a facility to complement existing electrical maintenance programmes, offering cost energy savings through the timely repair of faults. They bridge the gap between infrared scans by monitoring and reporting critical temperatures within electrical enclosures on a timed basis, effectively tracking temperatures and sending data for analysis and trending. If a critical issue arises, immediate notification allows for an appropriate corrective action before costly damage occurs.
The warnings that the system provides alert maintenance technicians to be warned of potential problems before they become serious, giving significant safety advantages and allowing timely maintenance.
Wireless and self-contained
Delta T Alert is a wireless, self-contained temperature-monitoring sensor that attaches to an electrical enclosure cover. The unit is simple to install and consists of two temperature sensors – one to monitor the electrical enclosure's interior temperatures and the second to monitor the enclosure room's ambient temperature. The sensors are then configured to collect data on a daily basis, at predetermined time intervals. This is the data that is transmitted wirelessly for analysis and trending.
IRISS IR Windows can also be equipped with Delta T Alert systems. When the temperature difference goes above the threshold level, or differs significantly from other enclosures, the system automatically warns a support engineer or maintenance technician. Once the necessary repair is complete, the system can be reenergised and a follow up inspection completed to ensure that everything is correct. The electrical enclosure can then be benchmarked and the system reset with a new baseline temperature delta if required.
Delta T Alert is not just for electrical distribution systems, it can also be used on motors, control systems and cabinets.
For more information contact R&C Instrumentation, 086 111 4217, info@randci.co.za, www.randci.co.za
Credit(s)
Further reading:
Bimetal thermometer with switch contacts
December 2019, WIKA Instruments , Temperature Measurement
WIKA's model TGS55 is a stainless steel bimetal thermometer which offers high reliability and long service life. Wherever the process temperature has to be indicated on-site and, at the same time, circuits 
...
Read more...
---
Infrared monitoring of kiln shells extends refractory life
December 2019 , Temperature Measurement
Extending the life of a kiln refractory as well as preventing disastrous failures requires a good understanding of the condition of the refractory material.
Read more...
---
Thermocouples in gasification reactors
November 2019, WIKA Instruments , Temperature Measurement
Gasification reactors, due to their harsh process conditions, place high demands on the instruments used there. Many manufacturers have reacted to this and adapted their products accordingly, but what 
...
Read more...
---
Hotspot detection in pressboard manufacturing applications
October 2019, R&C Instrumentation , Temperature Measurement
In the building industry, there is a product used that is commonly referred to as pressboard, also known as chipboard. Sheets of pressboard are typically 1,2 m x 2,4 m in size and are used in the construction 
...
Read more...
---
Pair temperature probes with different cable lengths
October 2019, ASSTech Process Electronics + Instrumentation , Temperature Measurement
In heat meters for heating systems, two paired temperature probes are usually used for symmetrical installation. These must have identical cable lengths to comply with the legal regulations. Now, Jumo 
...
Read more...
---
Vibration measurement in machine maintenance
October 2019, R&C Instrumentation , Maintenance, Test & Measurement, Calibration
Vibration and temperature are the most common parameters measured on process plants for machine maintenance. Temperature measurement has been around for longer, probably because it was available first 
...
Read more...
---
IR thermometers in the steel industry
September 2019, R&C Instrumentation , Temperature Measurement
In many foundry applications, temperature readings show whether processes are operating within their proper ranges, whether a reheater is too cold or too hot, whether a stand needs adjusting, or how much 
...
Read more...
---
Ten facts about infrared windows
September 2019, R&C Instrumentation , Maintenance, Test & Measurement, Calibration
Infrared (IR) inspection is widely used and quickly becoming indispensable in electrical maintenance programmes. With the advent of IR windows, this procedure is now both safe and cost-effective. However, 
...
Read more...
---
Compact IR camera with industrial accessories
September 2019, Comtest , Temperature Measurement
Comtest has announced an addition to the Optris Compact line of IR cameras – Xi 80 and Xi 400 – with new industrial accessories for use in harsh conditions. The range has a modular design and as a result, 
...
Read more...
---
IR measurement optimises plastic stationary and rotary thermoforming
August 2019, R&C Instrumentation , Temperature Measurement
Background
Thermoforming is the process by which a thermoplastic sheet is made soft and pliable by heating, and bi-axially deformed by being forced into a three-dimensional shape. This process may take 
...
Read more...
---