printer friendly version
Smart Wireless enables instrumentation upgrade at RWE
June 2013
Data Acquisition & Telemetry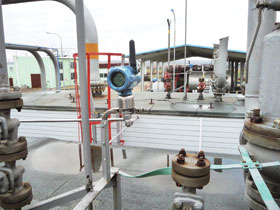 RWE Gas Storage, part of the RWE Group, is the biggest underground gas storage operator in the Czech Republic, operating six facilities with a total operating capacity of almost 3 billion cubic metres. Gas is stored in porous underground facilities during low-off take periods and supplied to users when demand peaks.
Emerson Process Management's Smart Wireless technology is helping RWE Gas Storage maximise the capacity of its storage facility. The installation of five Smart Wireless networks and more than 100 wireless measurement devices has increased visibility into the process, enabling the plant to improve control and run closer to its capacity. Automating data collection has also eliminated manual rounds at the plant, improving operator efficiency and safety.
"We needed to upgrade our existing instrumentation and add additional measurements, but with just two short windows of opportunity each year and no available existing cabling infrastructure, it was impossible to complete the work within the scheduled two-week downtime," said Pavel Silinger, energy manager, RWE Gas Storage. "Extending the downtime would cost RWE an estimated US$250 000 a day in lost income."
RWE needed a solution that did not require installation of new cabling and allowed a longer period for the upgrade to be completed. To meet this need, RWE selected Smart Wireless technology from Emerson. Based on IEC 62591 (WirelessHART) communications, the technology is well-proven, reliable and both quick and easy to install and commission.
The wireless solution did not require RWE to install new cabling or new I/O cards in the control host. RWE simply added Smart Wireless gateways to the existing Modbus network and all data from the new wireless transmitters was then available within the existing control system. This meant that the plant could continue to operate while new instruments were being installed, removing the need for the upgrade to be completed within the scheduled two-week downtime.
Five wireless networks span the entire 50 000-square-metre facility, supporting more than 100 new wireless transmitters. The instruments are predominantly Emerson's Rosemount wireless pressure and temperature transmitters, with a number of Rosemount Guided Wave Radar level transmitters and Fisher control valves also connected using Emerson's THUM Adapters.
"Emerson's wireless solution takes only a quarter of the time to install, and saves around 20% of the cost of a cabled installation," continued Silinger. "The availability of HART data, including diagnostics from new and existing devices, was another significant reason for selecting Smart Wireless and is helping us to improve plant maintenance procedures."
In addition to the benefits of better process management, RWE is saving 10% per year on its total maintenance costs. Remote online access to diagnostic information enables operators to identify potential instrument problems earlier and correct them before poor measurements start to affect the process. Access to online data has also reduced the number of trips into the field, helping to improve the safety of equipment and workers.
Based on the successful implementation of wireless technology at the Dolní Dunajovice site, RWE plans to implement Emerson's Smart Wireless at all of its underground storage facilities in the Czech Republic.
For more information contact Mark Tapson, Emerson Process Management, +27 (0)11 451 3700, mark.tapson@emerson.com, www.emersonprocess.com
Credit(s)
Further reading:
Emerson helps complete first Caspian subsea project
October 2019, Emerson Automation Solutions , News
Emerson has completed its $48 million contract for automation systems and cloud engineering software-as-a-service for the Shah Deniz 2 project in Azerbaijan and is fulfilling an ongoing five-year services 
...
Read more...
---
Emerson's Flow Lifecycle Services Centre earns certification
October 2019, Emerson Automation Solutions , News
Emerson's Flow Lifecycle Service Centre, based in Dubai and serving customers in the Middle East and Africa region, has received accreditation for ISO/IEC 17025:2017 from the International Accreditation 
...
Read more...
---
Top data management on the DIN rail
October 2019, Endress+Hauser , Data Acquisition & Telemetry
The data manager family of Endress+Hauser is growing. To meet the strong demand from the market for a smart, compact DIN rail data manager for mounting in the control cabinet, development of the RSG45 
...
Read more...
---
Emerson expands asset management coverage
October 2019, Emerson Automation Solutions , System Integration & Control Systems Design
Emerson has expanded AMS Device Manager with HART-IP support, making it easier to connect with devices and control systems and potentially eliminate hundreds of thousands of dollars in project hardware 
...
Read more...
---
Rosemount food and beverage leak detection system
October 2019, Emerson Automation Solutions , Sensors & Transducers
In response to industry demand for increased quality in food and beverages at every level, Emerson has introduced the Rosemount CT4215 food and beverage leak detection system. The CT4215 is a quantum 
...
Read more...
---
IoT data logger
October 2019 , Data Acquisition & Telemetry
IMS is known across the globe as a leading industry expert and manufacturer of condition monitoring data loggers and telemetry. The company performs data logger engineering, manufacturing and servicing 
...
Read more...
---
Emerson completes acquisition of Zedi's software and automation businesses
September 2019, Emerson Automation Solutions , News
Emerson has announced the purchase of Zedi's software and automation businesses. The addition of Zedi's cloud supervisory control and data acquisition (scada) platform will further enable Emerson to help 
...
Read more...
---
Vaporising regulator increases the reliability of gas chromatograph analysers
September 2019, Emerson Automation Solutions , Analytical Instrumentation & Environmental Monitoring
With the Tescom 44-6800, Emerson has introduced a vaporising pressure reducing regulator for gas chromatograph analysers with the option to separate the regulator body from the electronic enclosure, without 
...
Read more...
---
Mobile app configures level transmitters
August 2019, Emerson Automation Solutions , IT in Manufacturing
Emerson has added the Radar Master app for the AMS Trex Device Communicator, making it easier for field technicians to configure Rosemount radar level transmitters. Radar level devices are critical to 
...
Read more...
---
Biffi Italia electric actuator launched
August 2019, Emerson Automation Solutions , Valves, Actuators & Pump Control
Biffi Italia, a leading manufacturer of high-performance and reliable valve actuation systems, has introduced the new Icon3000 electric actuator: a smart, powerful multi-turn actuator that offers improved 
...
Read more...
---