printer friendly version
Emerson's Smart Wireless technology used at power plant
February 2013
Data Acquisition & Telemetry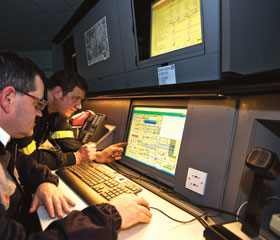 Barking Power has installed Emerson Process Management's Smart Wireless technology to help identify potential problems, improving the plant availability and efficiency of its Combined Cycle Gas Turbine (CCGT) power station in London. Emerson's Rosemount 708 wireless acoustic transmitters help plant personnel identify failed steam traps, leaking valves and boiler tube leaks, avoiding substantial costs for lost steam and feed water as well as lost revenue from plant downtime.
Barking Power Station, operated by Thames Power Services, is one of the largest independently-owned generating plants in the UK, capable of generating 1000 MW of electricity – about 2% of the peak electricity demand in England and Wales. To remain competitive in the deregulated UK power generation market, the plant makes continual improvements to increase plant availability and efficiency, which in turn help reduce overall unit generating cost.
"Improving process performance is all about understanding what is happening around the plant and being able to respond quickly to any problems," explains Ian MacDonald, senior control systems engineer, Barking Power. "Emerson's Smart Wireless technology enables us to introduce additional measurement points quickly and cost effectively at any location, so we can gather additional information to identify potential faults."
To improve identification of failed steam traps and problem valves, Barking Power installed 35 of Emerson's wireless acoustic transmitters across the plant. Should a steam trap fail or a small leak begin, an acoustic device transmits changes in sound and temperature which are configured to alert operators of a potential problem. The plant began gaining the benefits of the new devices immediately, as a leak from a high pressure super heater steam trap was identified that would have cost ·1400 for every 24 hours of lost operation.
The plant installed 15 additional acoustic transmitters to monitor other problematic areas, including vent valves that can stick during start-up and pressure relief valves that do not seat correctly. Previous manual monitoring was not only time-consuming but also failed to indicate when or why a release occurred, increasing the chances of a safety, regulatory, or environmental incident. The new wireless devices enable precise monitoring and alert operators when valves have opened for as little as a second.
Rosemount 708 wireless acoustic transmitters have also been installed to identify leaking boiler tubes. These leaks not only reduce performance but also waste large amounts of costly boiler feed water, which is demineralised and chemically treated to help prevent corrosion. Data is fed into the plant's existing Emerson Ovation control system, where noise levels can be trended to identify gradual changes. Repairs can then be scheduled during normal off-times to maintain maximum plant availability and avoid forced downtime.
Using the wireless networks already in place, additional devices can be added at much lower cost than if they had to be wired individually. This provides Barking Power with additional opportunities where monitoring was previously cost prohibitive – for example, identifying blockages in venturi eductors.
"Having already installed Emerson's Smart Wireless THUM adaptors for access to stranded HART diagnostic data in traditional field devices, we were very familiar with Smart Wireless technology and confident about using it in other applications," says MacDonald. "The mobility and flexibility of the battery powered wireless devices also allow us to run trials and move devices to different areas without having to lay temporary cables. As a result, we can spot early problems and improve response to malfunctioning equipment enabling better planning and utilisation of maintenance resources."
For more information contact Mark Tapson, Emerson Process Management, +27 (0)11 451 3700, mark.tapson@emerson.com, www.emersonprocess.com
Credit(s)
Further reading:
Emerson helps complete first Caspian subsea project
October 2019, Emerson Automation Solutions , News
Emerson has completed its $48 million contract for automation systems and cloud engineering software-as-a-service for the Shah Deniz 2 project in Azerbaijan and is fulfilling an ongoing five-year services 
...
Read more...
---
Emerson's Flow Lifecycle Services Centre earns certification
October 2019, Emerson Automation Solutions , News
Emerson's Flow Lifecycle Service Centre, based in Dubai and serving customers in the Middle East and Africa region, has received accreditation for ISO/IEC 17025:2017 from the International Accreditation 
...
Read more...
---
Top data management on the DIN rail
October 2019, Endress+Hauser , Data Acquisition & Telemetry
The data manager family of Endress+Hauser is growing. To meet the strong demand from the market for a smart, compact DIN rail data manager for mounting in the control cabinet, development of the RSG45 
...
Read more...
---
Emerson expands asset management coverage
October 2019, Emerson Automation Solutions , System Integration & Control Systems Design
Emerson has expanded AMS Device Manager with HART-IP support, making it easier to connect with devices and control systems and potentially eliminate hundreds of thousands of dollars in project hardware 
...
Read more...
---
Rosemount food and beverage leak detection system
October 2019, Emerson Automation Solutions , Sensors & Transducers
In response to industry demand for increased quality in food and beverages at every level, Emerson has introduced the Rosemount CT4215 food and beverage leak detection system. The CT4215 is a quantum 
...
Read more...
---
IoT data logger
October 2019, Impact Measurement Solutions , Data Acquisition & Telemetry
IMS is known across the globe as a leading industry expert and manufacturer of condition monitoring data loggers and telemetry. The company performs data logger engineering, manufacturing and servicing 
...
Read more...
---
Emerson completes acquisition of Zedi's software and automation businesses
September 2019, Emerson Automation Solutions , News
Emerson has announced the purchase of Zedi's software and automation businesses. The addition of Zedi's cloud supervisory control and data acquisition (scada) platform will further enable Emerson to help 
...
Read more...
---
Vaporising regulator increases the reliability of gas chromatograph analysers
September 2019, Emerson Automation Solutions , Analytical Instrumentation & Environmental Monitoring
With the Tescom 44-6800, Emerson has introduced a vaporising pressure reducing regulator for gas chromatograph analysers with the option to separate the regulator body from the electronic enclosure, without 
...
Read more...
---
Mobile app configures level transmitters
August 2019, Emerson Automation Solutions , IT in Manufacturing
Emerson has added the Radar Master app for the AMS Trex Device Communicator, making it easier for field technicians to configure Rosemount radar level transmitters. Radar level devices are critical to 
...
Read more...
---
Biffi Italia electric actuator launched
August 2019, Emerson Automation Solutions , Valves, Actuators & Pump Control
Biffi Italia, a leading manufacturer of high-performance and reliable valve actuation systems, has introduced the new Icon3000 electric actuator: a smart, powerful multi-turn actuator that offers improved 
...
Read more...
---