printer friendly version
Optimising CIP processes with precision instrumentation
November 2023
Flow Measurement & Control
Many food and beverage manufacturers encounter challenges with clean-in-place (CIP) processes that take too long. Additionally, some operations need to reduce costs related to detergents, energy and water usage. Have you considered exploring potential solutions to address these issues?
Endress+Hauser has many years of experience in CIP optimisation, having been involved in multiple projects that helped customers to reduce their operational costs, while achieving their sustainability and resource conservation goals. In some cases, these initiatives resulted in increased production throughput. In addition the company has the expertise to troubleshoot microbiological issues on the plant or in surrounding soil. It fully understands the importance of CIP optimisation, without compromising product quality.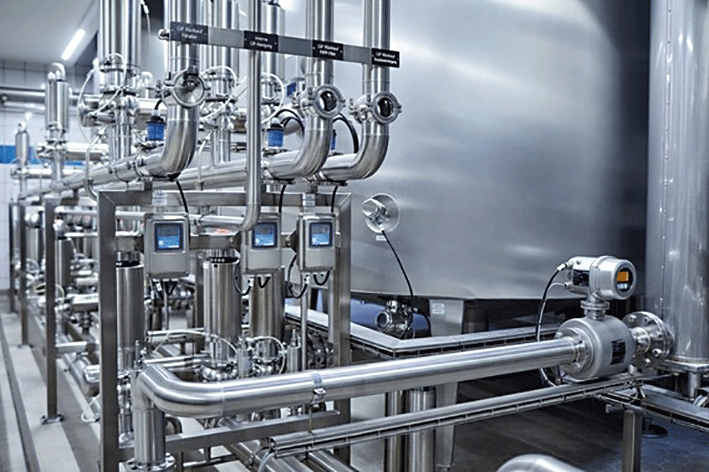 Understanding the challenges
As raw material and energy costs continue to rise, it becomes even more crucial to exploit the assets of the food industry. Some food processing companies use CIP systems with very little automation, using a purely timed-based process or manual operation. Although the dosage of detergents is sometimes controlled with conductivity, the rinses are often either time- or volume–based. Implementing conductivity-based rinses can help avoid the drawbacks associated with excessively long or inadequate rinse cycles.
If rinse cycles are too long, it leads to unnecessary consumption of water, cleaning chemicals and energy. It also means more time is spent on cleaning, which extends the downtime of equipment and reduces production throughput. This increases operational costs and reduces overall efficiency.
On the other hand, insufficient rinse times may leave behind residues, contaminants and cleaning agents on the surfaces. This carryover of unwanted substances can compromise product quality and safety. Further to this, buildup of residue may become more challenging to remove, which requires additional CIP processing.
Measure to master
The installation of inline instruments provides real-time monitoring and control of critical process points, leading to reduced cleaning time, energy and detergent consumption, while providing full traceability without interrupting production. The CIP process can be optimised in different ways. It all depends on the level of automation and the size of the existing system. Sometimes small adjustments can lead to substantial savings in operating costs.
It is also important to measure critical control parameters like temperature and flow velocity to ensure effective cleaning and sanitation. Inefficient cleaning results in soil buildup, which could lead to the proliferation of microorganisms, and ultimately develop into biofilm.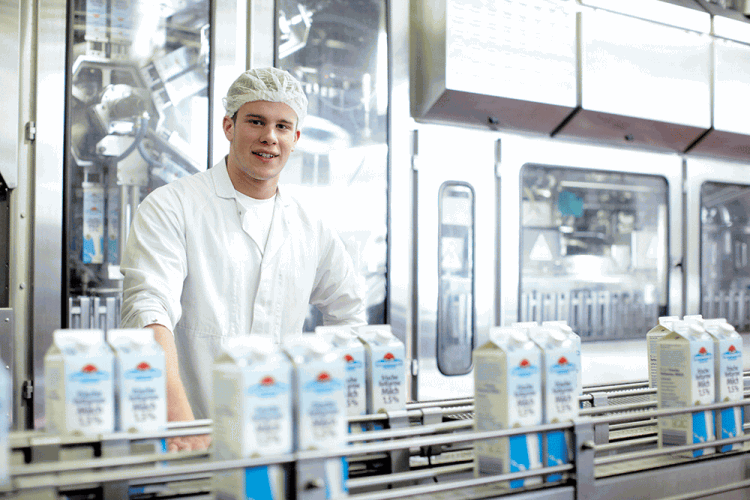 Inline optical instruments
One of the major current trends is to use inline optical instruments to measure the soil load of the return run and actively manage the CIP process. Depending on the degree of soil load, the liquids suitable for re-use for the next cleaning cycle can be directed to a storage tank, while highly contaminated liquids are automatically sent for waste¬water treatment. Their rapid reaction time (faster than conductivity <1 second) supports effective phase separation, and could potentially reduce water and chemical consumption.
Concentration measurement
To ensure optimal performance of CIP processes, the detergent concentration must be monitored during cleaning on the return line, as well as in the make-up tank. This can be done with conductivity measurements, which require the least amount of maintenance and calibration and use less energy, chemicals and water. Endress+Hauser offers multiple conductivity sensor/transmitter options designed specifically for CIP applications.
Investing in efficiency
The CIP system can be automated at every level desired – from basic installations with low capital expenditure to hygienic high-end systems that ensure the shortest possible process downtime through fast, efficient cleaning. By optimising water, energy and cleaning detergents, the system ensures a return on investment at all times.
Endress+Hauser understands the challenge of increased production demands and the drive for operational savings. They can assist you with online instruments that provide real-time monitoring and control of your CIP process, while providing full traceability.
Credit(s)
Further reading:
SICK and Endress+Hauser to join forces in process automation
Endress+Hauser South Africa News
German sensor company SICK, and Swiss measurement and automation technology specialist Endress+Hauser, want to intensify their cooperation. Both companies are aiming for a strategic partnership for SICK's process automation business segment and have signed a joint memorandum of understanding.
Read more...
---
How predictive maintenance will help tackle water scarcity
ABB South Africa Flow Measurement & Control
The water industry is facing increasing pressure to optimise treatment processes and address the impending global water crisis. ABB's global product line manager, Krishna Prashanth suggests how the integration of smart instrumentation and predictive maintenance can ensure the highest quality treatment of water.
Read more...
---
A quick guide to disinfection
Endress+Hauser South Africa Analytical Instrumentation & Environmental Monitoring
The distribution system in a drinking water network provides a reliable supply of high-quality water to consumers. Endress+Hauser's range of robust, low-maintenance sensors are ideal for monitoring disinfectant levels in the water.
Read more...
---
Flowmeters with faster and more reliable data transmission
ABB South Africa Flow Measurement & Control
ABB has launched the CoriolisMaster and ProcessMaster flowmeters, which can be powered over the same Ethernet cable used for data transmission, eliminating the need for separate cabling.
Read more...
---
Ice cold optimisation
Turck Banner Southern Africa Flow Measurement & Control
A well-known industrial company in China specialises in the research, development and production of high-tech materials and special industrial furnaces for various fields and applications. To ensure the safe and efficient operation of the furnaces, the flow and temperature of the cooling water and the energy consumption must be constantly monitored and controlled. Turck's FS+ flow sensors are ideal for this application as they can monitor the temperature of the cooling medium in addition to the flow.
Read more...
---
How wet steam undermines boiler efficiency
Endress+Hauser South Africa Flow Measurement & Control
The Endress+Hauser team understands the daily challenges and demands placed upon energy and utility managers across the spectrum of steam generation, distribution and consumption activities. Its global team is committed to working with its partners to overcome these complexities and particularly those that challenge a safe, economic and sustainable source of steam energy production and delivery.
Read more...
---
Fast response, precise flow sensor
ifm - South Africa Flow Measurement & Control
The SBT type flow sensors from ifm ensure quality and efficiency in your production processes, for example in injection moulding plants, tyre production, or meat substitute production.
Read more...
---
Optimising power consumption in wastewater treatment plants
Endress+Hauser South Africa Electrical Power & Protection
There are many opportunities in the wastewater industry to respond to climate change challenges. This includes improving energy efficiency, reducing greenhouse gases, and generating own energy.
Read more...
---
Advanced leak testing techniques for fuel cell stacks
Mecosa Flow Measurement & Control
As the demand for sustainable mobility surges, the automotive industry is rapidly transitioning to electric- and hydrogen-powered vehicles. Among the promising options, hydrogen fuel cell vehicles are gaining traction due to their eco-friendly nature.
Read more...
---
Leak detection for energy transition
Flow Measurement & Control
With a shift from fossil-based systems to renewable energy sources also comes a shift for transportation. This is also true for pipeline leak detection systems.
Read more...
---