printer friendly version
Upskilling will be critical to alternative energy production projects
April 2022
Electrical Power & Protection
South Africa is poised on the brink of an energy revolution as we make the shift from fossil fuels toward more sustainable solutions, a move which involves highly specialised skillsets within the engineering sector. This is particularly true when it comes to artisan trades such as skilled welders, fitters and turners, coil winders, riggers and boilermakers. There are also new skills that need to come into play with renewable energy supply, which are in short supply.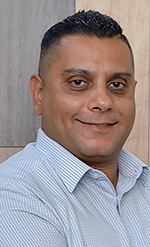 Viren Sookhun.
To deliver sustainable solutions and bring the country in line with the Paris Agreement and COP26, it has become imperative to upskill resources, which makes having the right employment partner critical as we move into a new energy future.
New energy, new skillsets
When it comes to alternative energy, several wind and solar farms have been deployed in remote areas of South Africa. However, as one of the world's top coal producers and consumers, there is a lot of work to be done to transition toward more sustainable solutions, and there are many projects in the pipeline. For example, liquified natural gas (LNG) is seen as a more eco-friendly option to coal, but it needs to be extracted from offshore rigs, pumped onshore and stored, and these storage facilities are highly specialised.
There is also a move toward the manufacture of green hydrogen gas using either solar or wind power to generate it, which again requires specialised artisans to construct the facilities. The solar and wind farms that are part of the Independent Power Producer (IPP) bid windows will also require skilled artisans for construction and maintenance.
Upskilling is key
All of these skills are in short supply, creating a significant challenge. Many of the skills are also relatively new, such as wind turbine and solar PV technicians, adding to the issue. The people with the skills are simply not available, or when they are, they are not available in the typically remote outlying areas where alternative energy projects are underway or due to begin. In addition, as more and more jobs on the lower end of the skill spectrum become automated, it has become increasingly important to upskill resources with appropriate training to enable them to continue to be productive in the future.
As IPP Bid Window 5 begins, this skills shortage will be felt acutely unless training takes place to upskill artisans in the new skills required. For example, traditional riggers can be trained to become wind turbine technicians, enabling them to assist on these renewable energy projects and others as their skills will be in high demand.
A trusted employment partner can assist
With alternative energy projects frequently being located in remote areas of the country, due to the nature of the energy production facilities, the skills required are not often available close to the site. So, they must be sourced elsewhere and attracted to the locations.
A further challenge for this sector is that jobs are typically project-based, which means they involve fixed-term contracts. Skilled personnel will be in demand, but only if they can be matched to the positions that are available as they are required. Once projects are over, these artisans may also need to find alternative employment, which means they also need a variety of soft skills to make them more employable in other sectors.
The right employment partner can be an invaluable asset when it comes to handling both of these challenges. A trusted partner with a national footprint and offices localised to all cities will have a huge pool of skills to draw from, as well as the ability to upskill as required, or even source skills internationally if this becomes necessary.
A reputable and skilled employment partner will also have an understanding of the local communities and the availability of skills and general labour. This is alongside relationships with the relevant ward councillors and trade unions, and knowledge of bargaining councils, to smooth the process. They will also be able to handle a variety of other admin-intensive tasks such as onboarding, human resources, industrial relations, benefit structures, entry and exit medicals, and more. The right training partner will also provide community engagement to make a positive contribution and uplift surrounding communities.
The ultimate goal should be to deliver sustainability as a whole, to improve the country and the economy, and a trusted training partner is invaluable in achieving this.
For more information contact Wilhelm Nel, Workforce Staffing, +27 11 532 0000, info@workforce.co.za, www.workforce.co.za
Further reading:
Gain more visibility into your power substation operations
RJ Connect Electrical Power & Protection
The key dilemma is that many RTUs, HMIs, Ethernet switches and intelligent electronic devices (IEDs) installed in substations are from different vendors.
Read more...
---
Power supplies with EtherCAT interface
Beckhoff Automation Electrical Power & Protection
In the case of system monitoring, important operating parameters such as output current and voltage are transmitted in real time and updated continuously
Read more...
---
Pure sine wave inverters up to 3200 W
Electrical Power & Protection
The new Mean Well units set themselves apart from general consumer-grade products by adopting industrial-grade reliability, safety and quality.
Read more...
---
Avoiding safety hazards during solar PV installations
RS Components SA Electrical Power & Protection
Safety levels during solar panel commissioning and installation have been strengthened by Fluke's CAT III 1500 V true-RMS clamp meter.
Read more...
---
Schneider Electric helps Senwes attain stable energy supply
Schneider Electric South Africa Electrical Power & Protection
Senwes' head offices in Klerksdorp – and surrounding utility users – now benefit from advanced monitoring technology and higher safety levels.
Read more...
---
Digitalising the power grid
Schneider Electric South Africa Electrical Power & Protection
Many facilities still use a rudimentary level of technology, which means faults are addressed in a reactive as opposed to a predictive and proactive manner.
Read more...
---
Measuring the EPC rating of a building
Electrical Power & Protection
Gaining a good EPC rating requires building owners to rethink how they approach energy usage in a modern world.
Read more...
---
Compact uninterruptible DC power supply
Electrical Power & Protection
Traco Power's new 240 W UPS module is suited to demanding industrial applications needing a stable source of power.
Read more...
---
Rethinking energy usage in South Africa
Electrical Power & Protection
While sustainability is increasingly on the agenda of most organisations, the transition to a sustainable energy mix is not easy.
Read more...
---
Compact and powerful energy monitoring unit
Opto Africa Holdings Electrical Power & Protection Fieldbus & Industrial Networking
The RIO EMU's slim form factor is ideal for 'just one more thing' retrofit jobs thanks to DIN-rail and panel-mount options.
Read more...
---