printer friendly version
Data logger for energy surveys, load studies
April 2022
Electrical Power & Protection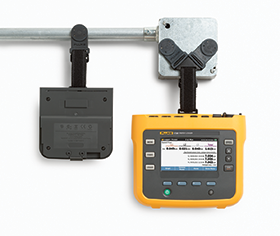 Designed for energy-conscious consumers of electricity, the Fluke 1730 three-phase electrical energy logger simplifies the task of discovering sources of wasted energy. Its ability to profile energy usage across facilities allows users to identify opportunities for energy savings and provides easy-to-understand data required to determine the appropriate course of action.
The 1730 shows when and where energy is being consumed in a facility, from the service entrance to the individual circuits. It compares multiple data points over time and builds a comprehensive picture of energy usage with the Energy Analyze software package. This facilitates the rapid understanding of specific points of energy loss, which can in turn reduce electricity bills.
In conjunction with Fluke's infrared cameras, the energy logger can enhance energy surveys by quickly identifying opportunities for energy savings, both electrically and thermally. In this way, users are able to discover potential problems that could be wasting energy and then quantify them electrically with the 1730. This combination makes for an ideal toolset to uncover hidden operational wastage such as lighting, air conditioning and other large loads that could be switched off when not in use.
More than 20 separate logging sessions can be stored on the instrument. All measured values are automatically logged and can be reviewed during logging and before downloading for on-the-go analysis. Complete in-the-field setup through the front panel means there is no need to return to the workshop for download and setup, or to take a computer to the electrical panel. The Fluke 1730 has a four-hour operating time per charge using lithium-ion batteries, and is 600 V CAT IV/1000 V CAT III rated for use at the service entrance and downstream.
Credit(s)
Further reading:
Gain more visibility into your power substation operations
RJ Connect Electrical Power & Protection
The key dilemma is that many RTUs, HMIs, Ethernet switches and intelligent electronic devices (IEDs) installed in substations are from different vendors.
Read more...
---
Power supplies with EtherCAT interface
Beckhoff Automation Electrical Power & Protection
In the case of system monitoring, important operating parameters such as output current and voltage are transmitted in real time and updated continuously
Read more...
---
Pure sine wave inverters up to 3200 W
Electrical Power & Protection
The new Mean Well units set themselves apart from general consumer-grade products by adopting industrial-grade reliability, safety and quality.
Read more...
---
Avoiding safety hazards during solar PV installations
RS Components SA Electrical Power & Protection
Safety levels during solar panel commissioning and installation have been strengthened by Fluke's CAT III 1500 V true-RMS clamp meter.
Read more...
---
Schneider Electric helps Senwes attain stable energy supply
Schneider Electric South Africa Electrical Power & Protection
Senwes' head offices in Klerksdorp – and surrounding utility users – now benefit from advanced monitoring technology and higher safety levels.
Read more...
---
Digitalising the power grid
Schneider Electric South Africa Electrical Power & Protection
Many facilities still use a rudimentary level of technology, which means faults are addressed in a reactive as opposed to a predictive and proactive manner.
Read more...
---
Measuring the EPC rating of a building
Electrical Power & Protection
Gaining a good EPC rating requires building owners to rethink how they approach energy usage in a modern world.
Read more...
---
Compact uninterruptible DC power supply
Electrical Power & Protection
Traco Power's new 240 W UPS module is suited to demanding industrial applications needing a stable source of power.
Read more...
---
Comtest and Fluke commemorate World Metrology Day
Comtest News
Metrology is all around us and involves everything we do daily –we may be unaware of it, but it affects almost every part of our daily lives.
Read more...
---
Rethinking energy usage in South Africa
Electrical Power & Protection
While sustainability is increasingly on the agenda of most organisations, the transition to a sustainable energy mix is not easy.
Read more...
---