printer friendly version
Position sensor for hydraulic cylinders
March 2022
Sensors & Transducers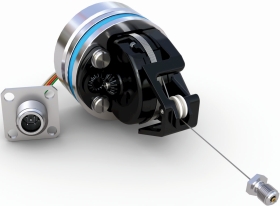 Whether it's agricultural machinery, construction equipment or municipal vehicles, intelligent sensors are indispensable throughout the mobile machine market. Accurately recording paths and angles is an integral component of intelligent operating concepts and functions. These functions improve not only the convenience, but also the safety of mobile machines. Using intelligent sensors also increases the performance and efficiency of mobile machines, allowing repetitive work processes to be automated and therefore relieving machine operators at the same time.
Since most motion sequences for mobile machines employ hydraulic cylinders, one of the most important measurement tasks for sensor technology is precisely determining the stroke of the cylinder to enable measurement and monitoring of the motions to be carried out. No wonder, then, that both machine and sensor manufacturers are always looking for new innovations in stroke measurement for hydraulic cylinders.
Instrotech is offering SIKO's SGH10 draw-wire encoder, a measuring system for direct stroke measurement in hydraulic cylinders. The cylinder stroke is measured precisely using Bowden cable sensor technology installed directly in the cylinder. The high-quality plug ensures the system fulfils protection class IP69K.
Technologically speaking, the SGH10 cylinder stroke measuring system pursues a different approach than measuring systems commonly found in the market, which are based on magneto-restrictive, inductive or Hall-based technology. By contrast, a Bowden cable mechanism installed directly in the cylinder is used to measure the stroke. The cable is mounted in the piston head; if the cylinder is extended, the cable, which is wound up in a cable drum, is pulled out. The rotation of the cable drum that is thereby created is detected without contact by the sensor electronics and used to calculate the linear travel. This makes it possible to detect the position of the cylinder precisely and completely at all times.
The magnets that are used to detect the rotation are scanned by the electronics through the pressure-resistant baseplate of the SGH10. The electronics are fully encapsulated on the unpressurised side of the system. This means the entire measuring system is built into the cylinder and is optimally protected from external environmental conditions. This provides an advantage over a measuring system mounted externally on the cylinder, since the sensor system cannot be influenced or damaged by loose parts or environmental influences.
Another beneficial aspect is the reduction of costs for integrating the system into the cylinder. This is because in previous measuring systems, the sensor rods had to be integrated into the piston over the entire measuring path, often requiring long and highly precise bore holes in the piston. This is not only expensive, but also weakens the structure of the piston. In the SGH10 stroke measuring system, just one small thread is needed in the piston to mount the cable. This allows the system to offer major potential cost savings, which affects production times and ultimately, overall costs for hydraulic cylinders. The greater the stroke length, the greater the potential for monetary savings. Cylinder manufacturers, mechanical engineers and end-use customers reap the benefits.
Another highlight is that the SGH measuring technology can even be used in telescopic cylinders. It provides design engineers with new options when developing forward-thinking assistance systems and supplemental functions in mobile machines.
Credit(s)
Further reading:
Flow meters and switches for very slow flows
Instrotech Flow Measurement & Control
Kobold's KSV meters are shock resistant, small, lightweight and simple to install for measuring liquid or air flow with full-scale accuracy within +/-6%.
Read more...
---
Ultrasonic distance sensor
ASSTech Process Electronics + Instrumentation Sensors & Transducers
Wenglor's new ultrasonic distance sensors combine low installation depth and easy integration of the sensor with tried and tested ultrasonic technology, setting new standards in terms of range and integration options.
Read more...
---
Grist for the mill
Turck Banner Editor's Choice Sensors & Transducers
To meet the requirements of Swiss company Bühler with regard to its MHSA grain huller, Turck certified its contactless Li linear position sensor for use in the Ex area. Thanks to its contactless operating principle, the robust sensors are both maintenance-free and wear-free. They offer an impressive performance due to their optimum reproducibility, resolution and linearity over a large temperature range.
Read more...
---
Ex-rated strain gauge transducer
Turck Banner Sensors & Transducers
Turck Banner's IMX12-SG for force measurement applications in hazardous areas achieves response times below 10 ms and can be used as a repeater or signal converter.
Read more...
---
Concentration measurement with process sensors
Sensors & Transducers
To run chemical reactions in an optimal range and to control product quality, online concentration measurement is required. This ensures a fast intervention in case of concentration variation during 
...
Read more...
---
Sensors for pulp and paper applications
Gail Norton Instrumentation Sensors & Transducers
Some of the toughest challenges for sensors are found in the pulp and paper industry. Here, high temperatures and a contaminated environment make it difficult for optical sensors to operate accurately 
...
Read more...
---
Universal code reader for optimal reliability
Pepperl+Fuchs Sensors & Transducers
Camera-based code readers have already proven their worth in reading detailed data for automated processes, with the adaptability to suit many tasks.
Read more...
---
Working hand in hand to meet automotive OEMs' strict requirements
Turck Banner Sensors & Transducers System Integration & Control Systems Design
The LASE Group, producer of machines and assembly cells for the automotive industry, places trust in its close collaboration with Turck Multiprox.
Read more...
---
2D vision sensor
ifm - South Africa Sensors & Transducers
Thanks to its integrated daylight filter, ifm's new Dualis is highly resistant to extraneous light and boasts powerful algorithms to meet demanding requirements.
Read more...
---
Load sensor for force measurement
Instrotech Level Measurement & Control Mass Measurement
The instrument provides a solution for non-intrusive level measurements of materials that are subject to uneven build-up, bridging or sidewall collection.
Read more...
---