printer friendly version
Differential pressure transmitter
February 2022
Sensors & Transducers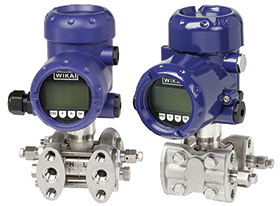 Wika's model DPT-20, with its 4-20 mA, 4-20 mA Hart, Foundation Fieldbus or Profibus PA output signals, combined with the intrinsic safety or flameproof enclosure ignition protection type, is tailored for application in appropriate systems. The development of the transmitter in accordance with the demands of SIL (safety integrated level) IEC 61508 also makes it applicable for plants with special safety requirements.
This differential pressure transmitter is suitable for many industrial measuring requirements, such as flow measurement using differential pressure transducers, level measurement in open or closed tanks, or filter and pump monitoring. With its mounted diaphragm seals, it is also suitable for harsh process conditions.
As a result of the available measuring ranges from -10 to +10 mbar to -16 to +16 bar (-0,15 to +0,15 psi to -240 to +240 psi) and a static pressure limitation of up to 400 bar (5800 psi), the instrument can be used in almost any application. Internal digital signal processing, combined with proven sensors, guarantees high accuracy and long-term stability.
There are seven different case versions available, making it possible to select a variant suited to many operating environment. The case itself can be rotated through 330 degrees and is available in plastic, aluminium and stainless steel.
An electropolished stainless steel case (316L) is available to meet the high demands of the food and pharmaceutical industries.
Service and configuration at the instrument is carried out using the optional display and operating module which can be fitted in four positions. The operating menu has a simple and self-explanatory structure and many selectable languages. Alternatively, the operating parameters can be set using the PACTware free and non-proprietary configuration software. An instrument-specific DTM enables easy integration into corresponding process control systems.
Credit(s)
Further reading:
2D/3D profile sensor for weld seam tracking
ASSTech Process Electronics + Instrumentation Sensors & Transducers
Supporting software can evaluate two- and three-dimensional data from smart cameras, vision systems, profile sensors and IPCs with profile sensors.
Read more...
---
Level measurement – now with Bluetooth
WIKA Instruments Level Measurement & Control
The instrument's description, TAG number, and 0% and 100% marks can be configured via an app on a smartphone or tablet.
Read more...
---
Standard-compliant differential current transformer
Beckhoff Automation Sensors & Transducers
The SCT5564 can be used as a residual current monitor and can measure DC and AC residual currents with up to 100 kHz frequency in the 0 to 2 A range.
Read more...
---
3-point pressure calibration in 10 seconds
WIKA Instruments Pressure Measurement & Control
WIKA's CPC3050 comes in high-pressure and low-pressure versions with customisable ranges, a 10:1 range limit ratio and auto-ranging.
Read more...
---
Wire-actuated encoder for crane arms and lifting platforms
Instrotech Sensors & Transducers
Siko has solved the challenges presented by such applications with the SG 30 and its very compact, yet robust, design.
Read more...
---
Ultrasonic distance sensor
ASSTech Process Electronics + Instrumentation Sensors & Transducers
Wenglor's new ultrasonic distance sensors combine low installation depth and easy integration of the sensor with tried and tested ultrasonic technology, setting new standards in terms of range and integration options.
Read more...
---
Five reasons for force measurement
WIKA Instruments Editor's Choice Maintenance, Test & Measurement, Calibration
Wika takes a closer look at the measured variable of force and gives five reasons to show why force measurement is of particular importance.
Read more...
---
Grist for the mill
Turck Banner Editor's Choice Sensors & Transducers
To meet the requirements of Swiss company Bühler with regard to its MHSA grain huller, Turck certified its contactless Li linear position sensor for use in the Ex area. Thanks to its contactless operating principle, the robust sensors are both maintenance-free and wear-free. They offer an impressive performance due to their optimum reproducibility, resolution and linearity over a large temperature range.
Read more...
---
Ex-rated strain gauge transducer
Turck Banner Sensors & Transducers
Turck Banner's IMX12-SG for force measurement applications in hazardous areas achieves response times below 10 ms and can be used as a repeater or signal converter.
Read more...
---
Concentration measurement with process sensors
Sensors & Transducers
To run chemical reactions in an optimal range and to control product quality, online concentration measurement is required. This ensures a fast intervention in case of concentration variation during 
...
Read more...
---