printer friendly version
Zest supplies traction transformers for rail network
January 2022
Electrical Power & Protection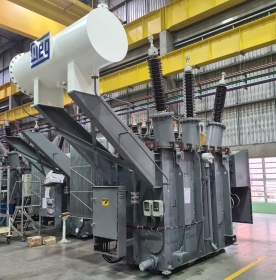 As an established supplier to South Africa's rail sector, Zest WEG will be supplying specialised traction transformers for new substations serving rail lines in Gauteng and the Western Cape.
According to Dillon Govender, sector specialist at Zest WEG, the company is supplying six 6 MVA units that will step down from 88 kV to 1220 V and two more 6 MVA units stepping down from 44 kV to 1220 V. All the transformers will feature a dual output, as well as tertiary windings for small power applications like lighting in the area.
"This is part of an important fast track project and the order follows a number of successful deliveries of these complex transformers by Zest WEG over the years," says Govender. "The units are designed to customer specifications and manufactured in line with global standards."
Through its workshop facilities in Gauteng, Zest WEG has become well known as a 100% local manufacturer of power, distribution and traction transformers for customers within South Africa and has supplied well beyond the borders.
"We have established considerable local capacity in transformer manufacture, reflected in the growing confidence of customers in our design and production capabilities," adds Govender. "We are also able to leverage the value of being part of the WEG Group by drawing on the skills of experts from our Brazilian facilities."
This allows Zest WEG to upgrade local skills through training and skill sharing by specialist engineers and technicians, whenever necessary. This corporate relationship has also allowed the company to broaden its local offerings, at the same time as creating jobs and upskilling local employees.
"Zest WEG's depth of expertise means that we can also conduct design work locally, to meet the specific requirements of customers," concludes Govender. "Our strong local footprint includes offering the necessary service support to customers, ensuring that we can provide the necessary backup for all our equipment."
Credit(s)
Further reading:
Compact uninterruptible DC power supply
Electrical Power & Protection
Traco Power's new 240 W UPS module is suited to demanding industrial applications needing a stable source of power.
Read more...
---
Rethinking energy usage in South Africa
Electrical Power & Protection
While sustainability is increasingly on the agenda of most organisations, the transition to a sustainable energy mix is not easy.
Read more...
---
Compact and powerful energy monitoring unit
Opto Africa Holdings Electrical Power & Protection Fieldbus & Industrial Networking
The RIO EMU's slim form factor is ideal for 'just one more thing' retrofit jobs thanks to DIN-rail and panel-mount options.
Read more...
---
Vacuum circuit breaker with thermal monitoring
Schneider Electric South Africa Electrical Power & Protection
The EasyPacT EXE offers IoT sensors and digital connectivity for a simpler, more sustainable and safer experience for panel builders, facility managers and OEMs.
Read more...
---
E-House solution powers large platinum HIG mill
Zest WEG News
Zest WEG's solution – built to the highest safety and performance standards – is powering one of the largest HIG mills in the southern hemisphere.
Read more...
---
Valmet automation system chosen for waste-to-energy plant
Valmet Automation News Electrical Power & Protection
The new plant in Warsaw, Poland, will process 305 000 tons of municipal solid waste per year to produce electricity and district heating
Read more...
---
Smart manufacturing will power the battery gigafactory of the future
Rockwell Automation Electrical Power & Protection
Electric vehicles' role in the decarbonisation of mobility requires gigafactories that can produce batteries in high volumes, at high speeds and with consistently high quality.
Read more...
---
Upskilling will be critical to alternative energy production projects
Electrical Power & Protection
One of the challenges for this sector is that jobs are typically project-based, which means they involve fixed-term contracts.
Read more...
---
Propelling green hydrogen toward large-scale African commercialisation
RTS Africa Technologies Electrical Power & Protection
RTS Africa Engineering, a founding member of the African Hydrogen Partnership, believes the industry is on the cusp of pricing diesel and petrol out of the market.
Read more...
---
WEG motors power wastewater plant
Zest WEG Motion Control & Drives
The project to expand a wastewater treatment plant, undertaken by water purification specialist PCI Africa, included the installation of 65 WEG motors.
Read more...
---