printer friendly version
Amphenol circular connectors available from RS Components
January 2022
Enclosures, Cabling & Connectors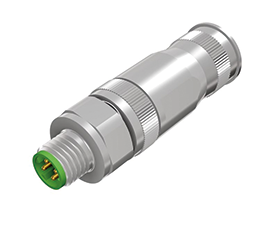 RS Components has announced availability of a complete series of circular connectors manufactured by CONEC Elektronische Bauelemente, part of the Amphenol Group.
Featuring 0,8 mm diameter contact pins, the highly compact CONEC range of M8x1 D-coded circular connectors are fully optimised for industrial automation applications. These connectors present engineers with all the attributes necessary to meet the ISO11801 Class D standard for up to 100 Mbit/s (Fast Ethernet) signal transmissions.
Suitable for a range of Ethernet-based communication applications including industrial interfaces and control and regulation units, as well as sensor, camera and robotics-based applications, the devices require only a small installation space. Key features of the connectors include variable mounting and connection options on the device side, power and data signal on one data pair and continuous shielding.
Electrical characteristics include working voltages of 50 V AC and 60 V DC and a current rating of up to 4 A at 40°C. Additionally, all the devices are protected against water ingress, rated to IP67.
The field attachable connectors include axial female and male connector variants and come with optional screw connections (female) or crimp connections (both female and male).
Credit(s)
Further reading:
Compact emergency stop button
Anglo Allied Engineering Enclosures, Cabling & Connectors
Bernstein has brought out a smaller version of its safety rope limit switch, adding an extra layer of safety to the operation of machines and conveyor belts, with greater space saving and versatility.
Read more...
---
RS to showcase IoT and Food Safe products at NAMPO Harvest Day
RS Components SA News
Following a two-year hiatus, this year's event will take place over five days as opposed to four, to accommodate Covid-19 restrictions.
Read more...
---
MTE expos explore the growth of North West mines
RS Components SA News
The event organiser acknowledged that the past 24 months had been challenging for the country's mining operations, but expressed optimism for the future.
Read more...
---
What can sport teach us about MRO procurement?
RS Components SA News
Just like triathlon transitions, if you don't respect the details and aren't supportive about making manufacturing flexible, as a supplier you aren't contributing to your customers' success.
Read more...
---
Automation construction kit replaces the control cabinet
Beckhoff Automation Enclosures, Cabling & Connectors
Beckhoff's MX-System harnesses all the advantages of PC- and EtherCAT-based control technology at the same time.
Read more...
---
Reliable interface for the blind plugging of modular connections
Phoenix Contact Enclosures, Cabling & Connectors
The new docking frames of the Phoenix Contact Heavycon product family enable the time-saving installation and maintenance of push-in systems and other applications in which the interfaces cannot be seen.
Read more...
---
Tool-free cabling with M12 push-lock connectors
Phoenix Contact Enclosures, Cabling & Connectors
Confined spaces and customised cable lengths are becoming increasingly common when it comes to the cabling of machines and systems. Whether for signal, data or power transmission, the Phoenix Contact 
...
Read more...
---
Pratley stands firm with international and local market growth
Pratley Enclosures, Cabling & Connectors
Shipping and supply-chain issues have led to a global shortage of a range of items and commodities. "The world is shopping around at the moment and we have seen fairly substantial international interest 
...
Read more...
---
Pratley's flameproof junction box
Pratley Enclosures, Cabling & Connectors
By combining a flameproof junction box with its Kwikblok terminals, Pratley can prevent arcing across the connections themselves.
Read more...
---
Rittal and Eplan join forces to add value for customers
Enclosures, Cabling & Connectors
By joining forces, sister companies Rittal and Eplan deliver solutions to speed up processes and boost productivity.
Read more...
---