printer friendly version
Brewery benefits from IO-Link devices
January 2022
Sensors & Transducers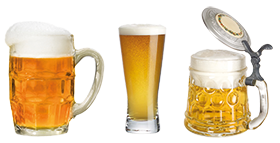 Marston's Brewery is a producer of traditional English ales with six breweries at various sites across the UK. The brewery in Burton on Trent has been producing beer since 1898, so updating the systems there is a regular occurrence.
The company recently undertook a review of the fine ale room tank level indication system, to address certain issues. These were listed as follows: some of the tanks have visual level indication in the form of a sight glass, some however, do not. Where there are sight glasses, they are not the most accurate or visible. The sight glasses require cleaning and this proves difficult. There is no remote visibility for tank levels. On occasion, the tank can empty allowing gas to be introduced into the beer main, causing issues for bottling.
The solution
The proposed solution to these issues was outlined as follows: install instrumentation to enable accurate tank levels; enable remote visibility by using PLCs and scada; enable accurate local visibility by using a digital display and remove the existing sight glasses. It was also deemed necessary to interlock beer transfers using the level indication and use a level switch to prevent gassing in the main.
In more detail, this would consist of wiring all of the instrumentation associated with a tank to a local communications module. Then an Ethernet redundant ring would be used to connect all the tanks together, ensuring the highest availability of the equipment. The sensors and associated equipment required would be two PI2796 pressure transducers and one LMT100 level switch per tank, connected to an AL1121 Ethernet field module to communicate the control values to the PLC and using an E30391 for local display.
When the plan was put into action, the order was placed with ifm electronic for the instrumentation and with other suppliers for mechanical and electrical installation work, while Marston's planned to take care of the software side using its own resources.
The plan allowed for expected costs of around £25 000 and anticipated downtime of the order of six days.
Design and implementation
It is common practice to measure tank levels using pressure transducers, although in a pressurised vessel the transducer that measures the top pressure is usually located in the top of the tank. When inspecting the tanks in the internal tank farm, it became noticeable how little free space there was at the top. Should an instrument fail or require inspection, it should be easy to access and simple to change it. Marston's wanted to ensure that the new project assisted the operators/engineers without overcomplicating things.
Marston's decided, therefore, to install the transducer in the pipe that supplies the top pressure on each tank. This not only provided an identical reading but brought all of the instrumentation down to a common working level.
Systems as described were installed on six bright beer storage tanks. [Bright beer: after fermentation has finished and the yeast or sediment has been filtered out, clear (bright) beer remains, ready to be served or bottled.] Each of these tanks holds 130 barrels of beer (one barrel = 164 litres), or just over 210 hectolitres in total.
Results
On completion of the project, it was noted that the actual costs amounted to £23 838,86 against the £25 000 forecast and the time taken was four instead of six days.
An additional benefit came from modifying the tanks, which will shortly require a 10-year inspection and test. As part of the insurance sign-off Marstons fulfilled this requirement. Preliminary cuts were made to remove the old sight glasses and they will be removed soon with the tubes kept as spares if required.
Operator feedback has been positive so far and hopefully this idea will be rolled out to more tanks.
For more information contact ifm – South Africa, +27 12 450 0400, info.za@ifm.com, www.ifm.com
Credit(s)
Further reading:
Ultrasonic distance sensor
ASSTech Process Electronics + Instrumentation Sensors & Transducers
Wenglor's new ultrasonic distance sensors combine low installation depth and easy integration of the sensor with tried and tested ultrasonic technology, setting new standards in terms of range and integration options.
Read more...
---
Grist for the mill
Turck Banner Editor's Choice Sensors & Transducers
To meet the requirements of Swiss company Bühler with regard to its MHSA grain huller, Turck certified its contactless Li linear position sensor for use in the Ex area. Thanks to its contactless operating principle, the robust sensors are both maintenance-free and wear-free. They offer an impressive performance due to their optimum reproducibility, resolution and linearity over a large temperature range.
Read more...
---
Ex-rated strain gauge transducer
Turck Banner Sensors & Transducers
Turck Banner's IMX12-SG for force measurement applications in hazardous areas achieves response times below 10 ms and can be used as a repeater or signal converter.
Read more...
---
Concentration measurement with process sensors
Sensors & Transducers
To run chemical reactions in an optimal range and to control product quality, online concentration measurement is required. This ensures a fast intervention in case of concentration variation during 
...
Read more...
---
Sensors for pulp and paper applications
Gail Norton Instrumentation Sensors & Transducers
Some of the toughest challenges for sensors are found in the pulp and paper industry. Here, high temperatures and a contaminated environment make it difficult for optical sensors to operate accurately 
...
Read more...
---
Universal code reader for optimal reliability
Pepperl+Fuchs Sensors & Transducers
Camera-based code readers have already proven their worth in reading detailed data for automated processes, with the adaptability to suit many tasks.
Read more...
---
Working hand in hand to meet automotive OEMs' strict requirements
Turck Banner Sensors & Transducers System Integration & Control Systems Design
The LASE Group, producer of machines and assembly cells for the automotive industry, places trust in its close collaboration with Turck Multiprox.
Read more...
---
Mobile data memory for IO-Link
ifm - South Africa Fieldbus & Industrial Networking
The DSU100 is a 128 KB FRAM data carrier which serves as a storage medium in industrial environments.
Read more...
---
2D vision sensor
ifm - South Africa Sensors & Transducers
Thanks to its integrated daylight filter, ifm's new Dualis is highly resistant to extraneous light and boasts powerful algorithms to meet demanding requirements.
Read more...
---
Small flush-mount pressure sensor
ifm - South Africa Pressure Measurement & Control
Performance figures include high measuring accuracy to within ±0,5% and precise repeatability with ±0,05% tolerance.
Read more...
---