printer friendly version
ABB moves toward zero-carbon mines
November 2021
System Integration & Control Systems Design
ABB has launched ABB Ability eMine, a portfolio of solutions that will help accelerate the move toward a zero-carbon mine. The company also unveiled the piloting of the ground-breaking ABB Ability eMine FastCharge, a fast-charging system designed to interface with all makes of electric mining haul trucks.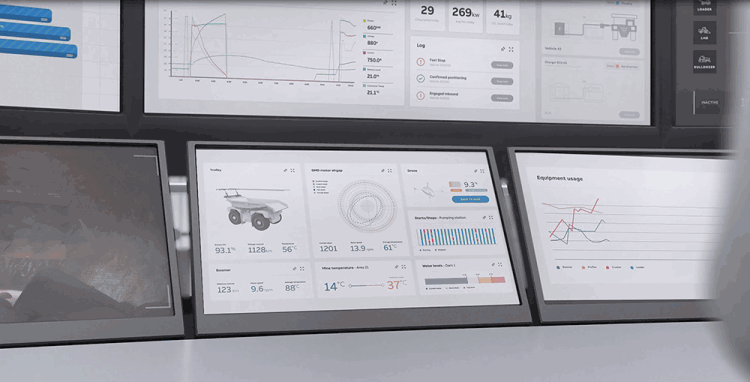 eMine comprises a portfolio of electrification technologies that make the all-electric mine possible when integrated with digital applications and services to monitor and optimise energy usage. It can electrify any mining equipment across hoisting, grinding, hauling and material handling. From 2022, it will include new ABB Ability eMine FastCharge, which provides high-power electric charging for haul trucks and is currently in pilot phase. It also incorporates the ABB Ability eMine Trolley System, which can reduce diesel consumption by up to 90%, significantly lowering energy costs and environmental impact.
"The global mining industry is undergoing one of the most significant and important transformations of our generation, which is to become zero carbon," said Max Luedtke, global head, Mining at ABB. "ABB Ability eMine is an exciting milestone to help convert existing mining operations from fossil fuel energy to all-electric. Mines can become ever more energy efficient with vastly reduced levels of CO2 emissions, while at the same time staying competitive and ensuring high productivity."
"We are celebrating 130 years in the mining industry and decades in the electrification of mining equipment," added Mehrzad Ashnagaran, global product manager, Electrification and Composite Plant. "Today we are extending our engineering capabilities and investment into electric transport, to bring new solutions to meet the growing demand of our customers. Besides the environmental benefits, fuel price volatility, making electricity more cost competitive and legislation, are driving the move to electric-powered mines. ABB not only understands these requirements, but we can also equip the industry to meet them."
eMine FastCharge can serve as a cornerstone of the transition to fully electrified mines across the industry. This flexible and fully automated solution is being designed for the harshest environments, can be installed anywhere and can charge any electric truck without human intervention at up to 600 kW, the highest power available on today's market to minimise the downtime of mobile assets. Charging time will depend on the battery capacity onboard the haul truck and the operational profile, however, in many instances a suitable state of charge could be reached within 15 minutes. With eMine, ABB is extending its capabilities to the electrification of mining trucks and technologies for the full hauling process.
eMine provides integral design planning and thinking to maximise the value of electrification, helping to design the hauling process in the most optimised way with electrical solutions that match mine constraints and help meet production targets. ABB helps mine operators map their journey towards an all-electric mine from phasing out diesel to embedding a new mindset and new team skills. By fully integrating electrification and digital systems from the mine to the port, eMine further reduces overall costs and improves mine performance while significantly lowering environmental impact.
ABB draws on 130 years of experience in the mining industry and is a pioneer in the integration of electrification, automation and digitalisation in mining. eMine is underpinned by ABB Ability MineOptimize, a platform that optimises engineering in the design of the plant or mine and facilitates the transition to the digital and carbon-free mine of the future.
Features and benefits at a glance
• eMine comprises a purposeful approach, method and integrated portfolio of electrification and digital systems designed to accelerate the decarbonisation of the mining sector.
• ABB is also piloting ABB Ability eMine FastCharge, a charging system for haul trucks, offering up to 600 kW of power.
• eMine can reduce diesel consumption by up to 90% with haul trucks based on an electric trolley system.
Credit(s)
Further reading:
Young unemployed graduate gets kickstart to his career
ABB South Africa Editor's Choice News
The training provided by ABB is hands-on and will see Momelezi Sifumba rotate through different departments and activities to ensure his practical experience is as well-rounded as possible.
Read more...
---
Case History 183: Bad valve split-ranging causing problems
Michael Brown Control Engineering Editor's Choice System Integration & Control Systems Design
Pressure control is one of the processes that can be self-regulating or integrating, and it is sometimes very difficult to determine which type it is.
Read more...
---
Optimised, PC-based food production
Beckhoff Automation Editor's Choice System Integration & Control Systems Design
Foodjet's MDL food printers can portion and deposit toppings with maximum precision, whether coating pizza dough with a perfect layer of tomato sauce, or icing doughnuts with seasonal decorations.
Read more...
---
Loop Signatures 13: Digital controllers – Part 5: The D term
Michael Brown Control Engineering Editor's Choice System Integration & Control Systems Design
The objective of the derivative term is to speed up the control response in very slow processes, as often encountered in some temperature controls.
Read more...
---
ABB's automatic paper testing delivers faster quality insights
ABB South Africa Maintenance, Test & Measurement, Calibration
Quality data from the L&W Autoline is collected in the mill's quality management system via integration with the 800xA DCS.
Read more...
---
Loop Signatures 12: Digital controllers – Part 4: The I term
Michael Brown Control Engineering Editor's Choice System Integration & Control Systems Design
Generally, as PLCs sometimes do not handle PIDs well, I always do some tests on them to check on the operation of their control loops.
Read more...
---
Risk assessments accelerate Booyco PDS adoption
Editor's Choice System Integration & Control Systems Design
As mines systematically assess the risks related to their trackless mining machinery, they increasingly see the value in proximity detection systems.
Read more...
---
ABB white paper explores the future of DCS technology
ABB South Africa News PLCs, DCSs & Controllers
The company foresees a modular automation architecture that will evolve to address customer needs, becoming more open, interoperable and flexible.
Read more...
---
A robust cybersecurity strategy is critical
ABB South Africa IT in Manufacturing
Understanding and managing the risks associated with a cyberattack can seem a daunting prospect in the face of keeping a plant up and running.
Read more...
---
Control loop: Case History 182 - A temperature cascade control loop that didn't work
Michael Brown Control Engineering Editor's Choice System Integration & Control Systems Design
The problems encountered in a heater outlet temperature control in a petrochemical refinery were causing considerable difficulties for the operators. Here is another wonderful example of the power of cascade control, even with a really bad control element.
Read more...
---