printer friendly version
Electrified subsea actuator for offshore production
September 2021
Valves, Actuators & Pump Control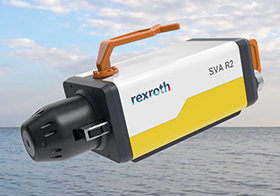 Bosch Rexroth has engineered the SVA R2 Subsea Valve Actuator as a disruptive innovation for electrically actuating valves in the subsea process industry. It can replace conventional hydraulic cylinders without taking up additional space. It has an integrated electric controller that offers precise motion control and due to condition monitoring and a safety spring, it satisfies Safety Integrity Level (SIL) 3 in accordance with IEC 61508 and IEC 61511.
The actuator minimises energy consumption and is geared toward delicate ecosystems, while installation and operating costs are reduced. When the SVA R2 is used in subsea factories at a depth of up to 4000 metres, hydraulic pipes or power units are no longer required. The power supply, which is already installed for sensors, is adequate to ensure the reliable operation of the actuators. These functions, the operating life and actuator safety have been successfully tested in accordance with international standards.
Previously, process system operators relied mainly on hydraulic cylinders to open and close subsea valves with a quarter turn and a defined force. With offshore installations like oil and gas production, these cylinders are supplied by a central hydraulic power unit with hydraulic pipes several kilometres long. This uses a great deal of energy to compensate for the cumulated losses and cannot control the movement with precision.
Plant engineers and operators relied on hydraulic cylinders because they are the only components to offer field-proven safety systems with a mechanical spring in a compact design. Conventional electric actuators do not have a safety function like this due to the size and weight requirements. Other designs to ensure safety using subsea batteries cannot guarantee the reliable closing of valves over the required operating life of up to 25 years.
For the agile development of the SVA R2, the Bosch Rexroth team worked closely with suppliers and operators of offshore installations and international universities. The new module comprises a pressure-compensated container incorporating an electric drive, a motion control system and a safety device, which can replace the previously used hydraulic cylinders on a 1:1 basis. It requires only one cable for the power supply and communication. The SVA R2 is designed to actuate valves reliably with the power supply that is commonly used for subsea sensors. Switching to compact and safe electric actuators means that the hydraulic pipes several kilometres long and the associated power units and controllers are no longer required.
For more information contact Gillian Allin, Bosch Rexroth South Africa, +27 11 979 4630, gillian.allin@boschrexroth.co.za, www.boschrexroth.africa
Further reading:
Non-contact microwave limit switch
Allpronix Valves, Actuators & Pump Control
The MWS-ST/SR level switch's use of the heterodyne detection method produces an output that is proportional to the received power level.
Read more...
---
ARCA retains BASF MVV status
Valve & Automation Valves, Actuators & Pump Control
The framework agreement will cement ARCA's position as one of two global key suppliers for automated control valves to BASF.
Read more...
---
Wireless communication and control of electro-pneumatic manifolds and IO
SMC Corporation South Africa Valves, Actuators & Pump Control
SMC analysed the control of manifolds-in-motion, where the physical removal of communications cables is desirable. Applications include manifolds mounted on robot gripper assemblies or rotating tables. 
...
Read more...
---
Valves for motorised open/close functions
Valves, Actuators & Pump Control
The valves' robust, self-locking linear actuator has a safety switch-off function with overload protection, a manual override and an optical position indicator.
Read more...
---
Abrasive Flow Solutions celebrates 1st anniversary
News Valves, Actuators & Pump Control
The company specialises in the design and manufacture of slurry-related valves, and works closely with sister company, BMG.
Read more...
---
Actuator retrofit gives Indian airport critical performance data
Valves, Actuators & Pump Control
Since a reduction in downtime was of critical concern, the customer signed up to a service agreement as part of Rotork's Lifetime Management programme.
Read more...
---
Rotork actuators installed at Beijing's second international airport
Valves, Actuators & Pump Control
The pump room, oil tanks, oil station and landing field ground wells use the company's actuators to operate a variety of valve types.
Read more...
---
Festo campaign highlights process automation solutions
Festo South Africa Valves, Actuators & Pump Control
Festo aims to aid its process automation customers to thrive even during unpredictable periods, by continually analysing the value-creation chain and communicating with its customers to understand their needs.
Read more...
---
Silencer to help protect workers from gas process noise
Emerson Automation Solutions Valves, Actuators & Pump Control
Fisher WhisperTube modal attenuator provides noise reduction in compressible fluid service to improve worker safety, with no impact to process flow.
Read more...
---
Flow control at US water resource recovery facility
Valves, Actuators & Pump Control
Rotork IQT part-turn electric actuators have been specified for use at the Water Resource Recovery Facility (WRRF) in Michigan, USA.
Read more...
---