printer friendly version
Optimum efficiency at healthcare facilities
Technews Industry Guide: Sustainable Manufacturing 2021
Maintenance, Test & Measurement, Calibration
Healthcare facility professionals work with mission-critical equipment every day – failure is really not an option. Medical businesses must be able to face life-and-death issues around the clock, so maintaining constant uptime is as crucial as finding ways to save on energy costs and adhering to stringent regulatory requirements. Comtest offers a full suite of Fluke test tools to monitor, troubleshoot and repair a medical facility. Why Fluke test and measurement equipment? Because it is the industry benchmark against which all other tools are measured.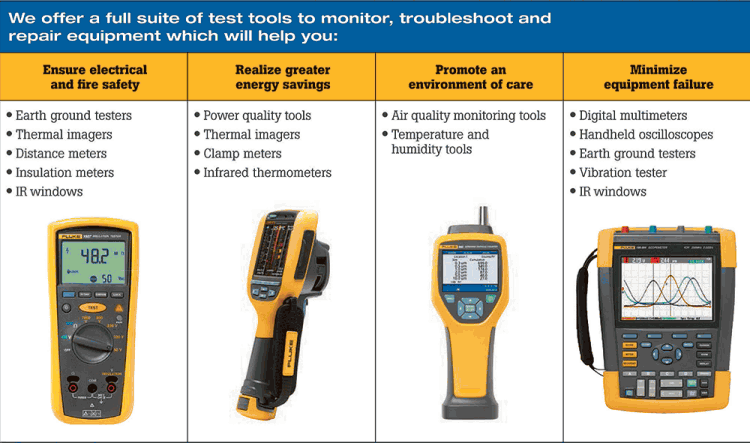 The facility director's focus is on safety, cost reduction and regulatory compliance. Issues faced include controlling energy costs, the promoting of an environment of care, maintaining emergency preparedness and ensuring regulatory compliance. To this end, Comtest offers Fluke's thermal imagers, infrared windows and power quality analysers.
Engineers and electricians focus on electrical installation, maintenance and repairs. They face issues of meeting safety standards, troubleshooting sensitive equipment and preventing unscheduled downtimes. For this application, Comtest offers Fluke's digital multimeters, power quality analysers, infrared thermometers, insulation meters and handheld oscilloscopes.
The environmental health and safety professional focuses on health and safety protocols and air quality control. Issues faced are maintaining good air quality for hospital environments and educating and enforcing adherence to infection control protocols. Comtest's solutions are the Fluke indoor air quality tools and infrared thermometers.
Finally, the maintenance professional focuses on maintaining indoor air quality, HVAC and related systems. Issues faced are controlling HVAC energy costs, ensuring HVAC ventilation systems are compliant with local quality and safety standards, keeping wiring and equipment to specification, and addressing patient comfort issues. Comtest offers Fluke's digital multimeters, earth ground testers, air flow, clamp and vibration meters.
Credit(s)
Further reading:
Mediclinic bolsters gas leak detection with Fluke acoustic imager
Comtest Analytical Instrumentation & Environmental Monitoring
Preventing leaks in hospitals has positive implications for the environment, but a significant leak of N
2
O or O
2
in a hospital can represent a serious health hazard.
Read more...
---
The route to proactive maintenance
Comtest Editor's Choice Maintenance, Test & Measurement, Calibration
What were once complex tasks can now be accomplished by less experienced technicians with easy-to-use tools such as vibration screeners and thermal imagers.
Read more...
---
Stationary battery basics
Comtest Electrical Power & Protection
There is so much terminology related to stationary batteries and it is hard to know what everything means. This is the difference between jars and straps.
Read more...
---
Composition analysis by micro gas chromatography
Electrocomp Maintenance, Test & Measurement, Calibration
The DynamiQ-X gas analyser from Q-Micro is designed for continuous gas mixture monitoring in industrial process and factory automation applications.
Read more...
---
ABB's automatic paper testing delivers faster quality insights
ABB South Africa Maintenance, Test & Measurement, Calibration
Quality data from the L&W Autoline is collected in the mill's quality management system via integration with the 800xA DCS.
Read more...
---
Regular machine maintenance is key to operational efficiency
Maintenance, Test & Measurement, Calibration
Benefits include savings on costs, energy efficiency and spare parts, which can account for as much as half of the total maintenance costs.
Read more...
---
Using ultrasonic NDT to identify wear and corrosion
BAMR Maintenance, Test & Measurement, Calibration
Monitoring equipment for damage and potential flaws is vital in preventing loss of productivity and even injury or potential death of operators.
Read more...
---
Comtest and Fluke commemorate World Metrology Day
Comtest News
Metrology is all around us and involves everything we do daily –we may be unaware of it, but it affects almost every part of our daily lives.
Read more...
---
All-in-one documenting process calibrators
Comtest Maintenance, Test & Measurement, Calibration
The multifunction calibrators perform sourcing, simulation and measurement of pressure, temperature and electrical signals.
Read more...
---
Five reasons for force measurement
WIKA Instruments Editor's Choice Maintenance, Test & Measurement, Calibration
Wika takes a closer look at the measured variable of force and gives five reasons to show why force measurement is of particular importance.
Read more...
---