printer friendly version
Booyco spreads its wings into South America
August 2021
News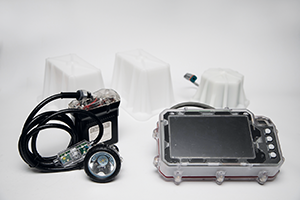 South African proximity detection system (PDS) specialist, Booyco Electronics, has extended its global reach with a recent contract to supply a surface gold mine in Chile.
According to Anton Lourens, CEO of Booyco Electronics, over 50 Booyco CXS systems have been installed on vehicles and other machinery at the mine. Installations followed a demanding testing phase, which confirmed the customer's trust in the technology. The project was carried out in collaboration with Booyco Electronics' distributor in the region, Insucam.
"South America is a key focus in our drive to open markets abroad, so we are excited about the take-up of our latest CXS offering in that region," says Lourens. "Safety on site is always a core concern for mines and we value the opportunity to help them ensure that all their teams get home safely at the end of every day."
Carlos Pinto Reyes, business development and new technologies manager at Insucam, says the customer analysed several systems in the market, finding that the Booyco CXS gave them the greatest reliability.
"After installation, every operator on the mine is now aware of the exact location of machines and their distance away," adds Pinto Reyes. "They are quickly alerted to any possibility of collision as the system tracks the trajectory, speed and position of each machine. Operators also appreciate how intuitive the system is, while not overwhelming them with persistent alarms."
He highlights that the Booyco Electronics CXS uses direct GPS signals from three constellations of satellites to determine spatial positions, so it is not reliant on the GPRS coverage used by mobile phones. This is an important advantage for mines located in remote areas without a reliable GPRS signal.
Lourens emphasis that the success of Booyco Electronics is based on its high level of support wherever its products are installed, through which it builds long-term relationships. "We therefore partner with credible companies like Insucam, with the requisite technical skills, resources and footprint to ensure the optimal performance of our PDS products," he concludes.
Further reading:
New chief marketing and communications officer joins Zutari
News
Leading consulting engineering and infrastructure advisory firm, Zutari, has appointed Zipporah Maubane as chief marketing and communications officer for Africa and the Middle East (AME).    The company 
...
Read more...
---
Women thrive at the coalface of BI's sales and customer service
Bearings International News
"Do not compare yourself to others. Work hard, as no job is beneath you. Soak up the knowledge available to you. Do not be discouraged or demotivated."
Read more...
---
More women to be capped at MUT's Women's Month graduation
News
All told, 990 women will graduate from the Faculty of Management Sciences, 308 from the Faculty of Natural Sciences, and 310 from the Faculty of Engineering.
Read more...
---
Hitachi Energy is championing its Diversity 360 approach
News
In recognition of Women's Month, the company highlighted the achievements of exceptional local female talent by profiling three leading women who form part of the company's South African operations.
Read more...
---
LTM garners prestigious global 'green energy' award
News
The company was awarded for the AEE Innovator of 2022 the Enhanced Smart Utility Management System (eSUMS), which helps clients reduce their utility costs and boost their climate change mitigation contribution.
Read more...
---
Attaining a sustainable legacy
Technews Publishing (SA Instrumentation & Control) Editor's Choice News
Through this quagmire of crises and uncertainties, the wheels of industry must continue to turn if we are to sustain our modern way of life, and those wheels are, either directly or indirectly, powered by electricity.
Read more...
---
From the editor's desk: Today's seed, tomorrow's shade
Technews Publishing (SA Instrumentation & Control) News
Today's captains of industry did not create the environmental problems we face, but they inherited this poisoned chalice and so it falls upon them to rinse it clean.
Read more...
---
From Industry 4.0 to Industry Green.0
Rockwell Automation Editor's Choice News
As sustainability becomes a business imperative for manufacturing organisations, they must incorporate sustainability goals into every step of the business lifecycle – because purpose and profit must go hand in hand.
Read more...
---
Strong order intake, record revenues for Atlas Copco
News
The demand for Atlas Copco's products and services remained high for the second quarter of 2022, and order volumes increased markedly in all business areas compared to the previous year.
Read more...
---
Zest WEG poised for African growth
Zest WEG Group Africa News
Zest WEG's drive on local manufacture and local sourcing is consistent with WEG's global approach of maximising local content and procurement wherever possible.
Read more...
---