printer friendly version
Wearable device keeps workers safe during the pandemic
June 2021
Industrial Wireless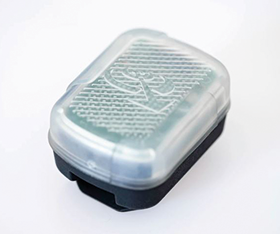 RS Components now stocks a new wearable device that makes social distancing in workplaces easier. EGOpro Social Distancing from AME (Advanced Microwave Engineering) leverages innovative active safety technology to keep businesses up and running and Covid-19 secure.
Maintaining social distancing is key to limiting the spread of coronavirus, but it can be a real challenge in busy workplaces such as manufacturing facilities, warehouses and construction sites.
EGOpro is a wearable, RFID active tag that automatically alerts workers who are inadvertently getting too close to each other. Flashing LED lights combined with vibration ensure that the wearer is notified immediately, whether they are in a noisy environment or focusing on the task at hand. Safe distance thresholds can be adjusted in line with the latest Covid-19 social distancing guidelines.
Alerts can also be transmitted, wirelessly, to any mobile device in the facility, or remotely via the cloud. Health and safety managers can monitor workers in real-time through computer software and analyse historic data with information such as near misses. With this critical data to hand, workplaces can be redesigned to facilitate social distancing.
A low-profile device with a lightweight form factor, EGOpro is nonintrusive and easy to wear around the neck, fostering uptake among workers. It is powered by a rechargeable battery that can run for 12 hours on a single charge.
Credit(s)
Further reading:
Avoiding safety hazards during solar PV installations
RS Components SA Electrical Power & Protection
Safety levels during solar panel commissioning and installation have been strengthened by Fluke's CAT III 1500 V true-RMS clamp meter.
Read more...
---
TUKS campus taken over by robots!
RS Components SA News
Students are required to build autonomous robotic vehicles with a sensor system to detect specific colours on a multi-coloured track.
Read more...
---
NIST finds wireless performance consistent across 5G mmWave bands
Industrial Wireless
The NIST system is unique in that antenna beams can be steered in any direction for precise angle-of-arrival estimates.
Read more...
---
Visitors flock to NAMPO Harvest Day
RS Components SA News
From electric vehicles to smart monitoring drones, NAMPO Harvest Day 2022 shone a spotlight on modern agriculture technologies.
Read more...
---
Wireless fieldbus modules
SMC Corporation South Africa Industrial Wireless
The EX600-W is well suited for use with collaborative robotics for improved machine safety and quick connection of tool changers on robotic arms.
Read more...
---
New addition to the Times-7 A5020 antenna range
Osiris Technical Systems Industrial Wireless
The Times-7 A5020 range of UHF RFID antennas was recently expanded with the addition of a mid-range and a linear extreme antenna.
Read more...
---
RS to showcase IoT and Food Safe products at NAMPO Harvest Day
RS Components SA News
Following a two-year hiatus, this year's event will take place over five days as opposed to four, to accommodate Covid-19 restrictions.
Read more...
---
Wireless addition to the Jumo automation system
ASSTech Process Electronics + Instrumentation Industrial Wireless
Up to 32 wireless Jumo Wtrans sensors can be connected via a wireless gateway for various purposes, including measuring temperature or pressure.
Read more...
---
MTE expos explore the growth of North West mines
RS Components SA News
The event organiser acknowledged that the past 24 months had been challenging for the country's mining operations, but expressed optimism for the future.
Read more...
---
What can sport teach us about MRO procurement?
RS Components SA News
Just like triathlon transitions, if you don't respect the details and aren't supportive about making manufacturing flexible, as a supplier you aren't contributing to your customers' success.
Read more...
---