printer friendly version
Local base sets Zest WEG for Africa growth
March 2021
News
Establishing a strong local manufacturing base in South Africa has been integral to Zest WEG's success over the past decade, building the economy and providing an important springboard into Africa. This process has aligned closely with the strategic approach of Brazil-based parent organisation WEG, which prioritises its member companies' capability, efficiency and innovation on a local level.
"The strategy has required considerable investment in our local production capacity and skills base," says Juliano Vargas, CEO of Zest WEG. "The outcome to date has been very successful, with Zest WEG developing its local structure and supply chain, while working to world-class standards and supported by WEG innovation."
As an example, he notes that Zest WEG today achieves almost 90% local content capability for its transformers and more than 70% local content capability for other products such as E-houses and panels. These products form part of the company's wide range of solutions, including electric motors, drives, switchgear, energy generation, electrical infrastructure, and generator sets, with different levels of localisation.
"This locally developed supply chain delivers various benefits to customers," adds Vargas. "These include short lead times, as there is little reliance on Europe, China or the US for parts and components.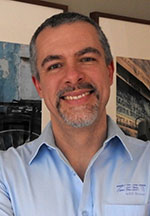 Juliano Vargas.
"The impacts to our market are considerable, and we have more predictability and control of our supply chain. The company has embraced South Africa's commitment to transformation, achieving Level 1 B-BBEE status and investing heavily in training and enterprise development."
It helped that WEG is a member of the BRICS Business Council (representing Brazil), so it has over the years been able to engage with South African authorities about local content requirements and industry development opportunities.
"Our business, both in Brazil and South Africa, has put our weight behind economic empowerment and transformation, focusing heavily on local suppliers and local skills," explains Vargas.
Zest WEG's investment in human capital exceeds the portion of payroll demanded by B-BBEE in local training. Among other initiatives is a bursary programme, and it will shortly employ its third electrical engineer from this scheme.
Vargas concludes: "This groundwork has created a wonderful launch pad for growing the company's footprint in Africa, where it also applies its local development philosophy by partnering with in-country value-added resellers."
Credit(s)
Further reading:
New chief marketing and communications officer joins Zutari
News
Leading consulting engineering and infrastructure advisory firm, Zutari, has appointed Zipporah Maubane as chief marketing and communications officer for Africa and the Middle East (AME).    The company 
...
Read more...
---
Women thrive at the coalface of BI's sales and customer service
Bearings International News
"Do not compare yourself to others. Work hard, as no job is beneath you. Soak up the knowledge available to you. Do not be discouraged or demotivated."
Read more...
---
More women to be capped at MUT's Women's Month graduation
News
All told, 990 women will graduate from the Faculty of Management Sciences, 308 from the Faculty of Natural Sciences, and 310 from the Faculty of Engineering.
Read more...
---
Hitachi Energy is championing its Diversity 360 approach
News
In recognition of Women's Month, the company highlighted the achievements of exceptional local female talent by profiling three leading women who form part of the company's South African operations.
Read more...
---
LTM garners prestigious global 'green energy' award
News
The company was awarded for the AEE Innovator of 2022 the Enhanced Smart Utility Management System (eSUMS), which helps clients reduce their utility costs and boost their climate change mitigation contribution.
Read more...
---
Attaining a sustainable legacy
Technews Publishing (SA Instrumentation & Control) Editor's Choice News
Through this quagmire of crises and uncertainties, the wheels of industry must continue to turn if we are to sustain our modern way of life, and those wheels are, either directly or indirectly, powered by electricity.
Read more...
---
From the editor's desk: Today's seed, tomorrow's shade
Technews Publishing (SA Instrumentation & Control) News
Today's captains of industry did not create the environmental problems we face, but they inherited this poisoned chalice and so it falls upon them to rinse it clean.
Read more...
---
From Industry 4.0 to Industry Green.0
Rockwell Automation Editor's Choice News
As sustainability becomes a business imperative for manufacturing organisations, they must incorporate sustainability goals into every step of the business lifecycle – because purpose and profit must go hand in hand.
Read more...
---
Strong order intake, record revenues for Atlas Copco
News
The demand for Atlas Copco's products and services remained high for the second quarter of 2022, and order volumes increased markedly in all business areas compared to the previous year.
Read more...
---
Zest WEG poised for African growth
Zest WEG Group Africa News
Zest WEG's drive on local manufacture and local sourcing is consistent with WEG's global approach of maximising local content and procurement wherever possible.
Read more...
---