printer friendly version
Smart positioners of the future
January 2021
Valves, Actuators & Pump Control
Data analytics are driving the migration to digital factories by assisting manufacturing companies to make smarter operational decisions. The ability to gain a clear understanding of the integrated functionality of the factory, as well as the intelligent use of the gathered information is proving essential in the quest for competitive advantage.
SMC Corporation has always identified with the term 'keep moving forward'. It is an ethos that is echoed throughout the company, and the heartbeat of a development team which works diligently to bring the most up-to-date and industry relevant components to market.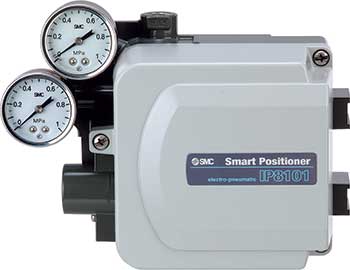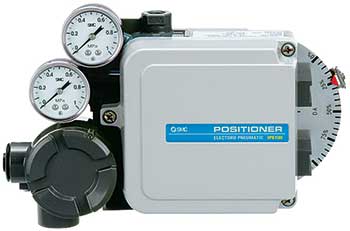 SMC smart positioners
Achieving considerable success with its electro-pneumatic positioners, the R&D; team was challenged to improve on an already successful existing component. From this, the SMC smart positioner was born.
The new range was designed to pair perfectly with process control valves and actuators. Two versions are currently available, namely:
• IP8001 linear series, which generally pairs with a diaphragm control valve.
• IP8101 rotary series, for valves with oscillating or quarter turn actuators.
Each positioner serves as a source of pneumatic actuating pressure and as a feedback device for the real-time actuator position and valve shutoff.
The driving design concept behind the smart positioner is the ability to do much more than simply control the position of the valve. It enables the user to collect data about the functionality of the valve and assembly performance, automatically alerting the user and enabling faster response times in the event of problems. In addition, it can aid in diagnostics and improve maintenance by means of its built-in microcomputer.
An optional LCD window gives a visual representation of the real-time status of the positioner, while the incorporation of an internal button allows for easy calibration.
The new IP8001/8101 series positioners
A built-in microcomputer and sensor allow easy remote parameter change and monitoring, while an internal push-button allows for easy parameter setting. Zero point/span adjustment is also easier than with previous mechanical positioners. Other features and benefits include:
• Full output functions: Selecting output functions by model, e.g. alarm point output function (2 points) or analog (4-20 mA DC) continuous output function, allows remote detection of operating abnormalities.
• Control state display: Positioning, deviation, and input value are displayed numerically on the internal LCD, allowing visual verification of the control state.
• Handles 2-line input for current equipment: Control furnished with current 2-line input signal (4-20 mA DC), not requiring separate power source.
• HART transmission function: HART transmission function can be designated by model selection, allowing remote monitoring and setting change of positioner.
• Compatible installation: Dimensions of mounting parts are the same as previous mechanical IP6000/IP8000 series electro-pneumatic positioners. External feedback lever and fork lever-type fitting for joining actuator and positioner are therefore also the same.
• Energy saving: Lever-types feature 60% reduced air flow consumption compared with IP8000.
SMC smart positioners are a perfect fit in most industries, including pulp and paper, food and beverage, and water and wastewater, amongst others. Units with ATEX certification are also available, should the need for intrinsically safe components arise.
Credit(s)
Further reading:
Wireless fieldbus modules
SMC Corporation South Africa Industrial Wireless
The EX600-W is well suited for use with collaborative robotics for improved machine safety and quick connection of tool changers on robotic arms.
Read more...
---
Wireless communication and control of electro-pneumatic manifolds and IO
SMC Corporation South Africa Valves, Actuators & Pump Control
SMC analysed the control of manifolds-in-motion, where the physical removal of communications cables is desirable. Applications include manifolds mounted on robot gripper assemblies or rotating tables. 
...
Read more...
---
Valves for motorised open/close functions
Valves, Actuators & Pump Control
The valves' robust, self-locking linear actuator has a safety switch-off function with overload protection, a manual override and an optical position indicator.
Read more...
---
Abrasive Flow Solutions celebrates 1st anniversary
News Valves, Actuators & Pump Control
The company specialises in the design and manufacture of slurry-related valves, and works closely with sister company, BMG.
Read more...
---
Actuator retrofit gives Indian airport critical performance data
Valves, Actuators & Pump Control
Since a reduction in downtime was of critical concern, the customer signed up to a service agreement as part of Rotork's Lifetime Management programme.
Read more...
---
For more energy-efficient pneumatics, 4 is greater than 7
SMC Corporation South Africa Pneumatics & Hydraulics
To help expedite a project that involves designing a machine for 4 bar operating pressure, SMC's expert team can deliver the optimal outcome for both OEMs and end users.
Read more...
---
The 'P' in predictive maintenance represents progress, not pain
SMC Corporation South Africa Maintenance, Test & Measurement, Calibration
There are three main types of maintenance: reactive, preventative and predictive. But how do you make sense of these terms? Human health can provide an analogy to machine health. Take diabetes, for 
...
Read more...
---
Rotork actuators installed at Beijing's second international airport
Valves, Actuators & Pump Control
The pump room, oil tanks, oil station and landing field ground wells use the company's actuators to operate a variety of valve types.
Read more...
---
Festo campaign highlights process automation solutions
Festo South Africa Valves, Actuators & Pump Control
Festo aims to aid its process automation customers to thrive even during unpredictable periods, by continually analysing the value-creation chain and communicating with its customers to understand their needs.
Read more...
---
Silencer to help protect workers from gas process noise
Emerson Automation Solutions Valves, Actuators & Pump Control
Fisher WhisperTube modal attenuator provides noise reduction in compressible fluid service to improve worker safety, with no impact to process flow.
Read more...
---