printer friendly version
Smart positioners of the future
January 2021
Valves, Actuators & Pump Control
Data analytics are driving the migration to digital factories by assisting manufacturing companies to make smarter operational decisions. The ability to gain a clear understanding of the integrated functionality of the factory, as well as the intelligent use of the gathered information is proving essential in the quest for competitive advantage.
SMC Corporation has always identified with the term 'keep moving forward'. It is an ethos that is echoed throughout the company, and the heartbeat of a development team which works diligently to bring the most up-to-date and industry relevant components to market.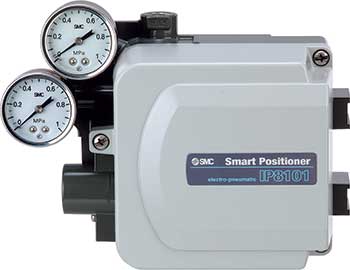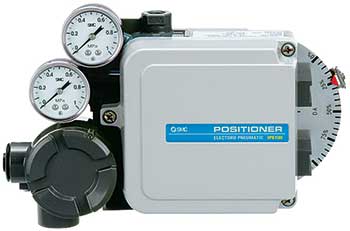 SMC smart positioners
Achieving considerable success with its electro-pneumatic positioners, the R&D; team was challenged to improve on an already successful existing component. From this, the SMC smart positioner was born.
The new range was designed to pair perfectly with process control valves and actuators. Two versions are currently available, namely:
• IP8001 linear series, which generally pairs with a diaphragm control valve.
• IP8101 rotary series, for valves with oscillating or quarter turn actuators.
Each positioner serves as a source of pneumatic actuating pressure and as a feedback device for the real-time actuator position and valve shutoff.
The driving design concept behind the smart positioner is the ability to do much more than simply control the position of the valve. It enables the user to collect data about the functionality of the valve and assembly performance, automatically alerting the user and enabling faster response times in the event of problems. In addition, it can aid in diagnostics and improve maintenance by means of its built-in microcomputer.
An optional LCD window gives a visual representation of the real-time status of the positioner, while the incorporation of an internal button allows for easy calibration.
The new IP8001/8101 series positioners
A built-in microcomputer and sensor allow easy remote parameter change and monitoring, while an internal push-button allows for easy parameter setting. Zero point/span adjustment is also easier than with previous mechanical positioners. Other features and benefits include:
• Full output functions: Selecting output functions by model, e.g. alarm point output function (2 points) or analog (4-20 mA DC) continuous output function, allows remote detection of operating abnormalities.
• Control state display: Positioning, deviation, and input value are displayed numerically on the internal LCD, allowing visual verification of the control state.
• Handles 2-line input for current equipment: Control furnished with current 2-line input signal (4-20 mA DC), not requiring separate power source.
• HART transmission function: HART transmission function can be designated by model selection, allowing remote monitoring and setting change of positioner.
• Compatible installation: Dimensions of mounting parts are the same as previous mechanical IP6000/IP8000 series electro-pneumatic positioners. External feedback lever and fork lever-type fitting for joining actuator and positioner are therefore also the same.
• Energy saving: Lever-types feature 60% reduced air flow consumption compared with IP8000.
SMC smart positioners are a perfect fit in most industries, including pulp and paper, food and beverage, and water and wastewater, amongst others. Units with ATEX certification are also available, should the need for intrinsically safe components arise.
For more information contact Andy Banks, SMC Corporation South Africa, +27 10 900 1233, abanks@smcza.co.za, zatechnical@smcza.co.za, www.smcza.co.za
Credit(s)
Further reading:
Smart pumping – a new era in water management and supply
October 2021, Schneider Electric South Africa , Valves, Actuators & Pump Control
Smart pumping can address the high cost and energy usage challenges faced by private and municipality-managed facilities.
Read more...
---
Schubert & Salzer and Macsteel
September 2021, Macsteel Service Centres , Valves, Actuators & Pump Control
The demand on valves, particularly in tyre production plants, is extreme with tyre curing presses working constantly at high temperatures and pressures.
Read more...
---
Chinese LNG tanker fitted with ARCA anti-surge valves
September 2021, Valve & Automation , Valves, Actuators & Pump Control
ARCA anti-surge valves avoid surging by accurately adjusting the gas circulation or blow-off flow, effectively protecting the safety of the compressor unit.
Read more...
---
Electrified subsea actuator for offshore production
September 2021 , Valves, Actuators & Pump Control
Bosch Rexroth has engineered the SVA R2 Subsea Valve Actuator as a disruptive innovation for electrically actuating valves in the subsea process industry. It can replace conventional hydraulic cylinders 
...
Read more...
---
Eliminate bearing failures in TOVs
August 2021, Valve & Automation , Valves, Actuators & Pump Control
Bearing failures are among the highest root causes of failure in triple offset valves (TOV) for tight shutoff applications. This issue is directly attributed to the need to have metal bearings with very 
...
Read more...
---
Locally manufactured knife gate valves
August 2021, Bearing Man Group t/a BMG , Valves, Actuators & Pump Control
BMG and Abrasive Flow Solutions (AFS) play a major role in the local valves sector, through the design, distribution, supply and support of a broad range of slurry related valves.
Read more...
---
Remove water from factory air
Technews Industry Guide: Sustainable Manufacturing 2021, SMC Corporation South Africa , Maintenance, Test & Measurement, Calibration
A leading cause of costly downtime and emergency maintenance is water vapour and the resulting condensed water that is trapped in factory compressed air.
Read more...
---
Protect your pump and keep it longer
July 2021, Elemental Analytics , Valves, Actuators & Pump Control
Unexpectedly losing a pump is often an expensive or even a dangerous problem in a chemical plant.
Read more...
---
Locally valves manufactured for tailings pipeline
June 2021 , Valves, Actuators & Pump Control
The AFS manufacturing plant in Benoni is equipped with advanced equipment and is supported by specialists who offer dependable technical support to ensure the optimum safety, efficiency and extended service life of every system.
Read more...
---
Why Cobots? From myths to a simpler reality
May 2021, SMC Corporation South Africa , Motion Control & Drives
While robotics led the way for the rapid growth of automation, cobots are the democratisation of robotics technology. They eliminate the cost and complex programming that robots usually require while providing much greater flexibility.
Read more...
---