printer friendly version
RS Components announces Fluke 710 valve tester
August 2020
Valves, Actuators & Pump Control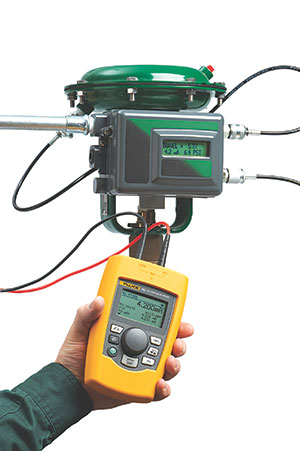 RS Components has announced availability of the Fluke 710 mA Loop Valve Tester, which is an easy-to-use tool that greatly simplifies the testing of control valves, enabling the quick measurement of critical valve readings using a simple two-wire connection.
Traditionally, complex equipment has been used for control valve testing, but use of these complicated devices has meant extensive training for users, as well as removal of the control valve under test, and potentially one or two hours of bench testing. However, the Fluke 710 offers built-in test procedures and a highly intuitive interface including valve status indicators.
Importantly, the device provides quick checks of control valves while they are in place in a system. It sources the 4-20 mA current loop signal and causes the smart control valve to move, while simultaneously interrogating the HART communication protocol data to collect critical diagnostic information about the valve's position and status. Therefore, the tester enables technicians to make fast and confident decisions on whether maintenance, and potentially system downtime, is required or not.
The built-in pre-configured valve-test routines offered by the Fluke 710 include: manually changing the mA signal and viewing the HART position and pressure variable information; full range ramping of the signal while recording the position or applied pressures, in terms of percentage,
from 0 to 100%; evaluating the valve's response to changes in the mA input; speed tests to determine how fast the valve can open or close; and bump and partial stroke tests to test valves over a portion of their range.
Measurements and other test results are recorded and stored in the Fluke 710's memory, where they can be uploaded to the Fluke ValveTrack analysis software, which is included with the tester. This enables technicians to plot logged valve tests taken in the field, as well as the ability to compare previous uploaded tests to recent tests.
Credit(s)
Further reading:
Smart pumping – a new era in water management and supply
October 2021, Schneider Electric South Africa , Valves, Actuators & Pump Control
Smart pumping can address the high cost and energy usage challenges faced by private and municipality-managed facilities.
Read more...
---
Schubert & Salzer and Macsteel
September 2021, Macsteel Service Centres , Valves, Actuators & Pump Control
The demand on valves, particularly in tyre production plants, is extreme with tyre curing presses working constantly at high temperatures and pressures.
Read more...
---
Chinese LNG tanker fitted with ARCA anti-surge valves
September 2021, Valve & Automation , Valves, Actuators & Pump Control
ARCA anti-surge valves avoid surging by accurately adjusting the gas circulation or blow-off flow, effectively protecting the safety of the compressor unit.
Read more...
---
RS adds IIoT-enabled sensors
September 2021, RS Components SA , Sensors & Transducers
Over 2000 added items include the latest IIoT sensors and machine safety systems for smart manufacturing developments.
Read more...
---
Electrified subsea actuator for offshore production
September 2021 , Valves, Actuators & Pump Control
Bosch Rexroth has engineered the SVA R2 Subsea Valve Actuator as a disruptive innovation for electrically actuating valves in the subsea process industry. It can replace conventional hydraulic cylinders 
...
Read more...
---
Eliminate bearing failures in TOVs
August 2021, Valve & Automation , Valves, Actuators & Pump Control
Bearing failures are among the highest root causes of failure in triple offset valves (TOV) for tight shutoff applications. This issue is directly attributed to the need to have metal bearings with very 
...
Read more...
---
Locally manufactured knife gate valves
August 2021, Bearing Man Group t/a BMG , Valves, Actuators & Pump Control
BMG and Abrasive Flow Solutions (AFS) play a major role in the local valves sector, through the design, distribution, supply and support of a broad range of slurry related valves.
Read more...
---
RS Components extends sensor range
July 2021, RS Components SA , Sensors & Transducers
More than 340 new products added offering customers a comprehensive choice of factory automation sensor solutions.
Read more...
---
Protect your pump and keep it longer
July 2021, Elemental Analytics , Valves, Actuators & Pump Control
Unexpectedly losing a pump is often an expensive or even a dangerous problem in a chemical plant.
Read more...
---
GirlCode and RS inspire the next generation of female coders
June 2021, RS Components SA , News
More than 50 female learners and their teachers were recently invited to attend a day of inspiration, technology and fun.
Read more...
---