printer friendly version
Nord drives for wash-down ­applications
November 2018
Motion Control & Drives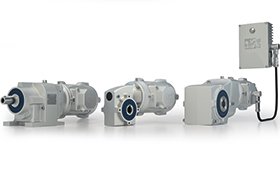 BMG's range of Nord aluminium drives is available with the nsd tupH (sealed surface conversion system) anti-corrosion treatment, which has been developed for improved process reliability in extreme environmental conditions and hygienically critical applications.
"Nord's corrosion protection system, which is resistant to acids and alkalis, is a highly efficient treatment for gear units, smooth motors, frequency inverters and motor starters used in wash-down applications," explains Derrick Louw, Nord product specialist, BMG. "The drive units are a robust alternative to painted geared motors or stainless steel versions. The surface treatment process permanently bonds a high hardness layer to the substrate to offer the same corrosion resistance as stainless steel. Advantages include extended surface life, a substantially lower mass, improved installation options and cost efficiency.
"The easy-to-clean surface treatment is not a coating like a paint layer, which can detach or flake off. This durable layer offers optimum protection against scratching, blistering and the penetration of corrosion, even if the unit is damaged. As a surface conversion system, it is highly resistant to extreme environments and aggressive cleaning chemicals, even under high pressure wash-down conditions."
Nord drives with nsd tupH comply with FDA Title 21 CFR 175.300 and, for this reason, are suitable for food applications. They have been successfully tested for blistering, corrosion, scratching and salt spray and resistance to common cleaning agents used in the food industry.
Typical applications for the drives with nsd tupH surface treatment include the food and beverage industry, bottling and canning plants, water treatment and sewage plants, as well as offshore and onshore applications. This range is suitable for use in any plant that requires a wash-down after production.
The range, assembled locally by BMG according to stringent international quality and safety specifications, has earned recognition for reliability, efficiency, reduced noise levels, extended service life and minimal maintenance requirements.
For more information contact Lauren Holloway, BMG, +27 11 620 7597, laurenhy@bmgworld.net, www.bmgworld.net
Credit(s)
Further reading:
BMG emphasises Hallite hydraulic and pneumatic seals
October 2019, Bearing Man Group t/a BMG , News
BMG supplies an extensive range of hydraulic and pneumatic seals and sealing solutions for demanding environments, and is also the distributor for Hallite Seals International within central and southern 
...
Read more...
---
BMG and AAC partner in Jeppestown clean up
October 2019, Bearing Man Group t/a BMG , News
The joy of teamwork is clearly evident in the partnership between engineering specialists, BMG and entrepreneurs, Agri Arts & Construction (AAC). "Through this match made in Jeppestown, home to both companies, 
...
Read more...
---
Sawmills and sugar mills underpin growth for SEW-Eurodrive
October 2019, SEW-Eurodrive , Motion Control & Drives
Ageing sawmills and sugar mills in KwaZulu-Natal represent a significant growth opportunity for SEW-Eurodrive to introduce its latest energy-efficient technology. This is an increasing trend as both the 
...
Read more...
---
Smart devices for Ex areas: Unbelievably simple mistakes that prevent control.
September 2019, Michael Brown Control Engineering , Editor's Choice, Motion Control & Drives
I am often astounded by finding really basic problems with controls in plants, which have operated that way for years. These problems are so basic that one can only wonder at how these controls could 
...
Read more...
---
Sealing for oil and gas applications
September 2019, Bearing Man Group t/a BMG , News
BMG supplies and supports the full range of Garlock seals and sealing systems, including specialist fluid sealing products for the oil and gas industry. "Garlock seals and sealing systems, which meet 
...
Read more...
---
DLM V-Drives
September 2019, Dupleix Liquid Meters (DLM) , Motion Control & Drives
DLM V-Drives control the latest generation of permanent magnet and standard induction motors. DLM offers the AMC (advanced motor control) and EPC (efficient pump control) V-Drives, which are available 
...
Read more...
---
Complete drive solutions to boost efficiency and cut costs
September 2019, SEW-Eurodrive , Motion Control & Drives
The importance of the sugar industry in KwaZulu-Natal to SEW-Eurodrive as a key growth area for its complete drive solutions was underscored when it exhibited at the Congress of the South African Sugar 
...
Read more...
---
RS announces drive controller kit
September 2019, RS Components SA , Motion Control & Drives
RS Components has announced the launch of the K4 Drive System Development Kit (K4DSDK) from ebm-papst, one of the world's leading manufacturers of high-efficiency fan and motor drive products. Targeting 
...
Read more...
---
Feed mill project relies on SEW-Eurodrive
August 2019, SEW-Eurodrive , Motion Control & Drives
SEW-Eurodrive has supplied 120 geared motors to Dalein Agriplan for a customised 100 tph feed mill for a major beef producer in the Free State. This is not only one of the largest single projects undertaken 
...
Read more...
---
Dust solutions for conveyor systems in bulk handling
August 2019 , Motion Control & Drives
BLTWorld works closely with ScrapeTec, to offer advanced solutions for conveyor systems used in the handling of materials with excessive dust. "AirScrape, TailScrape and DustScrape have been developed 
...
Read more...
---