printer friendly version
Nord drives for wash-down ­applications
November 2018
Motion Control & Drives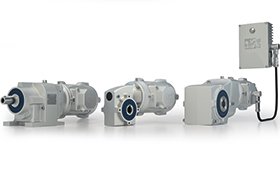 BMG's range of Nord aluminium drives is available with the nsd tupH (sealed surface conversion system) anti-corrosion treatment, which has been developed for improved process reliability in extreme environmental conditions and hygienically critical applications.
"Nord's corrosion protection system, which is resistant to acids and alkalis, is a highly efficient treatment for gear units, smooth motors, frequency inverters and motor starters used in wash-down applications," explains Derrick Louw, Nord product specialist, BMG. "The drive units are a robust alternative to painted geared motors or stainless steel versions. The surface treatment process permanently bonds a high hardness layer to the substrate to offer the same corrosion resistance as stainless steel. Advantages include extended surface life, a substantially lower mass, improved installation options and cost efficiency.
"The easy-to-clean surface treatment is not a coating like a paint layer, which can detach or flake off. This durable layer offers optimum protection against scratching, blistering and the penetration of corrosion, even if the unit is damaged. As a surface conversion system, it is highly resistant to extreme environments and aggressive cleaning chemicals, even under high pressure wash-down conditions."
Nord drives with nsd tupH comply with FDA Title 21 CFR 175.300 and, for this reason, are suitable for food applications. They have been successfully tested for blistering, corrosion, scratching and salt spray and resistance to common cleaning agents used in the food industry.
Typical applications for the drives with nsd tupH surface treatment include the food and beverage industry, bottling and canning plants, water treatment and sewage plants, as well as offshore and onshore applications. This range is suitable for use in any plant that requires a wash-down after production.
The range, assembled locally by BMG according to stringent international quality and safety specifications, has earned recognition for reliability, efficiency, reduced noise levels, extended service life and minimal maintenance requirements.
For more information contact Lauren Holloway, BMG, +27 11 620 7597, laurenhy@bmgworld.net, www.bmgworld.net
Credit(s)
Further reading:
Case History 167: Test your analytical capabilities
July 2019, Michael Brown Control Engineering , Editor's Choice, Motion Control & Drives
Answer to the question at the end of Case History 166 (
www.instrumentation.co.za/8690r
) In the last Case History article, I suggested you try and see what was not so good about a level control, which 
...
Read more...
---
Robin Briggs appointed managing director of BMG
July 2019, Bearing Man Group t/a BMG , News
Robin Briggs has a passion for strategy and a commitment to driving successful business growth in South Africa's industrial sector. He brings to BMG a wealth of product knowledge, a thorough understanding 
...
Read more...
---
BMG drives sewage and effluent management
July 2019, Bearing Man Group t/a BMG , Motion Control & Drives
BMG supplies a range of drives designed specially for optimum efficiency in sewage treatment applications. "Nord drives, which consist of Unicase helical shaft mount geared motors, have special features 
...
Read more...
---
Bauer motors for water treatment plants
July 2019 , Motion Control & Drives
According to Bearings International (BI) electric motors product manager Lewis Hiepner, the arduous operating conditions at water-treatment plants mean that the motors specified not only have to be high-efficiency, 
...
Read more...
---
Motors, drives, alternators and ATEX induction motors
July 2019 , Motion Control & Drives
Vert Energy is the sole distributor for Leroy-Somer in southern Africa and supplies and supports the entire LS range, which includes standard and adapted AC and DC motors, geared and brake motors, variable 
...
Read more...
---
Future-proof chair lift system
July 2019, Siemens Digital Industries , Motion Control & Drives
At Snow Space, a winter sports resort near Salzburg, Bergbahnen Wagrain, operates the Sonntagskogelbahn 2, a chair lift for taking skiing enthusiasts to the piste. To provide the most comfortable ride 
...
Read more...
---
Planetary gearboxes for railway maintenance
July 2019, Bearing Man Group t/a BMG , Motion Control & Drives
BMG supplies the local railways sector with custom-designed planetary gearboxes for use in railway maintenance programmes. "Dinamic Oil gearboxes, which are supplied with 22 kW brake motors, are used 
...
Read more...
---
Flying motion
July 2019, Beckhoff Automation , Motion Control & Drives
A planar motor system of free-floating movers with six degrees of freedom.
Read more...
---
When zero is hero: Class 0 oil-free vs technically oil-free air
July 2019 , Motion Control & Drives
Oil-free compressed air is used throughout industry, where the purest compressed air quality is critical to the end product and to the processes involved, such as in the pharmaceutical or food and beverage 
...
Read more...
---
What is going on in the Milky Way?
July 2019, Horne Technologies , Motion Control & Drives
One of the regions we know very little about is the dense part in the centre of the galaxy, where countless stars and gas clouds cluster around a presumed black hole. But a major astronomy project is 
...
Read more...
---