printer friendly version
Upgrade at Everaz Highveld Steel
January 2011
Motion Control & Drives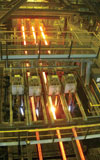 Control Techniques wins contract to upgrade four-strand billet caster.
Control Techniques has won a major contract for the electrical upgrade of M/C4, the four-strand continuous casting machine at the Evraz Highveld Steel and Vanadium in Mpumalanga, South Africa. This contract follows a long history with the steelworks where Control Techniques drives are standard for the plant. Evraz Highveld is a major iron and steel producer now owned by the global Evraz Group. Products of the steelmaking plant include billets, blooms, slabs and high grade vanadium slag.
The 40-year old billet caster has four-strand continuous casting capability and was predominantly DC controlled. All of the switchgear had become obsolete causing major maintenance problems. The decision was taken to switch to AC control to give greater accuracy with less wastage and greater overall efficiency.
Evraz Highveld approached Control Techniques for a power control solution. The Drive Centre in Johannesburg was responsible for the design, build, installation and commissioning of the 6 panel suite. The suite, complete with bus bars, 2000 A incomer and common drives panels complete with AC motors is integrated with the existing scada system via a Modicon PLC. This was done in conjunction with the steel manufacturer's PLC engineers, who completed the software side of the project.
The suite incorporates a total of 10 Unidrive SP AC drives of 11, 15 and 45 kW capacity; a Control Techniques HMI with key pad was installed with each drive to provide full status and diagnostic information for the drive as well as for the line interlocking. At Evraz Highveld, the steel is transferred from the steelmaking process by car and crane to the continuous casting plant via the ladle refining stations where temperature adjustment, desulphurisation and final composition adjustments are carried out. The plant comprises four continuous casting machines; two large twin machines for blooms, one for slabs and one for billets. The four-strand billet machine produces billets from 120 to 140 mm. Each strand has a 15 kW, 6-pole motor fitted with force cooling for the withdrawal rolls and these control the billet length. The billets are then moved by roller tables controlled by the 15 kW drives and are loaded onto a walking beam conveyor and then onto cooling beds.
Control Techniques Southern Africa is a preferred supplier to Evraz Highveld because of its engineering and project expertise, ability to provide fast on-site assistance and the local stock-holding. The customer's electrical staff are familiar with Control Techniques' AC and DC drives and say they find them straightforward to use and to programme. The Unidrive SP solutions platform AC variable speed drive range spans 0,75 kW up to 1,9 MW. It is configurable into five operating modes – open and closed loop, vector, servo and regenerating modes. With a range of plug-in module options, its on-board PLC can be supplemented with programmable and specialist feedback and communication modules.
For more information contact Bill Tedd, Control Techniques, +27 (0)11 462 1740, bill.tedd@emerson.com, www.controltechniques.com
Credit(s)
Further reading:
Sawmills and sugar mills underpin growth for SEW-Eurodrive
October 2019, SEW-Eurodrive , Motion Control & Drives
Ageing sawmills and sugar mills in KwaZulu-Natal represent a significant growth opportunity for SEW-Eurodrive to introduce its latest energy-efficient technology. This is an increasing trend as both the 
...
Read more...
---
Smart devices for Ex areas: Unbelievably simple mistakes that prevent control.
September 2019, Michael Brown Control Engineering , Editor's Choice, Motion Control & Drives
I am often astounded by finding really basic problems with controls in plants, which have operated that way for years. These problems are so basic that one can only wonder at how these controls could 
...
Read more...
---
DLM V-Drives
September 2019, Dupleix Liquid Meters (DLM) , Motion Control & Drives
DLM V-Drives control the latest generation of permanent magnet and standard induction motors. DLM offers the AMC (advanced motor control) and EPC (efficient pump control) V-Drives, which are available 
...
Read more...
---
Complete drive solutions to boost efficiency and cut costs
September 2019, SEW-Eurodrive , Motion Control & Drives
The importance of the sugar industry in KwaZulu-Natal to SEW-Eurodrive as a key growth area for its complete drive solutions was underscored when it exhibited at the Congress of the South African Sugar 
...
Read more...
---
RS announces drive controller kit
September 2019, RS Components SA , Motion Control & Drives
RS Components has announced the launch of the K4 Drive System Development Kit (K4DSDK) from ebm-papst, one of the world's leading manufacturers of high-efficiency fan and motor drive products. Targeting 
...
Read more...
---
Feed mill project relies on SEW-Eurodrive
August 2019, SEW-Eurodrive , Motion Control & Drives
SEW-Eurodrive has supplied 120 geared motors to Dalein Agriplan for a customised 100 tph feed mill for a major beef producer in the Free State. This is not only one of the largest single projects undertaken 
...
Read more...
---
Dust solutions for conveyor systems in bulk handling
August 2019 , Motion Control & Drives
BLTWorld works closely with ScrapeTec, to offer advanced solutions for conveyor systems used in the handling of materials with excessive dust. "AirScrape, TailScrape and DustScrape have been developed 
...
Read more...
---
Case History 167: Test your analytical capabilities
July 2019, Michael Brown Control Engineering , Editor's Choice, Motion Control & Drives
Answer to the question at the end of Case History 166 (
www.instrumentation.co.za/8690r
) In the last Case History article, I suggested you try and see what was not so good about a level control, which 
...
Read more...
---
BMG drives sewage and effluent management
July 2019, Bearing Man Group t/a BMG , Motion Control & Drives
BMG supplies a range of drives designed specially for optimum efficiency in sewage treatment applications. "Nord drives, which consist of Unicase helical shaft mount geared motors, have special features 
...
Read more...
---
Bauer motors for water treatment plants
July 2019 , Motion Control & Drives
According to Bearings International (BI) electric motors product manager Lewis Hiepner, the arduous operating conditions at water-treatment plants mean that the motors specified not only have to be high-efficiency, 
...
Read more...
---