printer friendly version
Automating Amsterdam
August 2009
Fieldbus & Industrial Networking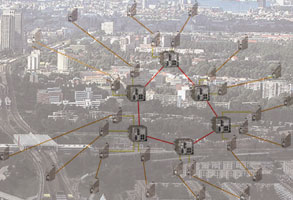 Westermo's Wolverine – helping to monitor the city's gas network.
Alliander is one of the biggest energy suppliers in the Netherlands with 2,5 million customers in the region. They generate electricity (20 TWh yearly, green and grey) and distribute it, as well as gas, to a major part of the Dutch domestic and industrial market. One of the divisions of Alliander is Liandon, the engineering and project management division contracted to provide a telemetry system for the gas network in Amsterdam.
Amsterdam has a large number of gas-substations where Alliander can regulate the gas distribution network for the Dutch capital. There were, however, requirements to not only regulate, but also monitor realtime usage, alarms and flow measurement. With this information Alliander can deliver better services to its customers and reduce cost. For the remote telemetry unit Alliander chose a new RTU, the D05-MCU-IEC from Datawatt Telecontrol Systems that utilises the Ethernet-based IEC 60870-5-104 communication protocol.
Using fibre-optic cabling for the Ethernet communications would have been the logical choice because many of the Ethernet links would exceed the maximum 100 m range for UTP cable. Fibre would however be too expensive and nearly impossible to install in a short time frame and in a crowded city. The solution was simple; make use of the existing copper cabling which already existed in Alliander's own telecom and signalling network.
"After some successful tests with the Westermo DDW-100 and our previous experiences using the Westermo modem family, Alliander made a choice to use the Westermo Ethernet Extender products," said Rens Dekker, senior engineer on the project. The key specifications were the galvanic isolation, extended temperature and performance of the DSL-line. Tests were done up to 17 km. Alliander is using a ring of DDW-221s to form a central redundant ring. From this central ring 140 point-to-point communication lines are used to connect the remote locations (gas substations). Each point-to-point link consists of two DDW-100s to extend the Ethernet link up to a maximum of 12 km. In total Alliander will install six DDW-221s and 280 DDW-100s to upgrade its gas distribution system into a modern, scada controlled and monitored system.
Credit(s)
Further reading:
Seamless integrated connectivity for electric automation from Festo
April 2020, Festo South Africa , Fieldbus & Industrial Networking
The cloud is everywhere. We save data on the cloud and access it on our phones and computers from anywhere at our convenience. The same applies to seamless connectivity in industrial automation from your 
...
Read more...
---
I/O for the IIot
April 2020, Opto Africa Holdings , Fieldbus & Industrial Networking
Intelligent, Ethernet-based I/O unit for IIoT connection to real-world signals.
Read more...
---
Breaking into the Industrial Internet of Things
March 2020, Pepperl+Fuchs , Fieldbus & Industrial Networking
IO-Link paves the way from the sensor to the cloud.
Read more...
---
ETG provides new developer tool
March 2020 , Fieldbus & Industrial Networking
The EtherCAT Technology Group (ETG) offers manufacturers, developers and users comprehensive support services for EtherCAT technology. The EtherCAT Device Protocol Poster is an additional tool that specifically 
...
Read more...
---
Wireless connectivity for hazardous locations
March 2020, Comtest , Fieldbus & Industrial Networking
Comtest – local representative of Industrial Scientific, global leader in gas detection – has introduced the RGX Gateway, which enables designated safety contacts to receive real-time alerts for gas hazards, 
...
Read more...
---
ETG officially supports EtherCAT G
December 2019 , Fieldbus & Industrial Networking
The Technical Committee of the EtherCAT Technology Group (ETG) has accepted EtherCAT G as an addition to the EtherCAT standard. Moving forward, EtherCAT G, which extends EtherCAT technology to 1 and 10 
...
Read more...
---
Adding mobile network visibility
January 2020, RJ Connect , Fieldbus & Industrial Networking
A high-speed railway operator built a fibre Ethernet backbone for data transmission between its operational management centre and railway stations to ensure high network availability. The customer used 
...
Read more...
---
The power of data
October 2019, Throughput Technologies , IT in Manufacturing
Gain access to important information with ProSoft's new OPC UA-based gateway and data logger.
Read more...
---
Interference-free Ethernet media converter
October 2019, Phoenix Contact , Fieldbus & Industrial Networking
The new FL MC EF 660 SCRJ media converter from Phoenix Contact enables the connection of cost-effective polymer and HCS/PCF fibre technology. The optical transmission of data via fibre optics is free 
...
Read more...
---
I/O solutions with Profinet redundancy
October 2019, Turck Banner , Fieldbus & Industrial Networking
Turck's Simple IO-Link Device Integration, SIDI for short, simplifies the handling of IO-Link. As its first fieldbus module with Profinet S2 system redundancy, the company has introduced the TBEN-L5-8IOL. 
...
Read more...
---