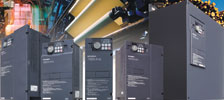 A perfect fit all round
June 2012, Control Systems Design

When choosing an automation partner, customers look at many different factors from company stability to market leading products. Adroit Technologies has been at the forefront in developing award-winning real-time software for over 25 years. Now that the company has been appointed as the authorised distributor of the Mitsubishi Electric Factory Automation range of automation products for sub-Saharan Africa, it can offer a full automation solution for virtually any specification.
This perfect fit partnership focuses on enterprise development within the southern African economy, as well as supplying customers with a process automation solution ranging from drives, power meters and PLCs through to the Adroit Scada and MAPS software and Adroit Scada Intelligence for process reporting.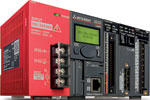 The inverter with a 10-year design guarantee
Mitsubishi manufactures more than 70 000 variable speed drives/inverters a month and the frequency inverters are known for their long service life, however, the FR-A700 sets even higher standards in this area – its key components are designed for a life of over 10 years. The new FR-A700 frequency inverters combine innovative functions and reliable technology with maximum power, economy and flexibility. Their RSV (real sensorless vector control) technology ensures maximum torque and optimum smooth running. For greater flexibility these inverters have four overload ranges, options for controlled shutdown and integrated PLC functions.
By using Mitsubishi inverters energy savings of up to 60% can be made, thereby reducing carbon emissions. The new generation of inverters has an auto tuning function that can obtain all the necessary specifications from the motor in less than a minute, even when the motor is not running. In addition to this, the online auto tuning function automatically registers and compensates changes in the data during operation.
Among the highlights of this series are the FR-A741 models which have an integrated regenerative braking system, up to 100% of the braking energy can be fed back into the power circuits. No external brake resistor or brake chopper is needed.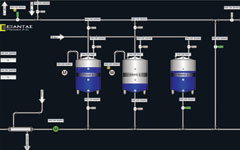 The small and flexible Mitsubishi power meter
The Mitsubishi ME96-NSR energy meter is small, compact and easy to use. The ME96-NSR can accurately measure and display A, V, W, Var, power factor, frequency and both voltage and current harmonic content. It has the visual clarity of analog meters with digital accuracy and reliability and a programmable bar graph and LCD numeric display. The units can monitor upper and lower control limits with a limit alarm output when a plug-in option module is mounted.
Models are available that can be connected to a standard Modbus RTU to allow simple data export. This makes the unit flexible, yet simple to use in virtually any environment.

The rack-free modular controller
The Mitsubishi L-series has been designed with high reliability, user friendliness and flexibility in mind and has built-in functions that are usually only found in compact PLCs. The rack-free design promotes high system flexibility with minimum form factor. Built-in Mini-B USB and Ethernet allow for easy communication, along with a built-in SD/SDHC memory slot for date-logging and memory storage and built-in digital I/O for simple high-speed counting and positioning functions.
Besides the functions already built-in, the CPU can be supplemented with up to 10 extensions for digital and analog I/O, high-speed counters, communication interfaces, etc. The high-performance version CPU also includes a built-in CC-Link interface for Master/Local Station networking. This highly flexible architecture makes the L-Series ideal for both standalone and networked machines.
Mitsubishi Adroit Process Suite (MAPS) – an automation solution that lowers costs, reduces
effort and improves quality
MAPS is a life-cycle software tool that offers value along the entire value chain by addressing the shortcomings of most PLC scada integration tools. It extends the integrity of the 'as delivered' solution and offers customers the ability to handle the normal extensions and maintenance of any automation solution. In addition to this is accurate documentation management capability, including engineering drawings and I/O schedules, and integration of 'as built' changes. This can translate into a 50% saving on engineering costs through the MAPS value offering. Testing (FAT) is minimised as the project is standard PLC function blocks and scada objects that have been tested and proven in the field, allowing the control engineers to focus on completing the project.
It has been nearly two years since the successful release of the first MAPS version and version 2 has now been released. New features in MAPS 2 include a new user interface built around Microsoft ribbon toolbar; additional equipment templates and standard wizard objects have been added.
Microsoft ClickOnce software has been implemented for Internet monitoring and control. The MAPS solution has provided Mitsubishi Electric Europe with an easily integrated scada interface, allowing it to provide customers with a full automation solution. Currently 25 MAPS solutions are running in Europe alone.
Where industrial automation and business intelligence meet
Scada Intelligence is an out-of-the-box data warehousing and business intelligence solution that collects, processes and organises historical data from disparate data sources into a structured industry standard data model (ISA-88 and ISA-95 Expanded Equipment Hierarchy). The resulting information is then made available on a common platform to enable informed decision making. Some of the key features of Scada Intelligence include reduced configuration time, reporting templates, seamless Excel analysis, SharePoint capabilities and multiple data sources.
The benefits of data standardisation are enormous both for developer and client as it allows for system optimisation and simple integration with other systems including SAP, ASI and GIS. A standardised data structure allows for the development of client updates as well as being able to map on top of any MES system. With data warehousing the process to access heterogeneous data sources is implemented; data cleaned, filtered and transformed and data stored in a structure that is easy to access, understand and use. Multidimensional data models store data in a way that enables data to be easily and quickly viewed from many possible perspectives, or dimensions.
In the 1990s Mitsubishi Electric held a leading position in southern Africa and as part of Adroit's partnership strategy, the aim is to regain that leading position. Through Mitsubishi's ownership in Adroit Technologies and its leading position and knowledge of the sub-Saharan Africa market, the partnership is in a very strong position to offer the level of service that customers expect from a global leader in the automation market.
As can be seen, Adroit Technologies can provide a perfect fit solution for any automation requirement.
For more information contact Jan-Hendrik Rust, Adroit Technologies, +27 (0)11 658 8100, marketing@adroit.co.za, www.adroit.co.za