printer friendly version
Omron automation the best thing for sliced bread
February 2012
System Integration & Control Systems Design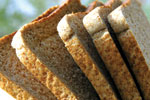 In line with its ongoing commitment to applying the best technology to deliver benefits for its customers, Ibonhart, a leading UK manufacturer of automatic bread slicing and packaging equipment, has recently updated the control system for its popular IB360 bagging machine to include remote access facilities.
Ibonhart knew that remote access would provide substantial benefits for users of its machines as it would allow software upgrades to be installed, and faultfinding to be carried out, without the need for a service engineer to visit site. Machine downtime would be minimised, an important consideration as bread packing machines typically handle between 3000 and 4000 loaves per hour.
For these reasons, Ibonhart was preparing to start work on adding remote connectivity to its machines when it won an order to supply an IB360 bagger to one of the largest bakeries in Kazakhstan. Given the cost and inconvenience of travelling to this location, the company decided that remote access would be a major benefit for this contract and gave top priority to developing a suitable solution.
A new approach was needed
It quickly became apparent that adding remote access to the IB360 control system using products from the existing automation supplier would be far from straightforward. The company therefore invited several other vendors to put forward new solutions, among them was Omron. "There was absolutely no doubt that Omron gave the most authoritative presentation," said Ibonhart director, Chris Barfe. "The company understood our requirements and knew how they could be met efficiently and cost effectively. In addition, Omron was able to show us similar remote access projects it had worked on with other clients, all of which were operating successfully."
The decision was therefore taken to use Omron automation equipment for all key functions in the new control system. The configuration chosen included a versatile CP1L-M PLC, an NS-series colour touch-screen to provide the operator interface and four 2 kW JX-series inverter drives. All of these components were linked via a Modbus network. Additionally, Omron supplied G9SA safety relays for the machine, along with E3ZM photoelectric sensors optimised for food-industry applications. Using a single supplier for all major automation equipment items was a benefit, as it ensured compatibility and avoided divided responsibility.
Switching to Omron automation components for the new version of its IB360 bagger did, however, present Ibonhart with an interesting challenge: how to adapt its existing application software for use with the new hardware in the time available. Omron was able to provide invaluable advice and support in this area. "We were in fact able to reuse much of the programming from the old PLC with only relatively minor modifications," said Omron field application engineer, Martin White. "Not only did this save time and money, it also meant that the new code was instantly familiar to the Ibonhart service engineers with its functionality already proven.
"For the NS touch screen, we did have to write new programs from scratch, but this really was not surprising as we had added so much new functionality. This included, of course, the remote access facilities, which were implemented as a secure VPN operating via an on-demand broadband link."
Features and benefits
An important feature that simplified the programming of the touch screen was its ability to handle multiple languages. This meant that it could be programmed in English and then, immediately prior to dispatch, switched to Russian to suit the end user. Unlike most other multilanguage screens, the NS automatically resizes the text to accommodate the different word and message lengths in the two languages.
The machine and the remote access system were extensively tested at the Ibonhart factory before being sent to site, a process for which Omron provided support. "Actually, the testing went very smoothly so we did not have much cause to call on Omron," said Barfe. "But it was nevertheless very reassuring to have an engineer on site just in case we did need assistance."
The usefulness of the factory testing was confirmed when the IB360 bagger reached site in Kazakhstan, its installation and commissioning was straightforward and entirely uneventful. The remote communications feature also proved to be problem free and gives Ibonhart's engineers complete access to the system without needing to leave the UK factory. "The remote link lets us work with comprehensive diagnostic features on the machine," said Barfe. "We have used the link to install a software upgrade and, of course, to make routine checks on machine status. The link does exactly what it was designed to do and does it very reliably."
As a result of its experiences with this machine, Ibonhart is now planning to use Omron automation equipment on a number of future projects.
For more information contact Terry McIntosh, Omron Electronics, 086 066 7661, terry_lynn_mcintosh@eu.omron.com, www.industrial.omron.co.za
Credit(s)
Further reading:
The complexity of water management in mines
October 2019, Endress+Hauser , System Integration & Control Systems Design
Industries across the globe are encouraged to reuse water as much as possible, and therefore a 'zero liquid discharge' policy has already been implemented by various companies in different sectors.
Read more...
---
PC-based control platform optimises water treatment product dosing
October 2019, Beckhoff Automation , System Integration & Control Systems Design
Clean water is vital in both consumer and commercial areas, including numerous industrial applications, such as mining, petroleum refining and groundwater remediation, in addition to residential applications
Read more...
---
Rockwell Automation walks the Connected Enterprise talk
October 2019, Rockwell Automation , System Integration & Control Systems Design
The Connected Enterprise is Rockwell Automation's vision for seamless integration across all divisions of the organisation to enable more efficient decision making through access to the power of information based on real-time data.
Read more...
---
Omniflex eases mine water compliance
October 2019, Omniflex Remote Monitoring Specialists , System Integration & Control Systems Design
Water licences carry a 'Burdon of Proof' that the licence holder will not harm the environment or the water system through its activities. This covers the use of water from the system and the responsible 
...
Read more...
---
Smart Press Kit from Bosch Rexroth
October 2019, Tectra Automation , System Integration & Control Systems Design
Bosch Rexroth is setting new standards for fast and efficient pressing and joining applications with its innovative new modular Smart Press Kit. Designed to meet future industrial requirements by providing 
...
Read more...
---
Emerson expands asset management coverage
October 2019, Emerson Automation Solutions , System Integration & Control Systems Design
Emerson has expanded AMS Device Manager with HART-IP support, making it easier to connect with devices and control systems and potentially eliminate hundreds of thousands of dollars in project hardware 
...
Read more...
---
Johnson Controls introduces Verasys
October 2019 , System Integration & Control Systems Design
Johnson Controls recently introduced Verasys, a plug-and-play controls system that integrates heating, ventilation, air-conditioning and refrigeration (HVACR) equipment and controls. Verasys offers customers 
...
Read more...
---
CSS digitises energy consumption at Hulamin for global information accessibility
September 2019, Control Software Solutions , System Integration & Control Systems Design
Energy Cybernetics was contracted by the NCPC-SA as part of the IEE programme to undertake a compressed air system optimisation (CASO) assessment to recommend compressed air system energy efficiency opportunities 
...
Read more...
---
Flexible communication across building and mobility applications
September 2019, Beckhoff Automation , System Integration & Control Systems Design
TwinCAT OPC UA connects research and innovation infrastructure on Empa campus.
Read more...
---
The future of basic control innovation
September 2019 , System Integration & Control Systems Design
Basic process control, what we now call 'level 2' in the Purdue Enterprise Reference Architecture, has been the basis for successful process manufacturing for decades. Industry has witnessed several revolutions 
...
Read more...
---