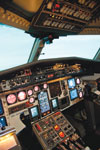 Beckhoff flights the machine
February 2012, Control Systems Design

Virtual reality, a way for human beings to visualise and interact with complex data through computers, has found commercial applications that go beyond pure arcade style entertainment. A number have captured the imagination of process automation suppliers along with a select end-user clientelle in the manufacturing fraternity, both have recognised the advantages.
Particularly attractive is the ability to train operators to react successfully in a variety of emergency situations that would be far too dangerous or costly to set-up on a real-world facility. The oil and gas industry, for instance, has jumped at the possibility of training its operators to cope with spills and fires in a 3D VR environment that simulates the real thing exactly, but poses no risk to the operator, the plant or the environment – the airline industry has of course known about these benefits for many years now.
Simulator design alive and well in South Africa
Johannesburg-based Airlink, a privately owned feeder airline that serves South Africa's smaller towns and regional hubs, is a company well aware of the importance of safety and the power of VR systems to improve pilot performance. Recently, it commissioned a Jetstream 41 simulator at its OR Tambo International premises to help improve safety, cut training costs and boost the company's profitability. Designed and built by local simulator and flight training supplier, Simuflight, the platform, commissioned during late 2011, provides fully operational regulatory pilot training compliance and makes good financial sense as well.
"Training pilots is expensive," says Simuflight director and project engineer, Danie Kuys. "For instance, the annual budget for Jetstream pilots alone is about R8 million at Airlink. This covers the biannual proficiency testing required by the regulators as well as regular instrument flying refresher sessions to keep pilot ratings current.
"In the past crews had to be sent to the UK twice per year to get to the nearest simulator, they would be away for a period of about 10 days and completely unproductive during that time. At a cost of R7 million, the Simuflight machine now does the job in a few afternoons at OR Tambo without anyone having to leave the country; it will pay for itself during the first year of operation."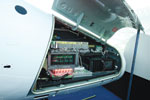 Beckhoff Automation – fast, industry standard and cost effective
"The brain of the new simulator is the software," says Kuys. "But it can only do something useful in response to input data from the cockpit instrumentation and in conjunction with the flight surface and power control feedback. The cockpit data is primarily digital: on the Jetstream we need to monitor and control some 800 of these I/O points in addition to the analogue roll, pitch, yaw and power inputs, more than we ever had to cope with before. Monitoring such an amount of data in the required 50 msec was simply not possible using the in-house designed circuitry that had served us on previous projects. Also, we were starting to have trouble keeping track of which versions of PC board went with which versions of software – it was becoming a real problem. We knew we needed something faster and industry standard and we needed it quickly, but it also had to be cost effective if we were going to meet the Airlink requirements and stay within the desired budget.
"We were introduced to Beckhoff at Nasrec during Process Expo 2009; our first exposure to the power of a PC-based control philosophy. This idea had the potential to solve our problems at the I/O level where we need quick turnaround of event driven data coupled with the ability to expand the space significantly in the future. The EtherCAT bus between the Beckhoff controller and the I/O cards could certainly do this and because it is industry standard we could buy all the equipment we needed as ready-made COTS components. As a bonus we could use a standard Ethernet channel for communication between the flight simulation engine and the Beckhoff controller that now manages the I/O space autonomously. This type of remote I/O management is ideal for us, we now have one connection back to the simulation engine and because the Beckhoff controller handles the 'housekeeping' so effectively at this level, it frees us up to concentrate more of our energy on the development of the simulation models.
Local support was key to success
"There is nothing more frustrating than choosing an equipment supplier and then struggling to get the most out of the technology," emphasises Kuys. "For a small company like ours, competent local engineering support is critical and we have never been disappointed by our decision to go with the Beckhoff platform.
"The support engineers in the local office were interested in us from day one and always went out of their way to make time to help us find a solution whenever we had a problem. In fact this relationship went a lot further than just I/O related issues; one of the Beckhoff programmers developed such an interest in our system that eventually he was showing us better ways to develop the C++ objects in our flight simulator code. Sometimes these queries had to go back to Germany for comment, but we always had pertinent technical feedback within 48 hours. Quite frankly, we would never have completed the project on time without the help we received from the Beckhoff organisation. For our purposes, we found exactly the right combination of price, performance and support that we believed was necessary to make this project a feasible undertaking for a local engineering company with limited resources.
Feedback from the end-user
"When we first decided to go ahead with the project we believed we would have to contract an offshore supplier," says Airlink CEO, Rodger Foster. "So we were delighted when Simuflight told us it had identified a technology mix that would allow us to develop our trainer locally, it meant that we would have the opportunity to make all the input we wanted easily and face-to-face with the designers during the three month specification phase. I must admit that there were also a few concerns at first, while we did not necessarily need to understand anything about PC-based control or the EtherCAT platform, we did know how difficult some of the time critical cockpit simulation problems were going to be to resolve. But now that the project is complete, we are extremely satisfied with the result and the benefits that have accrued from the Simuflight/Beckhoff technology partnership.
"It has taken training at Airlink to the next level. Whenever our pilots are due for a refresher course they book their time on the simulator and an instructor puts them through their paces in the virtual cockpit; there is no more costly 'downtime' due to travelling and we no longer pay someone else whenever we need access to a training platform. We can simulate almost any emergency on our unit and then run it to a realistic conclusion until the appropriate reactions become second nature to our crews. This is priceless as we do it all in the hangar without ever leaving the ground or putting a single passenger or crew member at risk."
Beckhoff Automation MD, Conrad Muller sums up: "Simuflight has been a great partner from the outset of our relationship, as with all our clients, it was collaboration built on trust and integrity. We invested equally our time, design experience and resources into this technology project that took our organisation into the exciting world of virtual reality and helped our customer realise a demanding end-user expectation on time. We look forward to the future with Simuflight and will be offering even more as a technology partner on the next generation.
"We have the wherewithal in South Africa to be true market leaders. We can just as easily cater for the automation needs found in a virtual cockpit as we can those on a greenfield nuclear power generation facility – watch this space."
For more information contact Kenneth McPherson, Beckhoff Automation, +27 (0)11 795 2898, k.mcpherson@beckhoff.com , www.beckhoff.co.za