printer friendly version
Non-invasive optimisation at a BP refinery
September 2011
Mass Measurement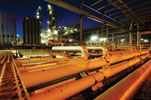 The many processes running in a refinery form a highly complex system of material and energy flows that can only be managed by means of a dense network of measuring points recording all relevant parameters. Rising energy and resource costs means that measurement and control technology must now more than simply ensure that a plant fulfils its function, a constant optimisation of the plant's processes is required. In the field of crude oil distillation, an important indicator for efficient column operation is the overflash volume. The properties of the medium – a heavy and highly viscous gasoil – and the process conditions (low flow velocity and high temperatures around 380°C) make it very difficult to measure this accurately.
The BP oil refinery Emsland processes about 4 million tonnes of crude oil annually. But not all crude oil is equal, its composition, and thus the percentages of light and heavy hydrocarbons varies depending on its origin. The process control has to respond flexibly to these differences in order to achieve the highest possible yield of desired products.
Difficult measurement
Usually, refinery plants use orifice flowmeters because of the high temperatures. At Emsland, the overflash volume is conveyed in a 150 mm pipe located on the outside of the column. Measurements using the differential pressure method are particularly difficult due to the low volume flow. For orifice flowmeters, this means that an orifice plate with a very small diameter would have to be used to obtain satisfactory precision.
After a test had demonstrated the suitability of non-invasive ultrasonic technology for this application, a system from Flexim, was installed: a Fluxus meter with WaveInjector that uses the transit time difference principle to measure volume flow. Since the physical conditions at the measuring point are virtually constant, it is easy to calculate the mass flow without recording the pressure and temperature. The recorded values are fed into the process control system and are used for optimising control tasks.
High temperature flow measurement with the WaveInjector
Flexim's WaveInjector extends the possible application range of non-invasive ultrasonic measurements to temperatures up to 400°C. The system consists of two coupling plates, each connecting a transducer with the pipe, yet keeping both of them a certain distance apart. The surface of these plates radiates enough heat to keep the temperature at the mounting point of the transducers within the permissible range. Simultaneously, the coupling plates ensure the acoustical contact between pipe and transducer. The mechanically robust mounting fixture maintains a high contact pressure and specially designed metal foils eliminate coupling gel and ensure optimal contact and long-term stability.
As the WaveInjector is a purely mechanical arrangement, it can also be used in explosive atmospheres, together with transducers that have been tested and certified for explosion protection. It is not necessary to cut into any pipes to install the transducers; they can be retrofitted without downtime or complicated approval procedures.
Process optimisation
The optimisation of systems and processes at the refinery is becoming increasingly important with software for advanced control implemented for this purpose. It varies the process parameters based on mathematical models and data from the process control system and optimises the process using iterative learning control. An important process value for this purpose is provided by the high-temperature ultrasonic measurement at the overflash return line. As reliable data is now available on the quantities that return as a function of the various types of crude oil and of the way the column is being run, the process can be optimised for energy efficiency and yield.
WaveInjector opens up new areas of application for non-invasive technology where exact flow measurement is difficult. Determining the overflash quantities in the distillation of crude oil is only one example. Petrochemical processes typically involve high temperatures and highly viscous media. In this area, non-invasive measurement with the WaveInjector is very popular, eg, for flow measurements of tar or bitumen.
For more information contact Peter Jones Electronic Equipment, +27 (0)11 608 2944, expediting@peterjones.co.za, www.peterjones.co.za
Credit(s)
Further reading:
A real-time alternative to radiometric density measurement
September 2019, Endress+Hauser , Mass Measurement
Currently, in mining applications, radiometric measurement has been the only way to measure the density of slurry. Until recently, and due to the harsh and abrasive environment of slurry, no other measuring 
...
Read more...
---
What is the next big thing in Coriolis mass flowmeters?
June 2019, KROHNE , Mass Measurement
With such fast moving technology it can be difficult to forecast the 'next big thing', but it is possible to focus on two recent developments that look set to influence the market in the near future: high capacity flowmeters; and the ability of Coriolis meters to measure liquids with entrained gas.
Read more...
---
Taking the air out of dairy
May 2019, Endress+Hauser , Mass Measurement
The dairy industry has been plagued for years with the challenge of accurate flow measurement in both processing and offloading applications. Often, the most common cause of inaccuracies in flow measurement 
...
Read more...
---
Small and powerful weighing indicator
Africa Automation Fair 2019 Preview, Richter Scale Co. , Mass Measurement
Specially developed for devices and machines which control limit values via weight measurements, Richter Scale's SMART-2 is a small and simple weighing indicator with a rugged and durable housing. It 
...
Read more...
---
Mass flow measurement of gases
November 2018, Instrotech , Mass Measurement
The Kobold MAS mass flowmeter works according to the calorimetric method and was conceived for gas flow measurement. Since gases can be compressed, the volume changes with pressure and temperature. In 
...
Read more...
---
Mechanical density meter
July 2018, Instrotech , Mass Measurement
Whether dealing with the concentration or the mixing ratio, the density of liquid media is of high importance in processes such as the food or chemical industry. Kobold's DWF mechanical density meter 
...
Read more...
---
Mettler Toledo's weighing control terminal for chemical processes
May 2018, Microsep , Mass Measurement
Profinet interface added to Mettler Toledo's popular weighing control system.
Read more...
---
Proline Promass Q 300/500
February 2018, Endress+Hauser , Mass Measurement
The specialist for challenging applications with superior accuracy for mass, volume flow and density determination.
Read more...
---
Increased whisky production with Yokogawa's Coriolis mass flowmeter
January 2018, Yokogawa South Africa , Mass Measurement
The James Sedgwick Distillery was established in 1886 and is situated in the picturesque region of Wellington in the Western Cape. The distillery produces both malt and grain whiskies on the same site, 
...
Read more...
---
Every drop counts
October 2017, Yokogawa South Africa , Mass Measurement
Yokogawa's bespoke custody metering solutions.
Read more...
---