printer friendly version
Omron delivers savings at hatcheries
June 2011
Temperature Measurement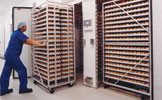 The increasing global demand for chicken meat means that commercial hatcheries must now handle hens' eggs by the million. Hatching the eggs successfully is a complex process however, the air entering the hatchery must initially be warmed, but later in their development the eggs produce heat themselves and need to be cooled.
Working in conjunction with Omron, Chick Master, one of the world's largest incubation suppliers for hatcheries, has developed a unique heat management system that takes advantage of this need for heating and cooling to deliver dramatic energy savings. This innovative and environmentally friendly system makes extensive use of automation products from Omron Electronics.
Air temperature is critical for hatching
Air enters the hatchery at an outside ambient temperature that could be at or even below freezing. Before this air passes to the incubator areas it must be heated to around 26°C, a process that consumes a significant amount of energy. Simply re-circulating warm air from the hotter areas of the hatchery to the cooler areas is not however practical, for reasons of hygiene.
With this in mind, Chick Master decided to investigate the possibility of implementing some form of heat exchange system that would maintain isolation between the various areas of the hatchery, but also permit effective use to be made of the waste heat. After intensive development, a two-stage solution was produced.
The two stage approach
The primary stage uses a water to air heat exchanger to remove the heat from the return water of the cooling system that supplies the incubator. This is then used to heat the incoming airflow to the hatchery from, for example, 0°C to approximately 18°C. Even if used in isolation, this primary system would deliver very large energy savings.
However, the Chick Master approach also features a secondary system that makes use of the waste heat in the exhaust air from the incubators. By means of a flat plate air to air heat exchanger the secondary system boosts the temperature of the air delivered by the primary system at 18°C to around 25°C.
Only a modest amount of extra energy is now needed to warm the intake air by the final one or two degrees needed for it to reach the hatchery at target temperature.
The ideas behind this environmentally friendly and cost saving heat recovery system are straightforward. Implementing a successful system, however, involves addressing many challenges. Not the least of which is providing a dependable automation system to handle the complex functions that are needed to ensure the heat recovery process operates reliably and efficiently with a minimum need for operator intervention.
Omron provides the control
Chick Master favoured Omron products for their easy implementation and advanced functions for controlling in response to temperature changes. The Chick Master heat recovery control systems has at its heart the versatile Omron CJ1-M series programmable controllers with extensive use made of the PID control options.
The PLCs are complemented by NS series operator interface panels, a typical installation having eight or nine of these panels distributed around the plant. Also supplied by Omron are variable speed drives which themselves allow substantial energy savings to be made when the plant's fans and pumps do not need to run at full speed.
The control system works with inputs from temperature, flow and pressure sensors to monitor all facets of the primary and secondary heat recovery installations. It also communicates with an Omron scada that provides centralised access to key parameters and can, for example, display flow rates, valve positions and operating pressures in real-time.
Advantage has also been taken of the flexible communication facilities offered by the Omron PLCs to implement a remote diagnostic system. This allows Chick Master to access plants anywhere in the world via the Internet to monitor their status. In almost all cases, it is possible to deal with reported faults without the cost and inconvenience of a site visit.
Chick Master heat recovery systems are now in operation at a number of sites globally and statistics give a clear indication of the enormous potential for delivering energy and cost savings thanks to efficient control from Omron.
For more information contact Terry McIntosh, Omron Electronics, 086 066 7661, terry_lynn_mcintosh@eu.omron.com, www.industrial.omron.co.za
Credit(s)
Further reading:
Hotspot detection in pressboard manufacturing applications
October 2019, R&C Instrumentation , Temperature Measurement
In the building industry, there is a product used that is commonly referred to as pressboard, also known as chipboard. Sheets of pressboard are typically 1,2 m x 2,4 m in size and are used in the construction 
...
Read more...
---
Pair temperature probes with different cable lengths
October 2019, ASSTech Process Electronics + Instrumentation , Temperature Measurement
In heat meters for heating systems, two paired temperature probes are usually used for symmetrical installation. These must have identical cable lengths to comply with the legal regulations. Now, Jumo 
...
Read more...
---
IR thermometers in the steel industry
September 2019, R&C Instrumentation , Temperature Measurement
In many foundry applications, temperature readings show whether processes are operating within their proper ranges, whether a reheater is too cold or too hot, whether a stand needs adjusting, or how much 
...
Read more...
---
Compact IR camera with industrial accessories
September 2019, Comtest , Temperature Measurement
Comtest has announced an addition to the Optris Compact line of IR cameras – Xi 80 and Xi 400 – with new industrial accessories for use in harsh conditions. The range has a modular design and as a result, 
...
Read more...
---
IR measurement optimises plastic stationary and rotary thermoforming
August 2019, R&C Instrumentation , Temperature Measurement
Background
Thermoforming is the process by which a thermoplastic sheet is made soft and pliable by heating, and bi-axially deformed by being forced into a three-dimensional shape. This process may take 
...
Read more...
---
Innovation and intelligence for smart manufacturing
Technews Industry Guide: Industrial Internet of Things & Industry 4.0, Omron Electronics , IT in Manufacturing
Adaptive algorithms offer new ways to optimise production lines.
Read more...
---
Temperature profiling in aluminium heat treatment
July 2019, R&C Instrumentation , Temperature Measurement
Many high volume production foundries use continuous furnaces for the heat treatment of castings. Cylinder heads, wheels, suspension components and many other aluminium alloy products are placed in wire 
...
Read more...
---
Speeding up the inkjet drying process
July 2019, Temperature Controls , Temperature Measurement
For high speed printing processes, the limiting factor for the productivity of the equipment is usually ink drying time. To maximise printing speed without quality loss, it is important to be able to 
...
Read more...
---
Does edge computing have the edge?
June 2019, Omron Electronics , IT in Manufacturing
Implementing artificial intelligence in industrial manufacturing
Read more...
---
Temperature transmitter family for all industries
June 2019, Endress+Hauser , Temperature Measurement
Endress+Hauser has introduced its first temperature transmitter with Bluetooth (BT) connectivity. This feature is unique because it does not require a BT modem to be able to communicate with the device 
...
Read more...
---