Couplings for metal shredder machines
October 2010, Motion Control & Drives

Voith Turbo secured the order for the supply of fluid couplings for two custom-built metal shredder machines at the New Reclamation Group's metal recycling plants in Gauteng and the Western Cape.
The New Reclamation Group is a leading producer of recycled ferrous and non-ferrous metal products in southern Africa. Harry Kassel, inland operations director for the group, says that rebuilding and reinstalling shredder machines was a strategic decision based on local scrap metal market trends. "When the cost of importing new shredders from overseas manufacturers proved to be unaffordable, we decided that we were more than capable of designing and building shredder machines in-house, sourcing specialised equipment from local suppliers.
"The project kicked off in January 2009, and I went out looking for local companies that could supply the specialised equipment that was needed. Quotations for electric motors, gearboxes, drivelines, conveyor belting and electrics, all were requested. As most specialised equipment is still manufactured overseas, we selected suppliers who could deliver equipment to meet our standards of quality as well as our delivery schedules. Our determination to procure superior quality equipment from local suppliers paid off and we are dealing with companies that have enviable reputations for product and service excellence in South African industry," explains Kassel.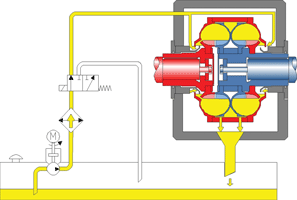 The design offers a completely wear-free drive element.
"When it came to selecting fluid couplings for the shredder machines, Voith was the only option," he states. "We have experienced Voith's product quality and reliability first hand. A Voith fluid coupling has been operating on our 1250 hp Lindemann shredder at our Dunswart Plant in Gauteng, 12 hours a day, six days a week, failure free for the past 16 years. This, from our perspective, is the best possible recommendation for any equipment and the entire Reclam Group has standardised on Voith drivelines."
Voith supplied two 1150 DTP type fill controlled fluid couplings including oil supply systems and required coolers. Each drive is capable of 1200 kW at 600 rpm and offers the Voith's unique torque limitation. Thus the motor is prevented from stalling when the shredder suddenly blocks and allows the shredder rotor to return back to full speed, thus allowing maximum productivity.
According to Kassel, the shredder operates so efficiently that the group is planning to market the custom built machines in Europe. "We built the shredder at a fraction of the cost of an imported machine, yet managed to stay within, and even improve on, European quality standards. We have no doubt that our custom-built efficient Reclam shredder machines will elicit lively interest in European markets."
For more information contact Roy Webster, Voith Turbo, +27 (0)11 418 4000, roy.webster@voith.com, www.rsa.voithturbo.com