printer friendly version
Pressure measuring instruments
July 2010
Pressure Measurement & Control

Common instrument types are pressure transmitters, level probes, pressure switches and process transmitters. Basically, these electronic pressure measuring instruments consist of a pressure connection, a pressure sensor, electronics, an electrical connection and the case.
In addition to those mentioned above, there are also simpler instrument types known as pressure sensor modules; often consisting of no more than a pressure sensor and simple mechanical and electrical interfaces. These types are particularly suitable for complete integration into users' systems.
Pressure transmitter
A pressure transmitter has standardised interfaces, both on the process side and on the electrical output signal side, and converts the physical pressure value to a standard industrial signal. The pressure connection is used to lead the pressure directly onto the sensor. It has a thread and an integrated sealing system to enable easy connection of the pressure transmitter simply by screwing it in at the relevant measuring point. A suitable case protects the sensor and the electronics against environmental influences. The electronics transform a weak sensor signal into a standardised and temperature-compensated signal; eg, the common industrial signal of 4-20 mA. The output signal is transmitted via a plug or cable for subsequent signal evaluation.
Level probe
The level probe, sometimes also referred to as a submersible transmitter, is a special type of pressure transmitter used for level measurements in tanks, wells, shafts and bore holes. For this purpose the level probe measures the hydrostatic pressure at the bottom of the vessel or well. Particularly important is the choice of material for the case and cables, and also the seals at connection points, due to complete and permanent submersion into the medium. Venting of the sensor system, required for the gauge pressure measurement, is achieved via a ventilation tube passed through the cable.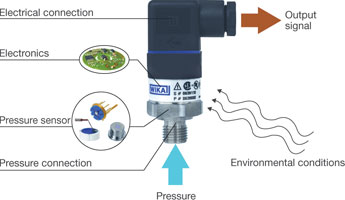 Pressure switch
In many applications electronic pressure switches replace the mechanical pressure switches that used to be very common, since they offer, as a result of their design principle, additional functions such as digital display, adjustable switch points and considerably higher reliability. They are most frequently used in machine building.
An electronic pressure switch is based on an electronic pressure transmitter and therefore offers the entire functionality of a transmitter. With the integrated electronic switch, which can close or open an electrical circuit, it is able to perform simple control tasks. The switch point and the reset point can be set individually.
By default, a pressure switch only outputs binary signals such as switch point or reset point 'reached' or 'not reached' but it does not output how far the measured pressure is from the switch or reset point. That is why many pressure switches have a display and additionally an analogue output signal. The set parameters and measured pressure can be read off the display. In addition, the measured pressure can be transmitted by the analogue output signal to a downstream control unit. Thus, this widely adopted type of electronic pressure switch includes a switch, a pressure transmitter and a digital indicator – all in one instrument.
Process transmitter
The process transmitter is a pressure transmitter with a pressure range that can be set within a predefined pressure range. It is mainly used in process engineering, since in this application area it is necessary to adjust every single measuring point to a multitude of specific requirements that must be individually set by the operator on site. The process transmitters have very high measurement accuracy within the entire pressure range. In addition, the pressure range, the zero point and further parameters can usually be set individually. For this purpose many process transmitters have both digital display and additional operating elements and extensive operating software directly within the instrument.
Pressure transducer
Providers of pressure transducers usually offer a multitude of sensor modules that can be directly matched to the requirements of the user. They have, for example, a user-specific pressure connection and/or a user-specific electric interface. Only very few manufacturers of electronic pressure measurement technology even offer the so-called 'bare' pressure sensor as a module. For these, the users must develop their own design solutions in order to get the pressure to the sensor and evaluate the sensor signal.
For pressure transducers it is generally the case that their correct function must be ensured by the user's design-related measures. Therefore, this option is usually only suitable for mass-produced equipment.
Credit(s)
Further reading:
Thermocouples in gasification reactors
November 2019, WIKA Instruments , Temperature Measurement
Gasification reactors, due to their harsh process conditions, place high demands on the instruments used there. Many manufacturers have reacted to this and adapted their products accordingly, but what 
...
Read more...
---
Level monitoring of groundwater
October 2019, WIKA Instruments , Level Measurement & Control
Much of our drinking water is extracted from subterranean resources. Water that falls to the surface of the Earth drains not only into rivers and lakes, much of it will permeate into subterranean reservoirs. 
...
Read more...
---
Why does water hammer affect pressure gauges and transmitters?
October 2019, SA Gauge , Pressure Measurement & Control
Water hammer is a high pressure surge or wave created by the kinetic energy of moving fluid when it is rapidly forced to stop or change direction, altering the liquid's velocity. Rapid stopping or starting 
...
Read more...
---
Tough OEM pressure switch from WIKA
October 2019, WIKA Instruments , Pressure Measurement & Control
The PSD-4-ECO pressure switch from WIKA is designed for harsh ambient conditions, and is optimised for OEM integration. With a diameter of 29 mm, the model is very slim and through the arrangement of 
...
Read more...
---
Hygienic pressure transmitter
September 2019, ASSTech Process Electronics + Instrumentation , Pressure Measurement & Control
The pressure transmitter Jumo Taros S46 H – available locally from ASSTech – is designed according to the hygienic requirements for precision measurement and longevity. The high-level protection type 
...
Read more...
---
Portable calibrator approved for hazardous areas
September 2019, WIKA Instruments , Maintenance, Test & Measurement, Calibration
WIKA's CPH7000 portable process calibrator has received ATEX approval. It is therefore now also suitable for use in hazardous areas. The calibrator provides highly flexible on-site calibration for process 
...
Read more...
---
Electronic pressure gauges for Ex areas
September 2019, Instrotech , Pressure Measurement & Control
Instrotech now offers Keller's range of intrinsically safe electronic pressure gauges for use in areas subject to gas explosion risks. The type approvals are compliant with the ATEX Explosion Protection 
...
Read more...
---
PS17 differential pressure ­transmitter
August 2019, Vepac Electronics , Pressure Measurement & Control
Differential pressure transmitters are used for regulating HVAC systems and for monitoring filters. The devices can also monitor under and overpressures in cleanrooms or mini-environments. halstrup-walcher, 
...
Read more...
---
The dream team for heat and condensate
August 2019, VEGA Controls SA , Pressure Measurement & Control
An innovative duo of ceramic and metallic measuring cells from VEGA optimises pressure measurement in a distillation process at BASF.
Read more...
---
Level measurement for sanitary applications
August 2019, WIKA Instruments , Level Measurement & Control
WIKA's model FLM-H magnetostrictive sensor has been specifically designed to meet the requirements of the food and beverage, pharmaceutical and biotechnology industries. The sensor is particularly suitable 
...
Read more...
---