printer friendly version
Preparing for higher energy prices
June 2010
Electrical Power & Protection
For most manufacturing and other industrial operations, environmental responsibility is not new. Many manufacturers around the world have had programs and policies in place for 50 years. However, new pressures, driven by energy price volatility and regulation, create an even stronger correlation between energy efficiency and environmental responsibility.
Manufacturers are beginning to see significant new constraints, regulations, and climate issues as business drivers. This will only escalate. We are likely to see higher prices for carbon emissions, with implications for product composition, documentation, and transport. Energy efficiency is now a key concern in South Africa, where the energy intensity of the ferrous and non-ferrous metals processing, mining, pulp and paper, and petrochemical industries is typically higher than in many other industrialised countries.
To best prepare for higher energy prices and more restrictive regulations, a company should perform an energy audit or plant assessment that will be used as an initial benchmark for energy improvement initiatives. Developed nations, such as the US and western Europe, that have long been subjected to energy price volatility have realised benefits from energy audits, which has drawn attention to comprehensive energy management practices and equipment retrofits. In recent years this has also become a focus in South Africa, which in the past, operated in a market with less energy volatility.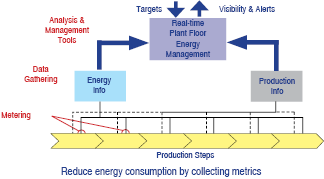 The official Energy Efficiency Strategy of the Republic of South Africa, prepared in 2005 by the Department of Minerals and Energy, promotes energy audits as a means to improve efficiency and initiated several studies to be undertaken to design ways in which these audits can achieve the greatest impact over time, with the ultimate intention to make regular energy audits mandatory for high energy users.
Independent energy audits create focus
Energy audits provide the foundation for developing an effective energy efficiency program and create more efficient operations. The most significant obstacle to overcome in any organisation is cutting across cultural divides in operations that have access to capital budgets. Energy audits and plant assessments, especially those conducted by independent third parties, provide objective analysis on where limited capital can be most effectively employed to achieve energy goals. Numerous industry and government resources can provide assistance.
Energy management key steps
Operations must recognise that energy is a controllable operating expense and should be managed with the same expertise and resources as other parts of the business. Robust energy management processes, procedures, and practices are as effective at saving energy as are technological solutions. An energy 'health check' helps companies assess their energy management practices relative to global best practices. It also helps identify opportunities for further improvement when used as a continuous improvement tool. Energy audits provide a focused approach that targets specific types of systems throughout the operation that can be upgraded or replaced.
Monitoring major systems' energy consumption and correlating energy consumption with time of day and production delivers important information to support planning, scheduling, and equipment upgrade plans. The latest generation of operations scheduling algorithms explicitly take into account energy consumption and carbon dioxide generation. With the advancement of wireless technologies, energy monitoring equipment can be installed in a cost-effective manner in an existing facility. Process data collection in 15 minute increments is generally sufficient for managing energy and setting targets per unit produced that will help identify and reduce waste.
To remain competitive, businesses must identify bottlenecks and remove constraints facing energy management initiatives. Energy consumption measurements and metrics will need to be put in place to help reduce energy consumption by using energy versus production as the key metric. In addition to new metering and data collection devices, new software functionality will be required to make the detailed production energy consumption visible to enable better decision making and control.
Energy audits create focus
Energy audits have created focus for many organisations. As one example, the 'Energy Management Activities' table indicates that, in the US at least, from 1998 to 2002, energy audits helped participants focus specifically on equipment upgrades and retrofits that provided the greatest return on investment (ROI). While many companies perform internal energy audits, others have had considerable success using outside resources with appropriate skill sets and credentials. Several full-line automation suppliers, for example, now offer energy audit services within a larger energy management portfolio.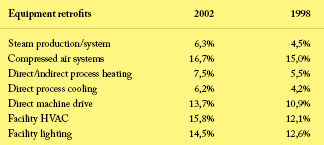 Energy management activities
For more information contact Larry O'Brien, ARC Advisory Group, (+1) 781 471 1126, lobrien@arcweb.com, www.arcweb.com
Further reading:
Latest power monitoring device
November 2019, ElectroMechanica , Electrical Power & Protection
A new panel-mounted power monitoring device (PMD) from Socomec has been launched locally by ElectroMechanica (EM). The Socomec DIRIS A-40 has been designed for measuring, monitoring, and reporting electrical 
...
Read more...
---
WEG IE3 compliant motor control and protection
October 2019, Zest WEG Group , Electrical Power & Protection
The increased move towards the use of IE3 electric motors has made it increasingly important that the most appropriate starting method be selected to ensure optimum performance. With this move it is essential 
...
Read more...
---
Electronic monitoring devices from EM
October 2019, ElectroMechanica , Electrical Power & Protection
A comprehensive range of electronic monitoring and timing devices in different formats for ease of use and retrofit purposes is available from ElectroMechanica (EM). The ElectroDev units are suited to 
...
Read more...
---
Integrated earth leakage protection
October 2019, Schneider Electric South Africa , Electrical Power & Protection
Schneider Electric has announced the introduction of integrated earth leakage protection for its Compact NSX and NSXm moulded circuit breaker ranges. "The award-winning Compact NSX moulded case circuit 
...
Read more...
---
Batteries in motive power applications
October 2019, Comtest , Electrical Power & Protection
When discussing motive power applications, the initial thought is that their batteries must be similar to transportation batteries. After all, this equipment is 'motive' just like a car or truck. However, 
...
Read more...
---
Better transformer design improves safety
October 2019 , Electrical Power & Protection
As electricity utilities and users worldwide look to become more safety conscious and efficient in their use of electrical energy, it is important to leverage the improvements that have been made in the 
...
Read more...
---
Stakeless ground loop tester
October 2019, Comtest , Electrical Power & Protection
Testing the grounding components of equipment in hard to reach spaces, including areas that are indoors or fully paved and do not permit driving auxiliary test stakes, is always challenging. Comtest is 
...
Read more...
---
Cut the complexity of panel design
September 2019, ElectroMechanica , Electrical Power & Protection
A low-voltage electrical distribution system design to reduce the complexities often associated with panel design is available from leading local supplier ElectroMechanica (EM). Quadro+ from Hager combines 
...
Read more...
---
Ultra slim DIN rail power supplies
September 2019, Vepac Electronics , Electrical Power & Protection
XP Power has announced the DSR range of AC-DC DIN rail power supplies approved for industrial control systems and information technology equipment applications. These versatile supplies provide reliable 
...
Read more...
---
Oil dielectric RF termination loads
September 2019, Comtest , Electrical Power & Protection
For maximum process repeatability and consistency, modern plasma applications require precise RF power regulation and control. A key component in ensuring accurate and repeatable RF power delivery to 
...
Read more...
---