printer friendly version
What is 'IT in manufacturing' about: Part 2: Managing disparate information assets
February 2010
IT in Manufacturing
In Part 1, (SA Instrumentation and Control January 2010), we saw how a manufacturing company's vital processes of business generation and wealth creation are supported by the resource management functions (information, business processes, admin, finance, maintenance, HR, etc). Common to all these is information and in this article, we investigate their differing information needs and suggest ways to cope with the differences.
Figure 2 shows a slightly different perspective of the company structure shown in Figure 1 of Part 1. Included here is the driving force behind it all – the company objective and the strategic plan to achieve it. Here is an example: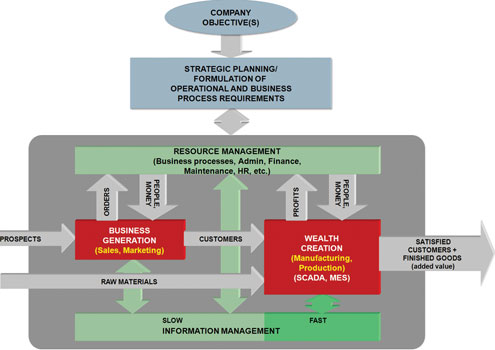 Figure 2. A new perspective of the manufacturing company structure shown in Part 1
Company objective
Profitable customer need satisfaction through the manufacture and sale of low-cost, quality widgets.
Strategy
* Create a sales and manufacturing facility backed by the necessary supportive infrastructure.
* Maintain sales volume in excess of X units per month.
* Maintain profit margins in excess of Y% per unit.
* Etc.
The company structure shown is the result (each process can be broken down to sub-processes and to any level of granularity but this is outside the scope of these articles).
So, the company will not only need information to operate but also to measure how well it is doing vis-à-vis the stated performance requirements (we will get back to this measuring function later). That is why the information management function has been extracted from the resource management group since it is common to this as well as the business generation and wealth creation processes. But this is not the way companies start or grow.
Manufacturing enterprises evolve. They do not come out of a cardboard box with a set of instructions on how to put them together or how they should be run or managed. And because manufacturing enterprises tend to be more complex than most, each of their functional areas have evolved as separate entities trying their best to achieve the common goal of profitable added value generation. The result is often one where the business, marketing and manufacturing processes may just as well be operating as three separate companies. The way to fix this is through the something they all have in common – information.
However, information, like time, is relative. It has to be available at a certain rate and in the right context and to the right level of detail and to the right people if it is to be useful. ERP systems do not need the flood of information that comes from the realtime environment of the shop floor because they work on a different time scale and have vastly different needs – but ERP systems need some of that information in a distilled form that would best make sense to the application areas they are addressing. MES require some information from the ERP systems as well as some of the information from the shop floor in order to keep management properly informed.
The bottom line is that each functional area of a manufacturing company must have access to the select information it needs from the other functional areas if all the departments are to integrate as one company rather than operating as disparate business units.
The enterprise information discontinuity
Business systems deal with different types of data and address different needs than the manufacturing and control systems operating on the plant floor. An entire level of data granularity exists on the shop floor that is absolutely essential to manage and control a manufacturing process, but which is not useful in other business information systems. A key subset, or an aggregation of this information, is what is required to effectively manage the operations of an enterprise.
Each functional process of the enterprise has a model that is intended to support a different set of capabilities. The ERP model is designed to manage inventory levels and resources, plan production runs and calculate the cost of production. The manufacturing model is used to control the execution of production orders, ensure procedures are followed, capture consumption and quality data, etc. The rate at which information is generated on the plant floor and the response to incoming data must be much faster than for the business or business generation processes. For this reason, simply connecting the enterprise systems to plant floor databases will quickly overload the business system with useless data. A strong filter and distillation process needs to be in place to provide context to the data and aggregate the raw data into a form that has meaning to the enterprise.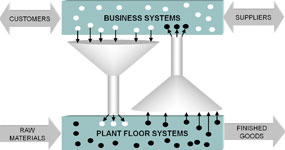 Figure 3. The shared information needs of business and plant floor systems
Manufacturing enterprise solutions or MES (formerly known as manufacturing execution systems)
For meaningful information exchange between disparate users to occur it must happen within a framework that allows for the transfer and screening of information between applications, and since these applications and solutions are mostly from a variety of vendors, they need to follow a standard with respect to content and format. Examples of frameworks are SAP's NetWeaver and Wonderware's ArchestrA technology. This is the domain of MES where the standard for the information content and format is ISA-95.
MES functions (Figure 4) have to reconcile the realtime reality of the shop floor with the transactional world of the top floor and they must do so seamlessly so that decision makers at all levels have the precise information they need when they need it (much more on MES in Part 4).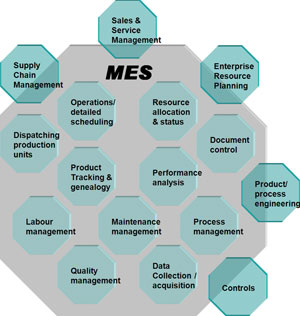 Figure 4. The 11 principal functions of MES
These technologies exist today and solution vendors with their eyes on the future are developing applications within this environment.
Customers are increasingly looking to buy off-the-shelf solutions that conform to standards such as ISA-95 rather than vendor-dependent solutions that can only operate within their own proprietary environment. As we saw earlier, companies evolve and their software solutions need to evolve along with them. Customers want the freedom to choose solutions from the most qualified vendor rather than be tied to any one vendor through proprietary software or databases.
Nowadays, suitable technology or the lack it, is no longer an excuse for inadequate system integration. Question: if this is the case then why aren't more companies rushing to establish enterprise-wide IT? Answer: because this requires a collective change in attitude, which has always been much more difficult to achieve than simply beating computers into submission.
Why ISA-95 is a good idea (Courtesy TWP training and consultancy)
The ISA-95 standard was developed with the objective of reducing the cost, risk and errors associated with implementing interfaces between enterprise and production control systems. It continues to be developed and refined by the Instrumentation, Systems and Automation Society (ISA) in collaboration with major vendors of ERP and MES solutions around the world.
Reducing cost
ISA-95 can be used as a method to define the interface between enterprise and production control systems. Projects can be standardised and little is left to the unknown. ISA-95 also makes the integration of solutions from different suppliers less complex.
Reducing risk and avoiding errors
ISA-95 was developed by a group of companies like Honeywell, Sequencia, Foxboro, Yokogawa, Fisher Rosemount, Chevron, Dow Chemical, SAP and many more. These large international companies have years of experience with integration projects. They have combined their best practices into a consistent set of models and terminology that make up the ISA-95 standard. They know how to make integration a success and, more important, how to avoid failures. Anyone adopting the standard automatically inherits their best practices.
Improving communication
Every manufacturing company uses its own terminology for describing functions, activities and departments within the enterprise. When working with external consultants, like suppliers of process control software or system integrators, communication can be difficult. There is a good chance that buyers and vendors will refer to different things when using the same terms, or the other way around. System integrators have to deal with this problem every time they start a new project or every time they talk with different clients. So, when discussing interfaces, it is a good idea to base the discussion on standard terminology.
In Part 3, we look at traditional IT and shop floor IT, their similarities and differences and see how they can work together to provide the seamless information base required by the various levels of the enterprise.
For more information contact Deon van Aardt, Wonderware Southern Africa, 0861 WONDER, deon@wonderware.co.za, www.wonderware.co.za
Credit(s)
Further reading:
Navigate the fourth industrial revolution with PricewaterhouseCoopers
November 2019 , IT in Manufacturing
Using the building blocks of 4IR to transform business processes into manufacturing advantages requires a holistic approach.
Read more...
---
Artificial intelligence in manufacturing – a practical and simplified view
November 2019, Altron Bytes Systems Integration , IT in Manufacturing
Looking at and interpreting data generated during the manufacturing process to find ways to reduce waste, improve quality and increase yield is not new. However, the increased use of digital technologies 
...
Read more...
---
Intelligent data glasses support production
November 2019, Siemens Digital Industries , IT in Manufacturing
Augmented Reality (AR) has arrived in the workplace: for the last three years, a consortium of six companies and institutions chaired by Siemens has been researching the use of augmented reality (AR) 
...
Read more...
---
Siemens launches report on Dawn of Digitalisation and its Impact on Africa
October 2019, Siemens Digital Industries , IT in Manufacturing
Africa needs a digitalisation strategy to compete in the global economy.
Read more...
---
Integrating IT with Operations Technology - a CIO perspective
October 2019, Absolute Perspectives , IT in Manufacturing
Digitisation projects, spurred on by Industry 4.0 and technological advances, have opened up many possibilities to create new value.
Read more...
---
Real-time data increases metal recovery at Peñasquito mine
November 2019 , IT in Manufacturing
At a recent OSIsoft User Conference in California, ARC Advisory Group had an opportunity to learn about a related project at Newmont Goldcorp's flagship Peñasquito gold, silver, zinc, and lead mine in 
...
Read more...
---
The power of data
October 2019, Throughput Technologies , IT in Manufacturing
Gain access to important information with ProSoft's new OPC UA-based gateway and data logger.
Read more...
---
Securing and managing devices the modern way
October 2019 , IT in Manufacturing
Organisations of all types and sizes are bringing vast numbers of devices into their IT infrastructure and networks. Moreover, these devices are not only smartphones, wearables and tablets because the 
...
Read more...
---
IS3 partners with Izinga Integrated Solutions
September 2019, IS³ - Industry Software, Solutions & Support , News
On 24 July, IS³ – Industry Software Solutions and Support welcomed Izinga Integrated Solutions as a strategic solutions provider for AVEVA's asset performance management (APM) Solutions. Izinga is a 
...
Read more...
---
Reliable gas production
September 2019, Siemens Digital Industries , IT in Manufacturing
Energy supplier uses Siemens technology for optimum information exchange.
Read more...
---