Solvay Solexis selects Emerson
October 2009 Flow Measurement & Control Mass Measurement

printer friendly version

Micro Motion Coriolis mass flowmeters improve process repeatability, reduce commissioning costs by 75% and lower maintenance costs by 95%.
Solvay Solexis in Alessandria, Italy, has specified Emerson's Micro Motion Coriolis flowmeters throughout its Spinetta Marengo plant for the accurate and reliable measurement of mass flow. Solvay Solexis is part of the Solvay Group, a worldwide leader in fluor chemistry, manufacturing innovative fluorinated products for speciality markets. Solvay is a 145-year-old Belgian group, with 400 production sites, 28 000 employees and a total income of US$ 14 billion.
The Spinetta Marengo site, which is dedicated to the production of fluoride polymers, has over 200 flow measurement points, and over 75% of these applications have Micro Motion Coriolis meters installed addressing special challenges. Micro Motion ELITE, F-Series and Model D Coriolis flowmeters have been implemented in critical areas and extreme conditions, including cryogenic applications and the dosing of fluoridric acids.
Micro Motion Coriolis flowmeters have been used at the site for over 20 years and this has enabled comparisons to be made with similar products installed under the same operating conditions. The Micro Motion results are excellent, showing a reduction in commissioning costs of 75%. In addition, the reliability of the measurements has reduced process deviation, cutting the risk of producing out of specification product by 90%. Because Micro Motion Coriolis meters have no moving parts, maintenance costs are 95% lower. These factors together have enabled an overall economic improvement of 1% at the plant.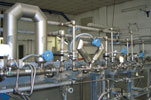 "We have evaluated Coriolis instruments from six manufacturers, but only Emerson's Micro Motion product provides a complete range of benefits," said Giuliano Caramaschi, instrument manager at the Solvay Solexis Spinetta Marengo site. "Our experience shows that Micro Motion flowmeters out perform all others across the entire life of the instrument."
Examples of the outstanding performance of the Micro Motion flowmeters include D Series Tefzel coated meters installed in the hydrofluoric acid lines. Tefzel is highly resistant to hydrofluoric acid and these devices have been installed in this aggressive environment for over four years. During this time there have not been any reported problems. A further example of the accuracy of the Micro Motion ELITE sensors is that they are used as a mass flow reference for on-site calibration of other mass flowmeters.
"Working with Emerson has provided Solvay Solexis with innovative and reliable mass flow measurement products," continued Caramaschi. "Emerson's products and technologies have helped Solvay maintain its worldwide position as the leader of innovative fluorinated products for speciality markets."
For more information contact Mark Tapson, Emerson Process Management, +27 (0)11 974 3336, mark.tapson@emerson.com, www.emersonprocess.com
Credit(s)
Further reading:
Emerson selected as Industrial IoT company of the year
February 2019, Emerson Automation Solutions , News
Emerson has been named the 'Industrial IoT Company of the Year' by IoT Breakthrough for the second year in a row. The honour recognises Emerson's innovation and leadership in driving IIoT technologies 
...
Read more...
---
Hygienic flow measurement
February 2019, SICK Automation Southern Africa , Flow Measurement & Control
Compact stainless steel sensor for conductive and non-conductive liquids.
Read more...
---
Emerson drives faster response times
February 2019, Emerson Automation Solutions , Maintenance, Test & Measurement, Calibration
Emerson has released AMS Inspection Rounds, a new application for the AMS Trex Device Communicator that will make it easier for operations teams to capture, report and respond to abnormal plant conditions 
...
Read more...
---
Flow control problems in a pulp mill
January 2019, Valve & Automation , Flow Measurement & Control
NAF's advanced process valves solve pulp, paper and cellulose applications.
Read more...
---
Emerson to buy General Electric's Intelligent Platforms business
December 2018, Emerson Automation Solutions , News
Emerson has announced that it has agreed to acquire Intelligent Platforms, a division of General Electric. Intelligent Platforms' programmable logic controller (PLC) technology will enable Emerson to 
...
Read more...
---
Emerson's compact new hygienic transmitters
December 2018, Emerson Automation Solutions , Temperature Measurement
Emerson has unveiled a new line of compact transmitters. Designed specifically for hygienic applications in the food and beverage industry, they will enable manufacturers to minimise downtime and lower 
...
Read more...
---
Picomag for utility measurement
December 2018, Endress+Hauser , Flow Measurement & Control
In industrial process measurement and automation, demand is steadily rising for simple, reliable and maintenance-free measuring instruments in a pocket-sized format. The new Picomag from Endress+Hauser 
...
Read more...
---
Optisonic biogas flowmeter
December 2018, KROHNE , Flow Measurement & Control
The new Optisonic 7300 Biogas ultrasonic flowmeter from Krohne has been specially designed to measure dry and wet biogas with variable composition. The meter provides additional functions like calculation 
...
Read more...
---
Environmental challenges in the mining industry
November 2018, Endress+Hauser , Flow Measurement & Control
Endress+Hauser's water quality measurement instruments.
Read more...
---
Improved fuel management for mine fleets
November 2018, Endress+Hauser , Flow Measurement & Control
In the current economic climate, most companies are looking to make their Rands go further. This is especially the case when it comes to fuel, as modern industries cannot operate without it and diesel 
...
Read more...
---